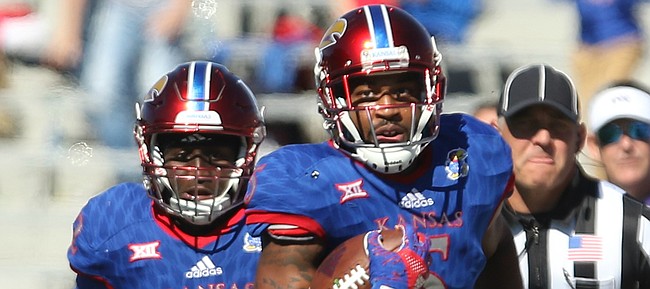 Receiver Bobby Hartzog Jr. won't be a part of the University of Kansas football program this coming fall.
The redshirt senior announced Thursday his plans to transfer from KU and complete his college career elsewhere.
Hartzog made known his decision to move on and join the Texas Southern football team with a note on Twitter.
The 5-foot-11 receiver from Houston wrote that he resolved to leave Kansas with "mixed emotions," and thanked head coach David Beaty for making the move possible.
"Because of him I was able to get a medical redshirt last season and find a school to play my final season of eligibility where I can be closer to my dad, who has had some medical issues," Hartzog wrote.
After making at least one reception in each of the eight games in which he played in 2016 as a junior, Hartzog suffered a season-ending injury one game into what would have been his final year of playing, in 2017.
Because he graduated from KU this past weekend, Hartzog will be able to compete for Texas Southern this fall without sitting out a year.
Hartzog said he was grateful to those he encountered during his four years at Kansas, calling the university a "second home."
"To every coach, professor, counselor, administrator and teammate, you will never be forgotten and I am extremely appreciative of all the moments we have shared," he wrote.
Hartzog first hinted at the move Wednesday night, when he tweeted out a video highlight accompanied by the phrase, "another chapter begins," along with a Texas Southern hashtag, #3rdWardU.