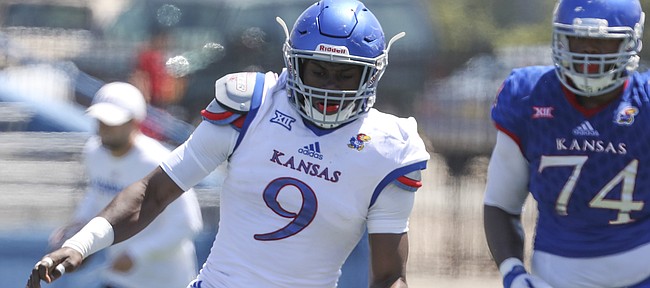 When Kyron Johnson first arrived at the University of Kansas for the 2017 spring semester, his fellow linebackers, as well as members of the coaching staff, raved about his speed.
However, qualifications accompanied each instance of praise. Johnson, teammates and staffers would tell you at the time, needed to add some weight to his 6-foot-1 frame. Plus, due to a lack of college-level experience, he didn't exactly know what he was doing yet.
A year later, the Arlington, Texas, native has a full season and two years of spring football behind him. The official KU roster lists Johnson at 220 pounds, up 10 from his weight as an early high school graduate. But redshirt senior linebacker Joe Dineen thinks Johnson looks and plays as if he's added 20 to 25 pounds since joining the program in January of 2017.
"He's a big boy now," Dineen said of Johnson's transformation ahead of his sophomore season. "And he can still run. I think what they're having him do this year is going to utilize his talent a lot. He's gonna get after the passer and he's gonna make a lot of plays in the backfield."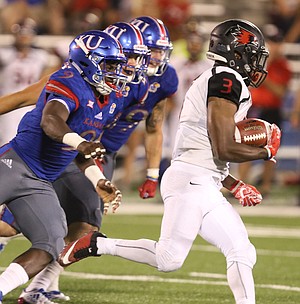 The Jayhawks only caught glimpses of Johnson's potential during his true freshman season. A three-star prospect in high school according to Rivals, he appeared in all 12 games in 2017, making 17 total tackles and 0.5 tackles for loss. Late in the year, at Texas, he recorded two solo tackles and forced a fumble on special teams.
KU defensive coordinator Clint Bowen said during Johnson's debut year Johnson looked the part of someone who could one day effectively play weak-side linebacker in the Big 12.
"He's such a good kid. Smart kid and really into it," Bowen said. "He has unbelievable physical skills. In time he's going to be good."
KU certainly would prefer Johnson begins making a noticeable impact this coming fall. During spring practices coaches deployed Johnson as a bit of a hybrid linebacker and defensive end at times, lining him up on the edge.
Dineen said Johnson practiced with both defensive linemen and linebackers during the 15-session offseason practice schedule.
"And I think that'll be beneficial for him as a player to get a little bit of both," Dineen said. "He does pass-rush drills and he does linebacker drills. It takes a special kind of player to be able to do both, and he's really doing a good job with that."