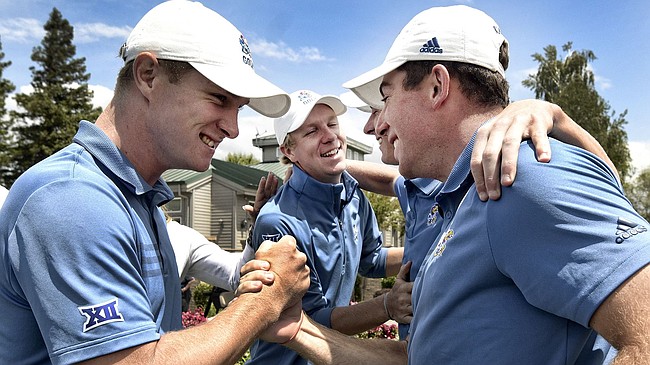 The five Kansas golfers competing at the Pacific Regional wondered why assistant coach Chris Wilson and wife Heather weren't at the team dinner on the eve of Wednesday's final round, so head coach Jamie Bermel summoned the composure to do what he had to do and told them the truth. It wasn't easy.
Wilson had just found out that his close friend and college teammate had been in an automobile accident in which he lost his 6-month-old daughter.
That didn't keep Wilson from walking 18 holes with freshman Harry Hillier on Wednesday, the first day since 2000 that Kansas advanced beyond a regional and into the NCAA golf finals. Kansas won the Pacific Regional in Stockton, California, by one stroke.
"Horrible deal," Bermel said of the tragedy via text. "The guys played for coach Wilson and his wife Heather today."
All Kansas needed to do was finish in the top five among the 13 competitors to advance, but that's not how they looked at it heading into the final round.
Bermel talked about his team's performance via a telephone interview, but texted regarding Wilson's friend's tragedy because he said it was too emotional to discuss on the phone.
"When I talked to the guys (Tuesday night) I said, 'We're not thinking about fifth place. We're thinking about winning this golf tournament. We've won before and we can do it again. Why not us?' " Bermel said.
Why not Kansas? Well, the Jayhawks were seeded eighth in a regional that featured teams ranked in the top 20: No. 6 LSU, No. 7 Alabama, No. 18 Stanford, No. 19 Southern California. None of that mattered to the five Jayhawks who performed so impressively in the clutch. One made it around the course even-par Wednesday and four were under par in the final round. All that mattered to them was staying composed and in the moment and Bermel enjoyed watching them do that.
KU finished at 20-under and edged late-charging Stanford by a stroke, Iowa State by three, Alabama by five and Oregon by eight.
LSU finished sixth at -7 and all day Kansas had a safe cushion on whichever school occupied the sixth spot at any given moment.
Consistency and depth won the regional for KU. All five Jayhawks finished the three-day tournament in the top 23 and with a score under par.
Sophomore Andy Spencer from Leawood finished tied for fifth at 8-under. His teammates' finishes: senior Daniel Sutton of England (-5, T9), junior Charlie Hillier of New Zealand (-2, T19), his brother Harry(-1, T23), senior Daniel Hudson (-1, T23) of Lagrange, Illinois.
Oregon's Norman Xiong (-15) edged Stanford's Brandon Wu as the regional's low medalist.
Spencer was KU's steadiest player throughout the regional, shooting 69-69-70. Sutton shot 67-73-71, Charlie Hillier 71-73-70, Harry Hillier 73-71-71 and Hudson 74-69-72.
Stanford made a late charge, which made Spencer's dart into the green on No. 17 all the bigger.
"He hit one about 3 feet and made a nice birdie," Bermel said. "Spencer's awfully good. His putter was a little balky at times this week but he's got that 'it' factor. He's not afraid."
The younger Hillier's emergence late in the season was big, according to Bermel.
"When we finally got Harry ready to play that provided a lot more horsepower than we've had before," Bermel said. "Chris has done a great job helping him manage his emotions."
Even on a day Wilson's own emotions were challenged so greatly, he was able to steady KU's talented freshman who hammers the ball off the tee and has a nice putting touch.
"He was at Harry's side all day," Bermel texted.
The national finals will take place at Karsten Creek, home course of Oklahoma State, May 25-30. But based on the Big 12's dominance in the six regionals, nobody should be surprised if the national champion comes from the conference.
Four of the six regionals were won by Big 12 schools.
Oklahoma State won the Columbus Regional, Oklahoma the Normal Regional and Texas the Raleigh Regional.