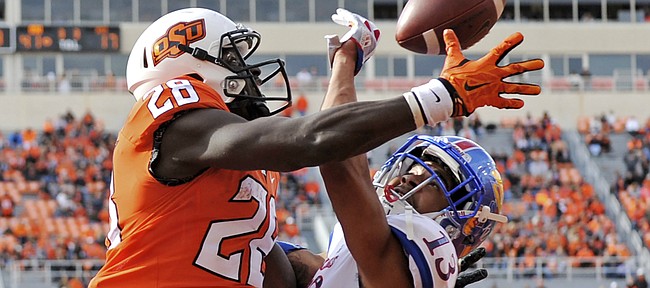 During his first season competing at the Big 12 level, Hasan Defense didn't master the art of cornerback.
As one would expect out of a sophomore transfer from the junior college level, Defense's transition to FBS play came complete with both mistakes and growth.
As the self-assured, 5-foot-11 corner prepares for his upcoming junior year, though, Defense feels optimistic he can free himself of the blown coverages, penalties and other errors that spoiled his debut fall with the Jayhawks.
This off-season, upon reviewing his 10 starts in 2017, which included a team-best nine pass breakups and a pair of interceptions, the former Kilgore College (Texas) defensive back encountered a bit of a personal revelation regarding playing cornerback in the Big 12.
"It's not as hard as it looks," Defense began, flashing his gold grill as he smiled.
The Jacksonville, Fla., native went on to explain how his approach to the game has matured since his prep days, when suiting up was primarily about having fun.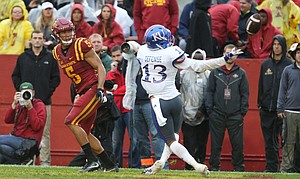 Now Defense understands playing on Saturdays won't bring much personal enjoyment if he's not prepared. In the months since the season ended he acquired a new appreciation for studying footage and discovering the simplest ways to mend his slip-ups.
Now in his second year at KU, Defense described how the game seemed to slow down for him the more he examined video. That proved especially helpful throughout the spring.
"It's like watching a TV show. Every day we watch it," Defense said. "They film practice, you get home, you watch it. You watch it once or twice, watch the whole thing, and it's like, 'All right.' There's only so much you can do, first of all. After a while you see that."
For Defense, refining his game this off-season became more about paying attention to the basics than attempting some kind of massive overhaul.
His method seemed effective during spring practices. Head coach David Beaty said the junior cornerback kept showing up around the ball, maybe more than any other player on KU's defense.
"I'm not sure I would have picked that, to be honest with you," Beaty said of his expectations for Defense entering spring, "but I would say he would be one of my top three or four choices of most improved players we've got coming in to this point."
The fourth-year Kansas coach felt upbeat about the team's cornerbacks as a whole during the spring, because he knew it was a position group in need of improvement. Beaty at various points recently sang the praises of Defense, freshman Corione Harris, junior Kyle Mayberry and senior Shak Taylor, too, while crediting defensive coordinator Clint Bowen, who moved from safeties to cornerbacks coach this year, for fostering the upswing.

"Now, we've got a long way to go," Beaty clarified, regarding Defense, "but I've been very proud of him. Very proud of him. His performance has really improved."
The overriding lesson pushing Defense's advancement just might be his new grasp for the nitty-gritty of playing cornerback. He now comprehends the rules he must follow while lining up in or against certain formations.
"You can only do this or this or this," Defense said. "It really helps."