If the Kansas men's golf team can play as well in Wednesday's third and final round of the NCAA Pacific Regional as it did in the first two, the Jayhawks will qualify for the NCAA Championships for the first time since 2000.
KU finished Tuesday's second round in third place with a two-day total of 563, 13-under par, one stroke behind co-leaders Alabama and Iowa State. The regional is being played at Spanos Regional Course, a 7,239-yard, par-72 track in Stockton, Calif.
The top five teams among the 13 competing advance to the NCAA Championships to be played at Karsten Creek, Oklahoma State's spectacular home course.
Five players from each school compete every day, but only the top four scores count toward the team total.
Fourth-place Stanford (-8) is five strokes behind Kansas, and fifth-place TCU (-7) trails Stanford by a stroke.
"We got off to a good start this morning in tough conditions and got a little sloppy coming in," sixth-year Kansas coach Jamie Bermel said. "Overall, a solid round."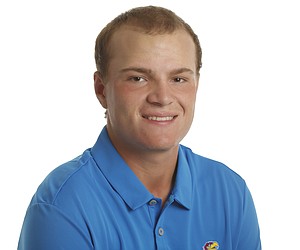 This is the third consecutive year Kansas has made it to a regional after an eight-year drought.
"We're the eighth seed in third place," Bermel said. "We just have to keep doing what we've been doing the last two days. If you hit a bad shot and get out of position, get it back into position, salvage a bogey and move on."
It's tempting to watch the scoreboard on the final day, but that approach can be counterproductive.
"Stay in the present," Bermel said. "Don't worry about what's in front of you or behind you. Just worry about your own."
Sophomore Andy Spencer has been KU's steadiest player in the regional, carding a 69 each day for a two-day total of -6, which puts him in a three-way tie for sixth on the individual leaderboard. Stanford's Brandon Wu is atop the leaderboard at -10.
KU's other golfers and where they rank among the 75 competitors: Daniel Sutton (T10, -4), Daniel Hudson (T21, -1), Harry Hillier (T26, even), Charlie Hillier (T34, +1).