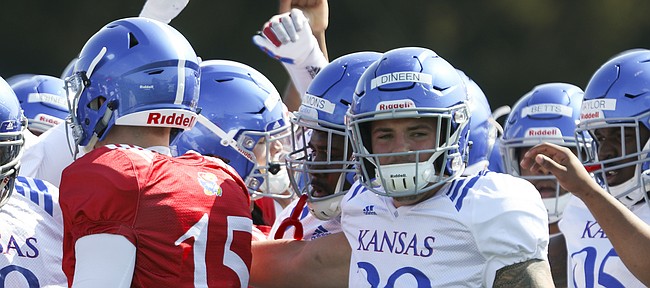 When Joe Dineen thinks about this stage of his college football career, and how close he is to launching into his senior season, one word springs from his mind and out of his mouth.
"Finally."
The fifth-year linebacker at the University of Kansas vocalizes that term with no malice. It's just that when he set out on this road to play for his hometown program, Dineen expected to have reached the end of it by now.
Had he not suffered a season-ending hamstring injury on the opening series of KU's Week 3 game at Memphis in 2016, leading to a medical redshirt and a year delay, Dineen might have been at some NFL team's rookie minicamp right now, trying to prove he deserves a shot at the professional level.
Instead, Dineen has one ultimate stab at leaving his mark on a program he grew up watching closely and fondly.
"That mindset has been with me the whole time. These are my last winter workouts, these are my last workouts, this is my last spring ball," said Dineen, a 6-foot-2, 235-pound linebacker from Free State High, following the 15th and final offseason practice for the Jayhawks. "I kind of took that into every day, just trying to refine my craft and get better every day."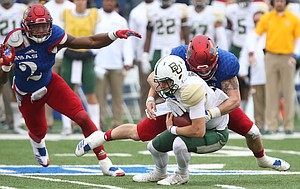 In his would-have-been senior season of 2017, Dineen led not only the Big 12 but all FBS players in solo tackles, with 7.6 per game, and set a KU football single-season record with 25 tackles for loss.
With that type of production on his résumé, Dineen could have grown complacent but that's not in his DNA. His head coach, David Beaty, considers himself fortunate to still have the linebacker around, as a major part of the team's plans for 2018.
When Dineen's 2016 injury occurred, Beaty envisioned the setback eventually becoming an advantage.
"I didn't know how beneficial," the fourth-year KU coach acknowledged. "But his leadership is — it's unbelievable what the kid does for our team. You know, my hope for Joe is that he continues to produce at the level that he is, because that guy deserves to be remembered here. His production has been really, really nice."
From Dineen's perspective, the injury that robbed him of nine-plus games close to two years ago essentially gave him bonus time as a KU linebacker.
Individually, he already has accomplished a lot. His 137 total tackles a season ago (the most by a Jayhawks since Roger Robben recorded 189 in 1989) rank him eighth all-time on KU's single-season tackles chart. With 11.4 tackles per game as a redshirt junior, Dineen led the Big 12 and ranked third in FBS.
On Sunday, he became a KU graduate, earning a bachelor's degree in management and leadership, with an entrepreneurship concentration.
On some alternate life path, Dineen could be through at KU by now. He's more than happy to traverse his reality as a redshirt senior, though.
"It's weird. It is different. You've gotta make something shake this year," Dineen said. "It's the last year, so you've gotta go out strong."