Miles Kendrick first met the man who will mold him into whatever type of quarterback he becomes for the University of Kansas football program late this past year.
Leading a small contingent of KU assistants, offensive coordinator Doug Meacham traveled out to California in November to watch Kendrick, a true freshman at the time, at the College of San Mateo.
Meacham saw something in Kendrick, setting the stage for the unheralded juco QB to transfer to Kansas for the spring semester.
Since arriving in Lawrence, every single thing Kendrick has thrown into making himself a better player has come under the examining watch of Meacham, now his position coach. Kendrick, a 5-foot-10, 200-pound dual-threat QB, thinks working directly with the team's offensive coordinator will advance his development.
While many lectures and exercises regard arm mechanics, footwork and reading defenses, Kendrick said what he has learned most from Meacham is how a QB must carry himself.
Podcast episode
KU football beat writer Benton Smith is joined by Tom Keegan and Matt Tait to discuss an injury-plagued spring for the program. They examine the unresolved quarterback battle, the Jayhawks' receiving corps, how Kansas will try and replace Dorance Armstrong, KU's cornerbacks and more.
"I feel like he always stresses to quarterbacks that we run the show," Kendrick shared. "We have to make sure that everybody's on the same page and everyone knows what they're doing. If they don't it falls on our shoulders. We have to make sure that those guys know where they need to be and just make sure that we conduct the offense in an efficient way and are smart."
Kendrick described Meacham as "high-energy" and said he appreciates the coordinator and QB coach's ability to relate with the players while instructing.
"To have a coach like that who's down to earth and cracks some jokes every now and then, keep the mood light, to have that, I think it's a great thing," Kendrick said.
The newest QB in the program also appreciated how veterans Peyton Bender and Carter Stanley helped integrate him, even though all three are competing for the starting job.
"They're cool dudes and they help me out," Kendrick said, noting Bender and Stanley assisted him in picking up signals and learning the playbook before spring practices began. "We're all trying to make each other better and we all have the same goal, and that is to win games."
Wise veteran presence
Entering his fifth and final season in the KU football program, redshirt senior Daniel Wise has procured as much knowledge as any player on the roster.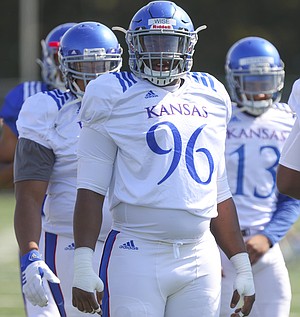 In 2017, the defensive tackle shared, some key lessons materialized in the leadership department.
"You say things maybe you shouldn't have said or you bit your tongue and you should've said something," recalled Wise, a 6-3, 290-pound tackle from Lewisville, Texas. "I wouldn't say there's no particular thing that I shouldn't have said or should've said. It's all a learning experience."
Wise, who took a redshirt in 2014, after arriving on campus as a two-star prospect, said he has been around KU long enough now that he and his fellow veterans know each other well and "have each other's best interests at heart," and that helps them push each other.
"So I don't think it's singular leadership. Everybody's stopping up, pushing each other," Wise shared. "I got guys pushing me and it's all love."
Graduating Jayhawks
The 146th commencement at the University of Kansas will include 15 members — some current, some former — of the football program.
Those expected to walk down the campus' famed Campanile Hill Sunday and include: Charles Baldwin, Joe Dineen, Bobby Hartzog, Lay'trion Jones, Cole Moos, Tyler Patrick, Joey Bloomfield, Josh Ehambe, Larry Hughes, Derrick Neal, Keith Loneker Jr., Isi Holani, Ryan Schadler, Deron Thompson and Wise.
Not all of the players will be done with their undergraduate degrees as of Sunday. Those with coursework remaining are on pace to officially earn their degrees this summer or in the fall.