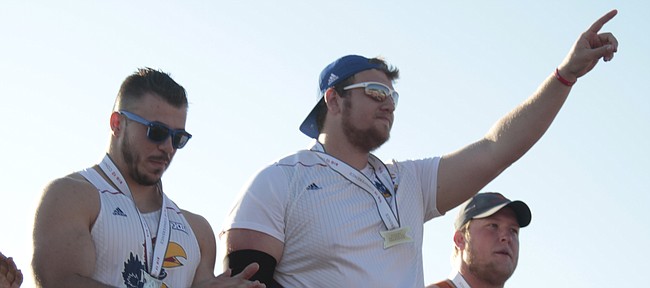 When an athlete takes up track and field at the age of 17 and within four months becomes the national junior champion of Moldova, word has a way of spreading to college coaches in the United States.
So University of Kansas throws coach Andy Kokhanovsky wasn't the only one to contact Nicolai Ceban before the Junior World Championships in Eugene, Ore., in 2014.
"Then, after the competition, coach Andy approached me and we talked," Ceban remembered. "For somebody to talk to me in Russian at a competition in the USA, so far away from home, that was a very unexpected connection."
Kokhanovsky, in his 13th season on Stanley Redwine's staff, is from Ukraine. He had competition in pursuit of the young thrower.
"Other schools were talking to me," Ceban said.
But they weren't talking to him in Russian.
"Because of that trust we developed when he spoke in Russian to me, for some reason I believed him more," Ceban said.
He remembered what Kokhanovsky told him.
"He told me I have big potential," Ceban said.
The coach was right about that and has helped Ceban reach it. A senior, Ceban earned second-team All-America honors in the shot put and placed second in the Big 12 outdoor championships last spring.
Kokhanovsky might have had a more difficult time predicting an even more prestigious honor Ceban recently garnered.
He was named the male winner of the Robert E. Frederick Senior Scholar-Athlete Award. Volleyball player Madison Rigdon was the female winner of the award named after KU's late athletic director, admired for his down-to-earth personality and dedication to physical fitness and sportsmanship.
"If all the students were as easy to work with as Nicolai, I wouldn't have a job," said tutor Laura Jacobsen who, along with associate AD/student-athlete support services Paul Buskirk, was praised by Ceban for guiding him on the right path to achieve his academic goals. "He's a great athlete. He's a great student. He's a great guy. He really is."
Ceban is at the Big 12 outdoor championships now, so he won't be marching down the hill for graduation, but he expects to finish with a 3.85 GPA in his final semester and intends to stay in Lawrence to pursue an MBA from KU and to work out with Kokhanovsky in hopes of qualifying for the 2020 Olympics.
All international students, even those from English-speaking countries, must undergo testing at the Applied English Center to see how much extra work they are required to do at the center.
Thanks to seeking out English tutoring in high school, Ceban needed just two semesters of extra help in that area.
"In the Applied English Center process, they have to learn very quickly," Buskirk said. "The pressure for them to become proficient in English is very steep. Nicolai has done a fabulous job and is a super bright young man."
Ceban has so enjoyed his experience at KU that he said he hopes to spend the rest of his life in the United States.
"I think so," he said. "I got the education that I wanted, and I think I can be a valuable resource here. I think it would be a very smart choice to apply all the knowledge and the skills I gained here, rather than some other place. Everything that has happened here connected me in a very strong way. It would be hard not to be part of this after making those connections."
He didn't always feel so connected. He said that, during his freshman year, he was so focused on making the cultural transition and improving his English that the newness of it all was exciting and kept him too busy to become homesick.
"It was hard for me the second year that I was here," Ceban said. "I was missing my family. I was missing my friends and I felt somehow alone in some ways. So I just became very focused on track and field and school. In some ways, I think it helped me. I would have this anger in me and I used it to get better in the gym and get stronger."
Ceban grew up speaking Russian and Romanian and, because his high school offered French, not English, he sought out a tutor.
"She gave me private English sessions once a week for two hours from her home for two years," he said. "She was very demanding. I needed three days in advance to prepare for the lessons. It took so much time to do all the work she wanted me to do."
Still, there is nothing like immersion to learn a language, so it took him time for English to slow down after he enrolled at KU.
"It was hard for me to express myself, to use the right words, and also difficult to understand people when they talked very fast," Ceban said.
He managed it so well, as well as building his body, refining his throwing technique and handling the demands required of an economics major, that he climbed all the way to the top of the athletic department's senior class.
So impressive.
More like this story on KUsports.com