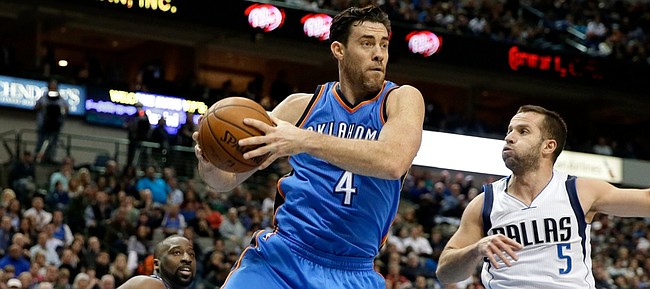 In Nashville to check out the Justin Timberlake concert with his wife, Kelly, former Kansas basketball player and current Washburn head coach Brett Ballard got a first-hand look this week at the end of an era.
On Thursday afternoon, Ballard's old teammate and friend, Nick Collison, announced in an article on ESPN.com that he was retiring from professional basketball.
In it, Collison outlined all of the things that basketball had done for him, how much love he had for his teammates and coaches and talked glowingly about the cities of Seattle and Oklahoma City, where he spent his 15-year NBA career.
He capped it by saying simply, "It's time to go."
Ballard had heard those words before. Once in April, when he took his family to Oklahoma City to watch the Thunder play the Miami Heat. And once last summer, when Collison was back in Lawrence for a bit and the two worked out together.
"Last summer, he kind of indicated this was probably going to be his last year," Ballard told the Journal-World on Thursday. "He just felt like it was time and he was ready. And then at that game in April, he kind of said it again. After the game, he was like, 'Yeah, it's time.'"
This week in Nashville, however, the whole idea became much more real.
After having dinner with Collison and his girlfriend one night and coffee another, Ballard saw Collison working on that story with Royce Young.
"He was actually writing it yesterday," Ballard recalled. "He said, 'This feels like school. I don't know if it's any good.'"
That, Ballard said, was the only portion of the whole retirement thing that seemed unsettling for Collison, who played 15 seasons with one franchise and walks away from the game after scoring 5,359 points and grabbing 4,701 rebounds in 910 games and more than 18,000 minutes.
"I think he's at peace with it," Ballard said. "And I think he's excited about figuring out that next step."
One way or another, Ballard said he believed basketball would be involved.
"I think that's part of his plan," Ballard said. "He definitely wants to be around the game and part of the game. We talked about what I do as a college coach and he said he understands how much work coaches put in and he didn't know if he wanted to put that much time into something like that at this point in his life. I do think he's still up in the air a little bit about what he wants to do. But I'm sure he'll be successful no matter what he does."
As for his lasting memories of Collison's career, at Kansas or otherwise, Ballard said the thing that will stick with him is Collison's consistency, from his play and preparation to the type of teammate he was and the way he conducted himself on and off the court.
That trait, at both levels, led to Collison being one of the most respected and well-liked players on any roster he was a part of.
"The guy hasn't changed," Ballard said. "He's still humble, down to Earth, has a great perspective on everything, is self-aware and I think that's hard. When you've made a ton of money and been around superstars, it's hard not to have that change you some. But he's the same guy I was teammates with at Kansas."
More like this story on KUsports.com