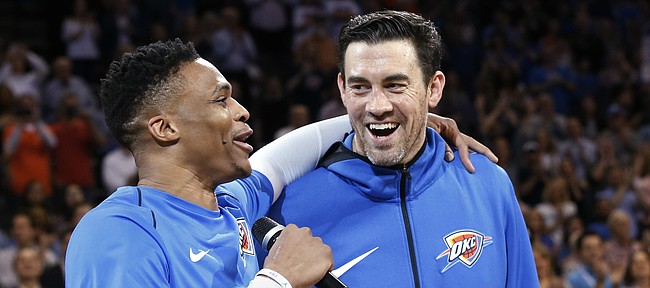 While his NBA statistics, outside of longevity, might leave a little to be desired, Nick Collison will forever be remembered around these parts as one of the greatest Kansas basketball players of all time.
Collison, a lottery pick of the Seattle Supersonics in the 2003 NBA Draft, spent his entire professional career with the Seattle/Oklahoma City franchise. And on Thursday, through the help of a moving announcement told to ESPN.com's Royce Young, that career came to an end.
In all, Collison's NBA career spanned 15 seasons, 910 games and more than 18,000 minutes. He scored 5,359 points and grabbed 4,701 rebounds during that time and became one of the most liked and respected players in the Thunder organization, a sort of hybrid between just one of the guys and a grizzled, old veteran.
Born in Orange City, Iowa, in late October of 1980, Collison grew up in the Hawkeye State, in Fort Dodge and Iowa Falls, and became one of the top-ranked players in his high school class and one of the prized recruits of one of Roy Williams' best recruiting classes at Kansas.
Teamming with fellow-Iowan Kirk Hinrich — in the article with Young, Collison called Hinrich, "the toughest guy I played with" — and Drew Gooden, Collison helped lead the Jayhawks to back-to-back Final Four appearances in 2002 and 2003 and a berth in the national title game in 2003.
His No. 4 jersey hangs in the Allen Fieldhouse rafters and Collison is one of the most accomplished KU players of all-time, ranking second on KU's career scoring chart with 2,097 points, third on KU's career rebounding list with 1,143 and fourth on KU's career blocks list with 243.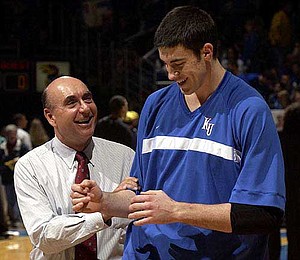 His 24-point, 23-rebound effort in a 2003 Big Monday victory over Texas at home inspired an on-air standing ovation from ESPN broadcaster Dick Vitale and remains one of those all-time special Allen Fieldhouse moments.

"I spent four years in Lawrence, Kansas, developing habits playing for the Jayhawks that prepared me to play in the NBA," wrote Collison in Thursday's farewell article. "Coach Roy Williams held me accountable: Preseason conditioning, three-hour practices, "gut checks," weights, homework, studying were how I learned to handle my business. And Allen Fieldhouse is incredible — the absolute best place for basketball in the world."
Although Collison's pro career began with serious injuries and ended with him playing just 75 minutes in 15 games this season, you won't find a soul out there who feels sorry for him. And that's because Collison, as was the case at KU, made sure to get everything he possibly could out of every minute he was an NBA player.
Often times, that approach benefited others as much as it did Collison.
"I was lucky enough to learn from Nick my freshman year as a Jayhawk," former KU guard Jeff Hawkins said Thursday. "He took me under his wing when I came in and I still consider him like a big brother to this day. It's been a pleasure getting to know him throughout the years, I'm extremely happy for what he accomplished as a Jayhawk and as a vet in the NBA and I wish him success in his retirement."
Years from now, when he looks back on his modest career, he'll be able to say he suited up alongside some of the best players in the history of the game and served as a mentor to some of them. Kevin Durant, Russell Westbrook and James Harden are just three that come to mind.
His appreciation for every second of it always shined through and Collison never was afraid to speak his mind about how he thought the fans in Seattle deserved better than to have their team taken from them or about how much he appreciated the folks in Oklahoma City for welcoming him and then franchise with such open and loving arms.
"I want everyone to know I've loved playing in Oklahoma City," Collison told Young. "It's always meant so much to me and my family that the people of Oklahoma City appreciated what I did. Most people don't get to feel anything like that. I've had it for 10 years and I am grateful.
"I've had the privilege of being one of the guys on a basketball team for a long time. I've loved the friendships and appreciated the camaraderie. There is nothing better than being on the road and going on a run in the fourth quarter to put a game away, then going out with all of the guys after. I've had a lot of those nights. I won't get to feel that fire or that rush anymore, but I do get to keep the memories, the stories and the relationships. That's what I will cherish the most. Things worked out for me. I got to stay here a long time, but now it's time to go."