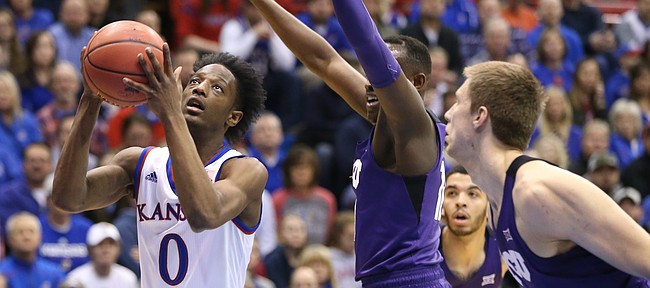 Don't worry, KU fans. Marcus Garrett sees it, too.
In fact, he probably noticed it long before you did.
And he wanted to address it. He just came to the conclusion that midway through his freshman season at Kansas was not the time to do it.
But it's coming. And when it does, Garrett and those close to him believe it will change everything about his game.
Stats and percentages can tell you a lot about an athlete's performance. But for the KU freshman from Dallas, a 27 percent shooting clip from 3-point range during his first 39 games as a Jayhawk does not quite paint the full picture.
See, there was more to Garrett's shooting woes during the 2017-18 season than the mere fact that he made just 12 of the 45 3-pointers he attempted. There also were the times when Garrett chose to not even look at the basket despite opponents daring him to shoot from the outside.
And then there was the actual look of his shot when he did let it fly. Although the release from his right hand seemed sound and pretty much the same on each shot, Garrett's ball actually spun sideways as it flew toward the rim.
When that issue popped up, Garrett realized there was a problem. And his uncle, Matt Watts, who coached Garrett's AAU team, was the first to get on the phone and explain to his nephew what he was doing wrong.
"I'm going to work on taking my left hand off the ball a little bit more," Garrett said after the 2017-18 season. "My uncle told me that. I was going to do it but we were in the middle of the season so I didn't want to mess with it and just figured I'd wait until after."
The time has arrived.
After finishing his first year at KU, Garrett headed back home to Dallas today, with a clear goal for the next 25 days before he reports back to campus for the start of summer workouts.
"The guide hand on the shot, we're going to correct that," Watts told the Journal-World during a recent phone conversation. "He's putting it in front of the ball. His hands are so big that it's almost like, instead of being on the side, he puts it in front. When he shoots he's pushing the left hand against the ball and it makes his hand put that side spin on it. And we're going to get him to get the ball up higher because he's shooting it flat. His goal is we've got to make 1,000 jumpers a day."
That's easier said than done, of course.
Just think about it. If Garrett's work this summer is the start of what he hopes will be a part of his future at Kansas — Watts said Garrett wants to become a shooter who hits in the high-30s or low-40s from 3-point range — he'll have to attempt in the neighborhood of 2,500 3-point shots per day to reach his goal of 1,000 makes.
"I'm going to get a lot of shots in," Garrett said. "I know I'm going to be in the gym. I know my shot's going to get better. And I just feel like, once that happens, I can help the team out a lot more."
The opportunity for him to play a bigger role in KU's offense will be there, and Watts said he has had conversations with KU assistant Kurtis Townsend about what the KU coaching staff is looking for from Garrett.
"One voice," Watts said. "I didn't want to mess with what the coaches were telling him."
As a second-year player who averaged a shade under 20 minutes a game as a freshman, Garrett, in some ways, will be considered a veteran, and perhaps even a leader, when his sophomore season rolls around.
And when the Jayhawks begin summer workouts on June 2, it's Garrett who will be the KU guard with the most minutes as a Jayhawk under his belt, leading freshmen Ochai Agbaji, Devon Dotson and Quentin Grimes and transfers Charlie Moore and Sam Cunliffe.
A player in that position cannot be one who passes up open shots or looks unsure of himself on the perimeter. Now that the season has ended, Watts has addressed that with Garrett multiple times.
"Some games coach couldn't get you in the game, not because you can't play, but because your man was helping (on defense). You weren't able to keep him honest," Watts told his nephew. "I talk to him now and ask him, 'What were you doing?' His shot changed. He didn't shoot it the same way every time. Sometimes he jumped, sometimes he didn't. And that comes from him rushing.
"The more repetitions we get, the more confidence he's going to have and that's all it is."
While Garrett's shooting woes last season were unexpected from a player who nearly averaged a triple-double during his senior season of high school and was such a weapon off the dribble that opposing defenders played off of him and watched him hurt them with his jumper instead, neither Garrett nor Watts spent much time crying about it.
"As I was watching, I'm thinking to myself, 'I'm glad he's going through that. Because this is what's going to shape his character,'" Watts recalled. "I think it was part of him growing up. He had to go through that this year because he was not used to people doing that to him, people daring him to shoot, daring him to score. That experience is what's going to push him to that next level. That hunger is back and they brought out that monster that was in him his whole life."