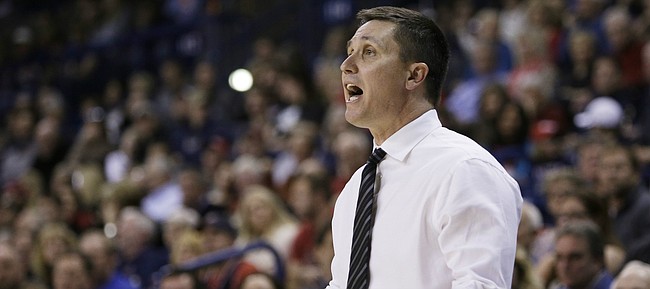 A quarter of a century ago, former Kansas shooting guard Rex Walters stepped out of a limo and into a mansion in Westwood, Calif., just outside of Hollywood, to read for the part of Ricky Roe in the 1994 movie "Blue Chips."
And since that day, Walters, a former first-round pick of the New Jersey Nets, has enjoyed an 11-year NBA playing career and 10 years as a college head coach.
Working today as an assistant coach with the Detroit Pistons, Walters has watched from a distance as the sport in which he once starred and later coached has come under fire in the wake of an FBI investigation into corruption throughout all levels of the sport.
That theme, specifically players taking money and gifts from boosters, is the central focus of the movie in which Walters made an appearance as one of the players on an opponent of the fictional, Nick Nolte-coached Western University program.
And while Walters' involvement in the film itself was purely basketball related, his introduction to the opportunity hinted at the rogue world of agents offering something to athletes in exchange for their services.
"The whole thing actually took money out of my pocket," Walters recalled during a recent phone interview with the Journal-World. "I flew out to Los Angeles to read for the part of Ricky Roe during our barnstorming tour and missed one of our games. They picked me up in a limo and we drove to this big mansion in the hills of Westwood. I get out of the car, walk into this mansion and there's the director and there's Nick Nolte. And they're saying, 'Hey, we're going to read for the part.' And this was all orchestrated by the (basketball) agent who was in L.A. to try to get me to sign. Maybe if I sign with him, maybe I'd get the part."
Walters, who read for the role of Ricky Roe twice, did not get that part, but was invited back to appear on the fictional Texas Western team that played Nolte's squad.
"I actually ended up going with another agent," said Walters, who became the No. 16 pick in the 1993 NBA Draft. "And I guess my acting wasn't good enough for me to overcome that."
Although Walters called some of the aspects of "Blue Chips" a bit "far-fetched," he marveled at the fact that, two and a half decades later, many of the things that were highlighted in that film have made their way into a federal indictment today.
As much as he would like to say and believe that things were different back then, Walters, who hails from California and started his college career at Northwestern, said that the aspect of the whole culture that has changed the most since his playing days is the way athletes, programs and the sport itself gain exposure through social media and the Internet.
"There's no question you knew that stuff was going on," said Walters of the kind of corruption outlined in both the 1994 movie and today's federal investigation. "It probably wasn't as prevalent as it is now because the money's so big now. … It's being watched more today. But I don't think anyone could have ever imagined the FBI would get involved."
Walters, who coached two seasons at Florida Atlantic and followed it up with an eight-year stint at San Francisco before jumping to the pro ranks, said most of his exposure to the seedy side of college basketball came early in his coaching career.
"I'm walking into a gym and there's a player who is now an (NBA) All Star, and he basically lives 30 minutes from the campus of this high major program," he began. "I'm walking in and coaches from that university are walking out and I'm like, 'Hey, hey, hey, this dude's right in your backyard.' And they just looked at me and said, 'No, that kid's looking for a different kind of scholarship.'
"Another coach, who is a good friend of mine, was sitting in the gym and he told me, 'I don't even know what I'm doing here. I know this kid's taking money and that kid's taking money and I've got no shot. But they're right in my backyard and I have to at least be here in case things fall through with the money.' That's pretty sad."
During his playing days, when recruiting services and the AAU circuit were mere infants compared to their status on today's landscape, Walters said he listened to one voice and one voice only during his recruitment.
"My father," he said.
In fact, during one of his visits to a school on the West Coast, Walters was short on money during lunch and the coaches offered to spot him and have Walters pay them back.
"I said, 'Sir, that's an NCAA violation. I can't do that,'" Walters recalled. "He looked at me like, 'Wow, this kid's a little different.' But I was so scared of my father, that he'd get pissed off at me for taking it."
Regardless of what's being offered and to whom these days, Walters said the onus falls on the enforcement entities to get the sport cleaned up. And he's not willing to go so far as to say this is an AAU problem because, during his 11 years of college coaching, Walters encountered dozens of AAU coaches who were in it for the right reasons.
"All the money that's involved at the grassroots level is what's going to be really, really hard to control," he said. "And I think that's where either the NCAA or the NABC is, at some point, going to have to step in, because these guys have so much influence on these kids. And when you're a 15, 16, 17, 18-year-old kid, you're probably going to trust the guys that are giving you stuff, that are taking care of you. You're going to listen to those guys."
The way Walters sees it, the NCAA, NABC or any other governing body that might get involved will have to fully commit time, resources and money if it hopes to make a difference.
"The NCAA has no chance of trying to monitor this stuff unless they want to invest greatly in it," he said.
One move that Walters agrees with whole-heartedly, which was proposed recently by the Commission on College Basketball, has to do with what happens to coaches who get caught contributing to the corruption.
"The lifetime ban for cheating, I think, is important," Walters said. "For some reason, cheaters that get caught get jobs again. That's a heck of a message to send. … I get it. I get second chances and retribution and paying your penance. But we're talking about kids here. They're corrupting kids. And that's not good for basketball, and it's not good for our society. That's the disappointing thing."
Although he played only a small role in "Blue Chips," that last part of Walters' commentary was sort of an underlying message in the whole film.
In the final scene, after Nolte's character, Pete Bell, leads Western U to an upset of the No. 1 team in the country, the head coach then confesses to everything in his postgame press conference, resigns his position and walks out of the arena, only to stumble upon a playground full of elementary school students playing basketball.
After a brief pause, Coach Bell walks out onto the court and starts coaching.
For Walters, a gifted guard who came from an upper-middle class family, moments like those, both as a player and a coach, were always what made the game special.
Although he has been in professional basketball for the past two seasons, the former KU standout said he would be open to returning to the college game.
"I miss being a head coach," he said. "I love working for Stan (Van Gundy) and in the Pistons organization, but I think there's certain places where, if I ever got the opportunity to be a head coach and I felt like we could do things the right way and they had the infrastructure in place where we could be successful, then, yeah, I would be interested."
Whether it comes to that or even if he stays in the NBA, Walters, 48, hopes that the scandal threatening the sport will lead to better days.
"It's going to start at the grassroots level," he said of changing college basketball for the better. "Something's got to change at that level that's going to kind of keep the money in check."
• Detroit Pistons Head coach Stan Van Gundy was fired by the organization on Monday, but Walters remains under contract with the Pistons for the 2018-19 season.
More like this story on KUsports.com