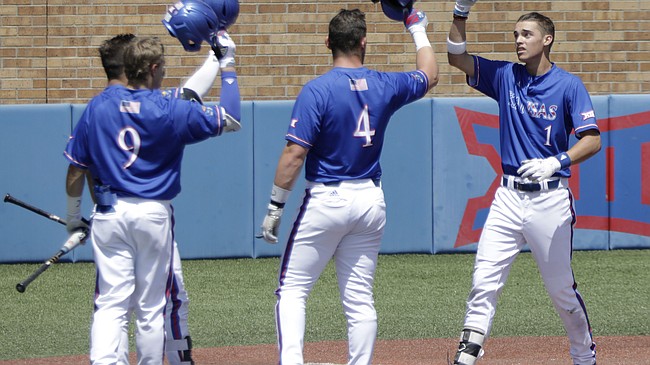 Taylor Turski called his start against West Virginia on Sunday the best performance on the mound this season, and it couldn't have come at a better time for the Kansas baseball team.
The senior southpaw struck out seven and allowed just one run in KU's 5-2 win over West Virginia at Hoglund Ballpark.
Photo Gallery
Kansas baseball vs. West Virginia, Sunday, May 6, 2018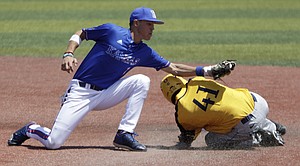 The Jayhawks beat the Mountaineers, 5-2, on Sunday, May 6, 2018, at Hoglund Ballpark.
KU coach Ritch Price said it was a turnaround outing for Turski, who entered the game holding a 1-7 record and 6.32 ERA. Last season, Turski went 3-4 with a 3.51 ERA and recorded 68 strikeouts.
"I thought Turski was fabulous," Price said. "With the way (the Mountaineers) were swinging the bats on Friday night, and they lead the Big 12 in stolen bases, and they're one of the best offensive teams in the league, if not the best offensive team. He had to be at his best, and today, Taylor Turski looked like the guy that pitched for us two years ago."
Turski retired 10 of the first 12 batters he faced and escaped early trouble in the second after orchestrating a double play.
With runners on second and third, West Virginia catcher Ivan Gonzalez lasered a ball back to Turski, who caught the liner with his glove and turned to throw out the runner at second to end the inning.
For most of his start, Turski pounded pitches in the zone. He threw over 69 percent of his pitches for strikes in the outing.
"I think the big thing was establishing my fastball," Turski said. "And being able to work with my off-speed later on. And having my defense behind my back was huge, especially in those middle innings there."
Turski's only blemish came in the fifth, when left fielder Braden Zarbinsky smacked an RBI double to right.
But the KU offense quickly backed Turski with support in its bottom half of the fifth after shortstop Benjamin Sems belted a two-run homer to give the Jayhawks the lead. Two batters later, second baseman James Cosentino drove a solo homer over the right field wall.
"They made some great plays for me and scored some runs," Turski said. "The biggest thing you can get as a pitcher is run support, and that's what we like to see."
The Jayhawks tacked on two more runs in the seventh on a solo home run from Owen Taylor and an RBI single from Cosentino.
After KU was "boat raced," as Price put it, in a 21-3 loss to West Virginia in the series opener, Price said Turski's strong outing helped keep momentum on the Jayhawks' side not only defensively, but offensively.
Sems provided most of the offensive production for KU, going 3 for 3 with 2 RBIs out of the nine-hole spot. Cosentino and Taylor also each had two hits on the afternoon.
"First off, it shows the kind of character we've got in the dugout," Price said. "It would have been easy to shut it down for the entire weekend (after the series-opening loss). But those guys kept grinding."
The victory marked the first time the Jayhawks (22-25, 5-12 in Big 12) won a series since the last weekend of March, and it pulled them within 1.5 games of the Mountaineers (24-21, 7-11 in Big 12) for seventh place in the nine-team conference.
"(West Virginia assistant coach Dave Serrano), who's one of the top coaches in America, just told me afterwards, 'I don't think I've ever seen a team give up 21 runs on Friday night, and then win a series,'" Price said. "It speaks volumes to the quality of young men we have in this program."
West Virginia 000 010 001 — 2 7 0
Kansas 000 030 20x — 5 8 1
W—Turski (2-7). L—Isaiah Kearns (3-2). S—Zack Leban (11).
2B—Zarbnisky, WVU; Brandon White, WVU; Taylor, KU; Sems, KU. HR—Kyle Gray, WVU; Cosentino, KU; Sems, KU; Taylor, KU.
KU highlights—Turski, 6 IP, 5 H, 1 R, 1 BB, 7 K; Sems, Taylor, 2 for 3, 2 R, RBI; Cosentino, 2 for 4, run, 2 RBI; Sems, 3 for 3, 2 R, 2 RBI; Ryan Cyr, 1.2 IP, 1 H, 1 B, 2 K; Zack Leban, 1.1 IP, 1 H, 1 R, 0 BB, 0 K.
More like this story on KUsports.com