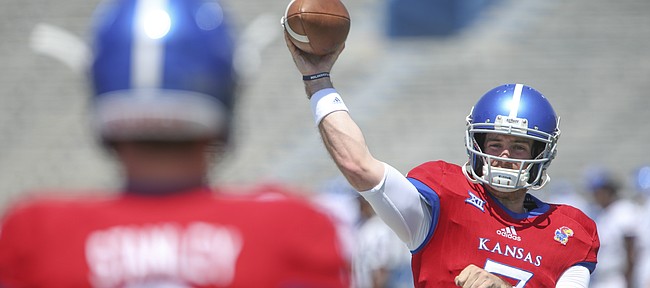 As University of Kansas football coaches evaluated their quarterbacks throughout the spring, each of the three Jayhawks vying for the starting job received equitable chances to make his case.
Neither senior Peyton Bender, redshirt junior Carter Stanley nor sophomore transfer Miles Kendrick took the lion's share of the snaps over the course of 15 off-season practices.
In fact, Bender disclosed, offensive coordinator and quarterbacks coach Doug Meacham mixed all three of them in at various times with different personnel.
"There's no set distribution. Coach Meacham pretty much controls the rep count and who's going in when and all that. It's been fairly even," Bender said. "We've all had opportunities to run with the ones (first string). But there's no set schedule on who's going to get the reps and that sort of thing."
KU entered and exited the spring with its starting quarterback situation unresolved.
In 2017, Bender connected on 54.2 percent of his 273 passes, with 10 TDs and 10 interceptions. Stanley completed 54.6 percent of his 185 throws, with four touchdowns and seven picks. An under-the-radar junior college QB at College of San Mateo (Calif.), Kendrick finished with 1,889 passing yards, a 57.9 percent success rate, 18 touchdowns and nine interceptions, as well as 417 rushing yards and five touchdown carries.
Bender described one scenario this spring that would alter snap counts for the QBs.
"You know, if you're not having a good day they might pull you out and put another guy in," Bender said. "It really just depends on various factors."
Though requested several times for an interview, Meacham was not made available by the KU communications staff to field questions this spring.
Trying to replace a 4th-round pick
From a talent and depth standpoint, the KU defense endured a blow this off-season when defensive end Dorance Armstrong Jr. decided to leave the program a year early to enter the NFL Draft.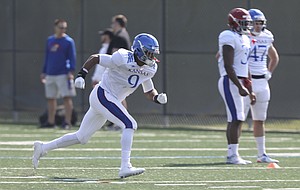 The Jayhawks' defensive linemen did their best this spring to withstand the loss of Armstrong, who became a fourth-round pick of the Dallas Cowboys.
"It's been going well," Daniel Wise said of life without his former teammate, Armstrong. "We have guys like KeyShaun (Simmons), who's been here since last year, so he's stepped up a lot. Codey Cole's one of the new guys, he's been showing a tremendous amount of effort and a lot of talent."
A redshirt senior defensive tackle and team leader, Wise also identified J.J. Holmes, Vaughn Taylor Jr. and Najee Stevens-McKenzie as top performers along the D-line this spring.
"All those guys have really stepped up and tried to learn the system," Wise said, "putting all they have into really trying to make this defense better."
Further reinforcements should arrive this summer, when Class of 2018 additions Azur Kamara and Jelani Brown — both junior college transfers — officially join the program. The incoming class also included the aforementioned Cole and Stevens-McKenzie, as well as Foster Dixson, giving the defensive line five new juniors for the coming season.
Stevens-McKenzie, Kamara and Dixson are listed as D-ends.
What Dallas should expect out of Armstrong
Now that Armstrong has moved on and become a Cowboy, many of his former teammates expect continued success for the defensive end from Houston.
Redshirt senior linebacker Joe Dineen thought Dallas "got a steal" when the organization picked up Armstrong in the fourth round.
"I'm surprised someone waited that long to take him," Dineen added. "I think he's gonna go in there and surprise a lot of people with his work ethic and I think he's just gonna make a ton of plays for them. We saw what he did here, but he belongs at that level. He's gonna do just fine."
Dineen described Armstrong as one of the hardest-working Jayhawks, lauding him for his approach in the weight room.
"The cool thing was he was getting all these accolades and stuff and that made him work harder," Dineen said. "That's something that a lot of us can take away, because him getting pre-season player of the year (defense, Big 12), that just made him work harder. It didn't have him getting cocky or anything like that."