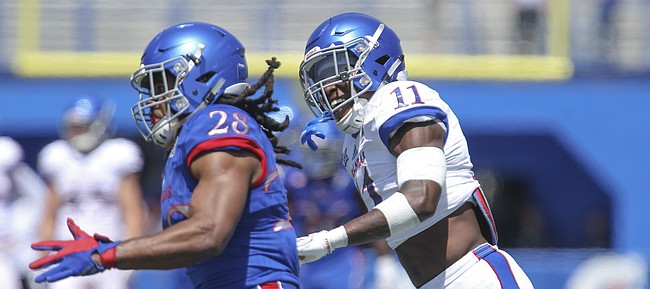 Every time a Kansas football quarterback experienced the misfortune of throwing an interception during a football practice this spring, the guilty party had more to deal with than the instantaneous frustration related to making a mistake.
Those passing turnovers, whether they transpired during drills, seven-on-seven work or team periods, came with an impromptu party in the KU secondary, hosted by safety Mike Lee.
The fiercest hitter among the Jayhawks' defensive backs takes an equally savage disposition into his post-pick celebrations, letting even his QB teammates know about his feats.
"I do. I do feel bad," a smirking Lee replied, when asked if any guilt accompanied those moments. "I'm gonna talk that trash. Even if I don't catch the interception I'm still gonna talk that trash. Because I know before the game ends I'm gonna get my interception. Then I'm still gonna talk that trash."
The banter initiated by Lee and other aspiring ball hawks in KU's secondary comes with the territory of playing quarterback. The ribbing between teammates fires up corners, safeties and fellow defenders on that side of the ball, while simultaneously providing a QB and his intended targets with more motivation to win the next repetition.
Redshirt junior quarterback Carter Stanley knows all of this, of course, and thinks both the defense and offense can benefit from those miscues as long as a QB actively seeks to turn every such flub into an avenue toward improvement.
"You've got to learn how to move on," Stanley said. "If it is your bad play you've got to go to your next play immediately and just forget about it. Move on. But sometimes it is funny to see those guys react."
On the first day of practice, Stanley elaborated, cornerback Corione Harris intercepted a pass. What followed for the true freshman proved to be one of the most extravagant, if not flawed, after-parties of the spring, when Harris elected to punt his just-picked pigskin away.
"He missed the punt, picked it up, punted it again like 40 yards," Stanley recounted. "It was really funny. Those guys are excited and they're my teammates, so I'm happy for them when they make plays like that and it's fun for the team."
Of course, Stanley added, KU's quarterbacks must "clean it up" between now and the season opener on Sept. 1. As they carry those endeavors into player-led summer workouts in the months leading into preseason camp, they will do so knowing any misfire they make will mean enduring the trash-talking wrath of junior defensive leader Lee and/or his company of defensive backs.
"No doubt," Stanley said. "It's all cool, because we're teammates. But he's — that's kind of his style of play and it works out for him."
Lee is of the opinion that his fun-loving antics help the secondary find a little enjoyment along the way as it attempts to improve.
"That's what I like about all of our DBs. We like to have fun," Lee said. "We're like family. We're getting close to each other. We need that combination to go on the field and just make plays like that."
The Kansas defense would definitely benefit from more interceptions this coming fall. In 2017, Lee and cornerback Hasan Defense combined to account for all four (tied for 124th nationally) of the Jayhawks' picks — two apiece.
"I'm really trying to catch a pick every game, though," a smiling Lee divulged. "We have 12 games, right? I'm gonna try to catch 12 picks."