Although numerous injuries among offensive linemen inhibited the Kansas football team's ability to scrimmage as it typically would throughout the past several weeks, veterans of the program deemed the spring portion of the offseason a success.
Redshirt senior linebacker Joe Dineen has experienced every spring in head coach David Beaty's four years in charge.
"I think we had, since I've been here, one of the best springs that we've had as a team," Dineen remarked. "I think we've taken strides. I think everyone got stronger."
While gains in the weight room should enhance the ability of KU's defensive players on the field, some vital steps in improving a unit that finished 117th among 129 FBS teams in total defense (468.3 yards allowed per game) and 128th in scoring defense (43.4 points allowed) occurred during the 15-practice schedule, too.
According to Dineen, the spring sessions helped KU's defense become more functional as a unit.
Photo Gallery
Kansas football open practice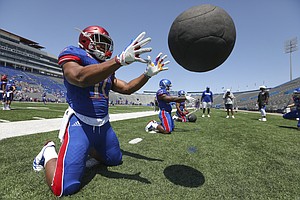 View a gallery of images from an open practice on Saturday at Memorial Stadium.
"It was getting guys in the right spot at the right time. Just get the details of the defense ironed out. I feel like we did that," Dineen said. "I feel like everyone now has a strong grasp of what we're trying to do. Spring's about putting in stuff and fall's about refining it and getting ready to go. I think where we are now we're in a good spot and we've obviously got to keep it up, keep moving forward in the summer with player-run stuff, but I think we've got a good base."
Another redshirt senior and defensive leader, tackle Daniel Wise, felt encouraged by the unit's consistency and advancements through the spring.
"Obviously if you're not growing, you're going backwards. You can't stay the same," Wise said. "But overall I thought we did a good job of moving forward and staying together and growing, communicating well and all those things we need to be a good defense."
Obviously KU's offense had its issues, as well, during a 1-11 2017 season. The Jayhawks finished 117th in total offense (329.0 yards per game) and 119th in scoring (18.7 points per game).
Senior receiver Steven Sims Jr. said KU offensive coordinator Doug Meacham didn't completely overhaul the system or playbook as a result, though.
"He didn't tweak it that much. We're kind of really still running our basics," Sims said. "We haven't really put in extra plays, game-plan plays, things like that. We changed up a couple signals and things like that but nothing major changed to the offense."
Former players stay involved
This past weekend, which was scheduled to revolve around the program's spring game before Beaty decided the Jayhawks would have to make do with an open practice in front of their fans, a number of former KU players came through Anderson Family Football Complex and David Booth Kansas Memorial Stadium to show their support.
The festivities included a golf outing and party at The Jayhawk Club, as well as opportunities for NFL players Chris Harris, Bradley McDougald, Ben Heeney, Fish Smithson and Dexter McDonald to interact with current Jayhawks.
"I think it's important for those guys to see inside of their program, number one, and see what we are doing," Beaty said, "because it's real easy just to kind of not be involved in it and kind of draw your own conclusion. But when you're inside, I think you might be able to draw a little bit more of an educated conclusion. That could still be bad, it could be good, but at least you get to see it."
Furthermore, Beaty savors having NFL players come through as often as possible to remind his college pupils of what's possible and all that goes into making it at the highest level.
"And then they watch (Seattle safety McDougald) come up here and Chris (Harris, star cornerback with Denver) and go get a workout in before they come out and watch them practice. They're in the weight room with them, and that's what pros do, right," Beaty said. "They don't come in and jack around. They come in and get their work done. That's how they last in the league. If you're jacking around, you're not going to last. They're going to cut you."
KU offers hometown O-lineman
This past weekend, Turner Corcoran, a standout offensive lineman at Free State High, picked up a scholarship offer from KU.
Earlier in April, Corcoran, a 6-foot-6, 270-pound rising junior, visited Notre Dame and received an offer from the Irish. He has since added offers from Ohio State and Nebraska, as well.
Back in March, both Iowa State and Kansas State extended an offer to Corcoran.