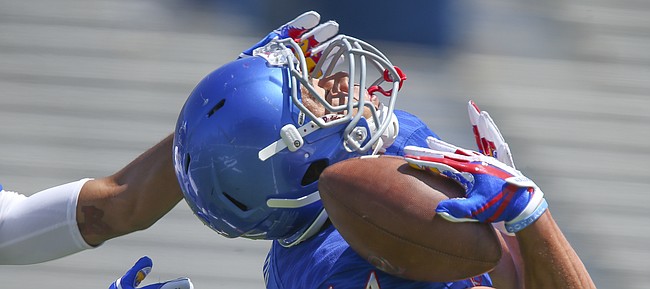 While anybody who follows the program knows how valuable veterans such as Daniel Wise, Steven Sims Jr. and Joe Dineen are for Kansas football, the significance of dozens of their teammates easily goes unnoticed, especially this time of year, with the season still months away.
Accordingly, following his team's 15th and final spring practice, head coach David Beaty took a few minutes to commend some of the less heralded players who impressed him in one way or another over the past several weeks.
The fourth-year KU coach said the development of such under-the-radar players is crucial to the program's growth.
Below is a rundown of the Jayhawks Beaty mentioned (with their class, position, height and weight), along with any comments the coach provided about an individual.
• Nick Williams, fr., OL, 6-foot-3, 290 pounds: Beaty began by describing the true freshman from Overland, Mo., who graduated high school early to enroll at KU this spring "a giant" who is going to become a good player. "We certainly hope we can keep the (red) shirt on him, but he is a big kid. He's just got a long way to go, but he's got a bright future."
• Andru Tovi, jr., C, 6-3, 320: "Tovi stuck out to me with his versatility this spring," Beaty said. "He's tough."
• James Sosinski, jr., TE, 6-7, 260: "He's rounding out his game," Beaty assessed of the KU basketball walk-on and scholarship tight end. "We got him the ball a few more times again (Saturday, at KU's open practice)."
• Caperton Humphrey, jr., FB, 6-2, 225: "A guy none of you know about," the coach claimed, "is just quietly doing everything we ask him to do and making plays."
• Kezelee Flomo, jr., RB, 5-10, 215: Beaty related coaches can see the light coming on for Flomo, a transfer from the North Dakota School of Science, who sat out 2017 per NCAA rules. "It's a different thing playing on the scout team where you put a card up there and you just take off running, and when you call a play and you actually have to react. He's doing a good job."
• Kerr Johnson Jr., sr., WR, 5-11, 193: The second-year junior college transfer "has been a consistent player for us."
• Evan Fairs, jr., WR, 6-3, 210: After making 15 of his 24 receptions in 2017's final three weeks, Fairs is "emerging."
• Clyde McCauley III, R-jr., OL, 6-5, 305: After starting four games late in 2017, the tackle is "becoming more versatile. That is helping us."
• Malik Clark, R-soph., OL, 6-4, 320: A redshirt this past season, Clark "is developing, as well."
• Kyle Mayberry, jr., CB, 5-10, 180; and Bryce Torneden, jr., S, 5-10, 197: Beaty grouped the defensive backs together, saying they are "better in coverage, better in leadership."
• Willie McCaleb, R-jr., DE, 6-2, 240; and Najee Stevens-McKenzie, jr, DE, 6-3, 225: "Those guys are flashing and they're gaining weight, which is good."
Photo Gallery
Kansas football open practice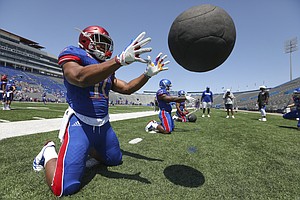 View a gallery of images from an open practice on Saturday at Memorial Stadium.
• KeyShaun Simmons, sr., DL, 6-2, 295: After making 19 total tackles in 12 appearances in 2017, his first at KU, Simmons, Beaty said, continues "to be a steady guy, living under that radar, which we kind of like that."
• Codey Cole, jr., DT, 6-3, 287: A spring enrollee, the former junior college defensive lineman " is going to provide us a lot of depth, and I like his demeanor."
• Stephon Robinson Jr., soph., WR, 5-10, 170: Another new juco transfer who arrived this semester, Robinson "is going to be a good player. He's got a lot of speed. He can help us."
• Jeremiah McCullough, jr., S, 6-0, 200; and Davon Ferguson, sop., S, 5-10, 197: The former teammates at Hartnell College (Calif.), KU's coach offered, both project as "really good" players.
Upon referencing Cole, Robinson, McCullough and Ferguson, Beaty grouped them with the aforementioned Williams and true freshman corner Corione Harris as the "brand-new" players this spring and have shown coaches they can help this program.
"A lot of them will challenge to play next year," Beaty added. "Some of them won't, but a lot of them will."
KU's coach reiterated his positive evaluations didn't mean the players are "anything special yet," but he thinks they have a chance at living up to his expectations.