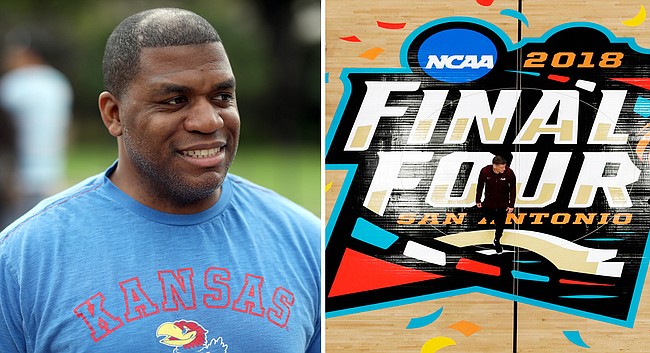 San Antonio — Preston Willis hasn't interacted with many Kansas fans working for the U.S. Army.
"I get a lot of flak. Of course, a lot of Duke, a lot of UNC fans," Willis said. "But hey, you only need one to have a party."
Last Sunday? The party was on.
KU defeated Duke in the Elite Eight to advance to its third Final Four under coach Bill Self. Willis' first reaction was obvious.
"Absolutely, absolutely," he said. "Through social media, through Twitter and Facebook, of course, you know I had to give it to them."
His next one required a little more maneuvering.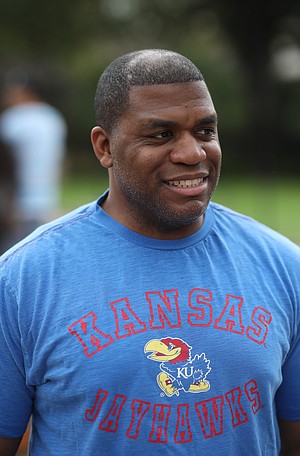 Willis, who now lives in Maryland, was in Texas for work. That provided him the opportunity to sneak away to San Antonio to take part in the festivities.
"I'm down here for work, I just decided to take a day off," he said with a smile. "Shh. Don't tell anybody else, but I'm excited to come down here and enjoy the festivities."
He's certainly plenty familiar.
Willis has followed the team from afar, watching games and highlights online. He's also had the chance to see the team in person — and in the same venue where they'll take the court on Saturday.
"I was living in Houston at the time," Willis recalled of KU's national championship win, one he attended in 2008. "I mean, who doesn't remember the Mario Chalmers 3?"
His memories with the Jayhawks go back well beyond that.
Growing up in Kansas City, Willis got a chance to attend games at Allen Fieldhouse. He recalled his visits to Allen Fieldhouse, admiring the history of the venue and remarking about the lack of air conditioning that he saw as giving KU an advantage.
"KU's used to it, but opposing teams aren't," he said.
Perhaps his most memorable KU event, though, came at a locale outside of Allen Fieldhouse, Sprint Center and even the Alamodome.
At 9 years of age, Willis attended the 1988 national championship game. The game, one of the most prominent in KU basketball history, was held in Kemper Arena, just 40 miles to the east of Allen Fieldhouse.
At the time, Larry Brown was coaching Kansas. Danny Manning scored 31 points and added 18 rebounds to lead KU to a win.
"They beat Oklahoma and Stacey King," Willis recalled. "That was my very first memory of KU."
Since then, he's enjoyed many more.
Willis, sporting a blue KU shirt, ended up outside KU's team hotel after leaving the Alamo. He hopes to be able to observe the players in person on Saturday — "Possibly yes," he said, "still working on some things" — and again on Monday if KU were to advance.
But while his plans for the game might be up in the air, he's a little bit more sure of what he's predicting.
"I think they have a good shot," Willis said. "Ten years ago we went through Omaha. We had to go through Omaha again (this year). I think we have a good shot of taking it all."
More like this story on KUsports.com