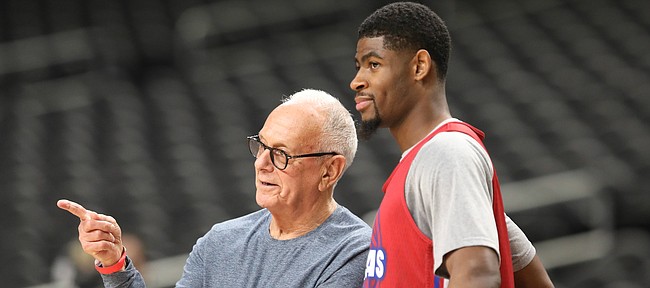 San Antonio — Take a look anywhere around the Kansas basketball program and you'll see countless signs of the Jayhawks operating as a family.
In addition to the KU coaches and their wives treating the Jayhawks like their own sons, sometimes, like with social media posts and on team posters and promotional material, you'll see the six-letter word itself written out plain as day.
Other times, the family feel associated with Kansas basketball shows itself in more subtle ways: an arm around a teammate or coach, a laugh over an inside joke, a player ribbed for being called the wrong name by a member of the media or giving a ridiculous answer.
Heck, even KU's postseason practices occasionally end with a breakdown that includes that very word — "Family."
Although the reasons for this run deep and have roots that trace all the way back to when Kansas coach Bill Self first got his start under Larry Brown, Leonard Hamilton and Eddie Sutton, Self's approach to bringing each KU player into the family has taken on a variety of forms and traveled many different paths. That is true for both his 15-year KU career and for the 2017-18 team that will play Villanova at 7:49 p.m. Saturday at the Alamodome in the Final Four.
Photo Gallery
Kansas and Villanova Final Four practices
View a gallery from Friday's practices at the Alamodome in San Antonio.
And Self's ability to successfully navigate such waters, therein getting the absolute best out of each player, is a big reason the top-seeded Jayhawks are there.
"He's a Hall of Fame coach. He knows what he's talking about and it's so obvious he only wants the best for us," KU sophomore Mitch Lightfoot said. "I think that's why you come to Kansas."
Be that as it may, once you arrive, things can turn different in a hurry. From the charming, charismatic, personality-plus recruiter selling the KU program in your living room to the ultra-demanding, intense head coach who is unapologetic about pushing his players to the absolute brink of their abilities, Self's understanding of how to walk this thin line is what both makes his players love him and gets the best out of them.
"He's a tough guy and he tries to get the best out of you every day," sophomore center Udoka Azubuike said Friday. "Sometimes you might not like it because he's really tough as a coach and demanding, but he just wants the best out of his players. When you're playing for a team like Kansas, with high expectations and a winning culture, you expect that."
Asked on Friday to recall the longest they ever had stayed mad at Self after a particularly tough day, the Jayhawks' answers varied and ranged from a matter of minutes to a couple of days.
Lightfoot, who has been in and out of the lineup during his first two seasons with the Jayhawks, said he rarely, if ever, has been mad at Self, no matter how hard he has been on him.
"If anything, I'll get mad at myself for not being able to fix whatever it is he's mad at me about," Lightfoot said.
Starters Svi Mykhailiuk and Malik Newman said they can't recall a time when they have been so angered by Self's style that they actually boiled over. For Mykhailiuk, it's just a personality trait.
"I don't get mad at people," he said. "That's pointless."
Added Newman, who, this season, has been pushed by Self arguably the hardest and most often of anyone on this team: "I've probably never been, like, really mad at Coach Self that long. I really don't pay attention too much. As this season went on, him just staying with me, talking to me, encouraging me and pushing me, it just showed how much he cared about me."
Don't confuse Newman's words about not paying attention for apathy or a sign of the inmates running the asylum. That could not be further from the truth. Self is in charge. Everyone knows it. And everyone does his or her best to make sure there are more good moments than bad.
That drive, and Self's enormous expectations, are a massive part of the reason the KU program has been so consistently excellent throughout his time in charge, to the tune of 447 victories in 15 seasons.
But that 30-wins-a-year average likely would not have been possible if Self were not able to play the other side of the line equally as well.
Anybody can be hard on his players. But getting them to understand why and inspiring them to be productive and improve as a result is one skill Self has mastered.
Few players understand this as well as point guard Devonte' Graham, who said, after not fully understanding it during his first couple of years, he's reached the point where he actually has been entertained by Self's pressing of KU's younger players.
"I've been here and seen it and know when he's trying to play mind games with people," Graham laughed. "Like when he was messing with Marcus (Garrett) or he was messing with Billy (Preston), I would know that he's trying to get under their skin to see how they would react."
Junior guard Lagerald Vick, who admitted to staying mad at Self the longest — "probably for two days," he said — agreed that Self is a master of pushing the right buttons with his players.
"He always does things just to mess with you, to see how you're going to react," Vick said. "And you just have to get used to it. I think it works."
Graham agreed and said the key was never to let your frustrations linger.
"I don't know how long I've stayed mad (at Self)," Graham began. "Everything he says is like water off your back. He always says he doesn't hold grudges. So he could be mad at you at practice and right after he'll have his arm around you, asking what you're about to do tonight and stuff like that. It's like, 'You were just screaming at me and now you're trying to hug me?' He's hard on you, but it's for the better. He's doing it to make you better."
Legendary basketball coach Larry Brown, who has been with the Jayhawks throughout their time in San Antonio this week, calls this Self understanding "the difference between coaching and criticizing."
As Newman puts it, "Whenever the head man in charge gives you confidence like that and you see that he believes in you and cares about you, you will try to run through a wall for him. Him being the person that he is, those traits show throughout our team."
It's not just the players who feel a strong sense of family within the Kansas program.
"When we lose a game, I probably take it as hard as a head coach," KU assistant Norm Roberts admitted. "And I think all of our guys do that. When we lose, Kansas lost. Every player lost. Every coach lost. We all could've played better. We all could've coached better. And Coach Self always talks about that."
It's philosophies like those and experiences like the yelling and laughing, smiling and screaming, that set the championship standard at Kansas. And this year, the Jayhawks (31-7) have lived up to it.
As you might expect, Self is more than willing to admit and honor that.
"This is the first time in a while," he began, "where I can actually say, 'You know what? I think our team is actually peaking at the right time.'"
There is, of course, another side to that coin. Even at the Final Four, even on the eve of the game that 347 other Division I programs would kill to be playing in, Self spent part of Friday mining the well for just a little more.
"Udoka, hey, as good as he's been, he still hasn't been 100 percent healthy," Self began on the player he helped reunite with his mother this week. "Silvio (De Sousa), he's still only been playing one month because we didn't play him the first month he was here, basically. As good as Lagerald's been, I think he's got another gear he can go to. I do think that we can actually play better than what we've played, even though we've been pretty consistently good the last three weeks or so."