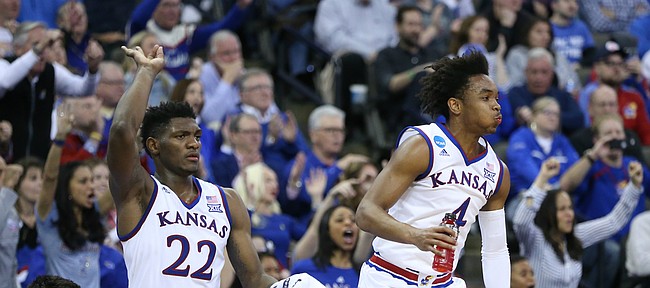 San Antonio — During his preparation for Villanova's upcoming national semifinal against Kansas, coach Jay Wright couldn't help but notice and appreciate the way Bill Self's Jayhawks have transformed over the past few months.
KU's surge through the postseason obviously has more to it than the recent high-scoring outbursts of sophomore guard Malik Newman alone.
"It's amazing what Bill has done with this team," Wright said at The Alamodome. "(Udoka) Azubuike playing really well early, getting hurt. And you look at (Silvio) De Sousa coming in mid-year and developing him into this team, and keeping this team going and continuing to get better."
Wright did admit, though, Newman turned out to be the final piece to KU's Final Four puzzle.
"And I think it's a year playing under Bill. He's become arguably as scary as (Devonte') Graham," Wright added of Newman, who is averaging 21.8 points per game in the NCAA Tournament. "And that's why they're here. That's why they're still playing, because Graham has been Graham, but everybody else is getting better and better at this time, and I think they're playing their best basketball."
Brunson an atypical player of the year
Although Villanova junior point guard Jalen Brunson heads into Saturday's showdown with Kansas as the AP Player of the Year and Oscar Robertson award-winner, there were moments this season when Wright had to ask his team's star to be more selfish.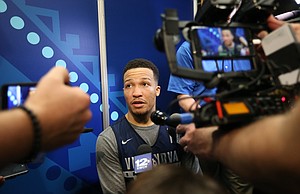 While describing Brunson's leadership qualities and his style on the floor, Wright recalled how his point guard's name kept coming up more often in national player of the year conversations while Oklahoma's Trae Young, another All-American guard in the mix, was putting up more gaudy numbers than Brunson (19.2 points, 4.6 assists).
"And you gotta think a kid hears that," Wright said. "Now, I would talk to him about it and say, just keep playing your game. He'd say, 'I'm good, I'm good.'"
If anything, Brunson, amid that player-of-the-year noise, took a more passive approach, according to Wright. The coach shared stories of imploring his star to remain aggressive and keep looking to score.
"You could tell at the end of games we had leads and he was just trying to get everybody else involved," Wright said. "He was almost going out of his way to show that he was playing for his teammates."
Wright remembered a game at Xavier in which Brunson had a look late and passed instead to Eric Paschall for a dunk.
"And he really should have shot it. But I showed the team afterwards, I said, look at this kid. If anybody had a chance of player of the year, and you had that shot, to pass it up is really showing you how much he cares about his teammates," Wright related. "He's pretty — I think he went out of his way to show his teammates he was not interested in individual accolades this year."