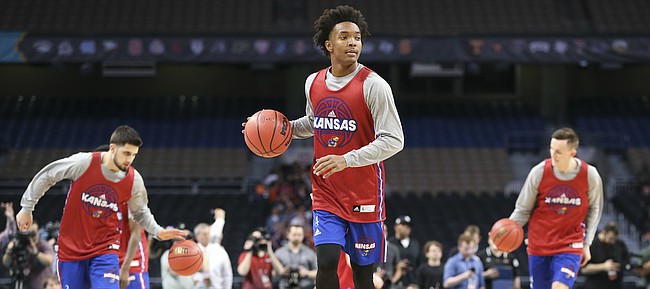 No. 1 Kansas Jayhawks (31-7) vs. No. 1 Villanova Wildcats (34-4)
Time: 7:49 p.m. | Location: The Alamodome, San Antonio, Texas
TV: TBS, TNT, TruTV | Radio: IMG Jayhawk Radio Network
Log on to KUsports.com for our live game blog coverage and follow the KUsports.com staff on Twitter: @KUSports @mctait @TomKeeganLJW @bentonasmith @nightengalejr @chasenscott and @nickkrug
Keys for Kansas
1. It's time for KU's best defensive game of the year
All season, KU has desperately been looking for that one game where it makes its opponent play poorly. And there's no time like the present to find it. Although that seems unlikely with Villanova — playing average instead of great is probably more attainable — there are a couple of areas in which Kansas could excel that would make it possible.
One is on the glass. Both teams average 36 rebounds per game, but Villanova is not the best offensive rebounding team by any means. The Wildcats rank just 140th in the country in offensive rebound percentage and are vulnerable to one-and-done possessions. An effort like KU gave on the boards against Duke would go a long way in this one.
It helps Villanova that, at 40 percent from 3-point range and 58.8 percent on 2-pointers, the Wildcats are both the nation's highest scoring team at 86.6 points per night and the most efficient, according to KenPom.com's efficiency numbers. In fact, their 127.3 efficiency rating is the second highest since KenPom began recording the statistic in 2002.
Another area where KU could mix things up is on the perimeter. But it will take an enormous amount of discipline to make it happen.
KU guard Devonte' Graham said the Wildcats make their living off of attacking bad closeouts, and that it would be key for KU to run to shooters under control and be mindful of keeping the ball in front of them while doing so. Any breakdown can lead to Villanova forcing KU's defense to rotate, and that often leads to wide-open shots.
The easiest way to force an opponent to play poorly is with tremendous effort and energy. Kansas has been riding that wave for the past few weeks and, given the stage and the stakes, should come out with its best performance in that department in this one.
2. Find a way to make Azubuike a problem for Villanova
It's guards versus guards and 3-point shooting versus 3-point shooting for a spot in the national title game. And there's 7-foot, 280-pound center Udoka Azubuike, whose mammoth size could pose the kind of problem for Villanova's big men that their 3-point prowess could pose for Azubuike.
Because the KU sophomore plays just 23 minutes a game, the Jayhawks have the luxury of knowing that freshman forward Silvio De Sousa will be in the game long enough to help contain some of Villanova's perimeter attack.
But when he's not, the Jayhawks have to find a way to get the ball to Azubuike. Doing so not only could overwhelm the Wildcats inside, but it also could loosen up things on the perimeter, giving Graham, Malik Newman, Svi Mykhailiuk and Lagerald Vick more room to operate more comfortably.
Don't forget about the role of the lob in this matchup. Azubuike has killed teams all season by gobbling up anything even close to the rim, and if the KU guards can get some space and get at least one foot into the paint, KU's favorite play could present itself all night.
3. Execute with precision
The Jayhawks have faced some pretty good defensive teams this season, but none like Villanova.
The Wildcats enter this one ranked 13th in the country in defensive efficiency, a number only outdone by their wildly efficient offense.
Their versatile lineup, which features athletes all over the floor and players built in Jay Wright's image of tough man-to-man, in-your-face tenacity offers very little breathing room around the perimeter and requires excellent offensive execution from the opponent.
All-Big 12 picks Keenan Evans and Jevon Carter both struggled with the Wildcats' D in the past two rounds, and Wright's squad will provide the toughest test yet for Graham, Newman and the rest of the Jayhawks.
If there's any good news for Kansas here, it's that they're coming off of one of their best games of the season. The Jayhawks were terrific against Duke's zone last weekend and are bringing a ton of confidence into the Final Four showdown.
Add to that the clear size advantage KU's offense has when it can get the ball down low to Azubuike, and there are clearly areas where the Jayhawks can have success.
What they can't have is bad shots, lazy passes and the 18 turnovers they had against Duke.
Given that it's the Final Four, it's hard to imagine Kansas taking the floor with anything less than 100 percent focus. But that must remain for all 40 minutes. Even two or three bad minutes against Villanova can be too much to overcome.
Mega Matchup
Kansas transition vs. Villanova transition D
Villanova coach Jay Wright compared KU to Creighton, Butler and Marquette in the Big East but deemed them to be "on another level."
The reason for the comparison was the way those teams, like KU, utilize transition to set up their offense and, in particular, their 3-point shooting.
"In each of those games, we kind of had to take a little punch in the mouth to start the game just to get a feel for it and adjust," Wright said of the matchups with Creighton, Butler and Marquette. "And I think we're going to have to do the same thing in this game. Their speed in transition but also the speed with which they run their half-court offense is the best that we've faced."
A half-court game will favor Villanova's strong defense and make life much harder for KU's offense, particularly Graham, to find room to operate. At that point, it becomes a muddy game, and although the Jayhawks were able to win some of those during the season, none of them came against teams quite as good as Villanova.
The Jayhawks have been sensational in transition throughout the tournament, running when necessary against Seton Hall, sprinting past Clemson and pounding the defensive glass to get their transition and 3-point games going against Duke.
That should be the recipe again in this one, and if they're successful, Kansas will have a good shot at advancing.
Jayhawk Pulse
It's the NCAA Tournament. From this point on, if you still have a pulse, you're doing well.
Probable Starters
No. 1 Kansas
G – Devonte' Graham, 6-2, 185, Sr.
G – Malik Newman, 6-3, 190, Soph.
G – Svi Mykhailiuk, 6-8, 205, Sr.
G – Lagerald Vick, 6-5, 175, Jr.
C – Udoka Azubuike, 7-0, 280, Soph.
No. 1 Villanova
G – Jalen Brunson, 6-3, 190, Jr.
G – Phil Booth, 6-3, 195, Jr.
G – Mikal Bridges, 6-7, 210, Jr.
F – Omari Spellman, 6-9, 245, Fr.
F – Eric Paschall, 6-7, 250, Jr.
A quick look at your Kansas vs. Villanova matchups