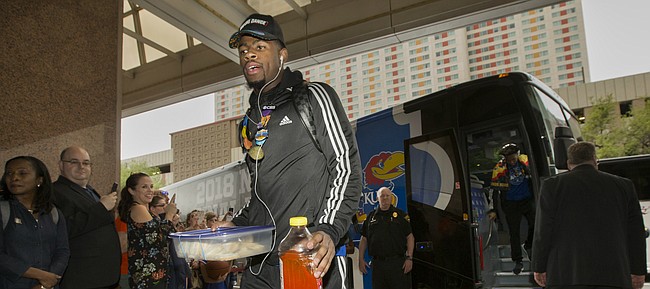 San Antonio — It sounded more like a home game than a hotel arrival.
With dozens of staff members and KU fans lined up in all corners of the San Antonio Marriott Riverwalk lobby on Wedndesday evening, the Jayhawks officially arrived at the Final Four.
With smiles on their faces and eyes wide open to take in everything that is Day 1 at the Final Four, the Jayhawks rolled off the bus one by one and made their way to their rooms.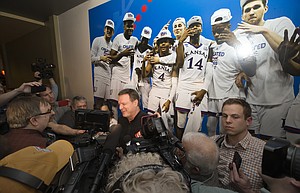 If all goes well, the room numbers will be ones they remember forever.
But Kansas coach Bill Self said there was still a lot of work left to be done before his team can even entertain that thought. The good news, from Self's perspective is that the Jayhawks landed in San Antonio is about as positive a frame of mind as possible heading into the biggest weekend of their lives.
"I think it's good," Self said of his team's focus. "Ask me on Friday and I'll probably know better. But today was good. Considering two days off, effort was good, attitude was good. But how can you have a bad attitude right now at this time of year?"
After their thrilling win over Duke in the Elite Eight last Sunday in Omaha, the Jayhawks were off completely on Monday and then went through a light walk through on Tuesday — Self stressed the word "walk" for emphasis when talking about it — and then practiced in full on Wednesday before boarding a plane in Topeka to head to San Antonio.
The top-seeded Jayhawks arrived a little before 6 p.m. and were scheduled to have a team dinner shortly after their arrival.
"After that," Self said. "It's pretty much a business trip."
There will be plenty of time for the players and coaching staff to soak up the total experience. After all, as those associated with the KU program know all too well, getting to this point does not happen every season.
Because of that, Self is hoping his team emphasizes two things heading into the rest of Final Four week.
No. 1 is physical health.
"I want our guys' minds fresh and our legs as fresh as they can be," he said. "That's more important than anything else."
No. 2 is operating with continued confidence.
"I think we have to," said Self, when asked if he would continue to preach the 'Let it fly,' mantra he used heading into that Elite Eight matchup with Duke. "Now, when you say 'let it fly,' when a team plays zone, sometimes it's a lot easier. We're not going to get off 30 3s against Villanova. They're going to pressure out, they're going to make us play inside the arc. They do things different than what Duke did. But we have to have the mindset to go score fast and be in attack mode."
While most of what Self was referencing in that remark has to do with on-court action after the ball is tipped off on Saturday night, at least a portion of the message was uttered with the idea of proper preparation in mind.
"I'm tired," Self said. "And I know that if I'm tired then I guarantee the players are tired. It's a long season, it's stressful and it's hard to minimize (certain) things here. I think this is the most exhausting week for a player of any time this year. Look at the responsibilities that they have to do. So whenever you're not doing it, you need to be off your feet, you need to be asleep, listening to music and, of course, in our guys' case, probably studying."
Self said navigating one's way through the inevitable annual distractions of the NCAA Tournament was always a challenge and was something that needed to be addressed before this year's tourney run even began two weeks ago in Wichita.
He's proud that his team has been able to do that successfully to this point, but reminded Wednesday night, "But they keep adding each week."
"The one thing about all of us — you, me, everybody — everybody needs discipline, everybody thinks rules are good... for everybody else. Except for us," he joked. "So we all have to buy in and certainly handle it the right way."
Based on the way they have approached the first four rounds of this tournament — and the Big 12 tournament back in Kansas City, Mo., for that matter — there's no reason for Self to believe the Jayhawks will change their way of doing things now.
If anything, Self hopes the Jayhawks will be even more comfortable than they would at any other Final Four because of the great memories the program has from coming down here in 2008 and leaving with a pretty important trophy in tow.
That, of course, is the goal again this time around. And Self that just driving in from the airport to the hotel brought a lot of those wonderful memories rushing back.
You know, Lawrence is obviously my favorite (city)," Self said. "Wichita is good. Kansas City's good. Omaha, I love. But this is probably the best one right here. There's a lot of memories. … Great memories. But we've got to make new memories now."
The Jayhawks are scheduled to practice Thursday and Friday at the Alamodome, with Friday's practice — from 1-1:50 p.m. — being an open practice.
Kansas, of course, will find other places to squeeze in walk-throughs, team meetings and practices in preparation for Saturday's 7:49 p.m. tipoff with Villanova throughout the rest of the week.
KU parents en route
While it's a piece of cake for some parents to make the trip from their hometowns to San Antonio to watch their sons play in the Final Four, the journey is not quite as easy for other parents.
KU's roster features three such players whose families will have a tough time getting to San Antonio for this week's Final Four. But thanks to a new program put in place by the NCAA that helps cover travel arrangements and expenses for foreign-born players, that journey just got a lot easier.
Self on Wednesday provided an update on the status of the families of Silvio De Sousa, Svi Mykhailiuk and Udoka Azubuike.
Self said both De Sousa and Mykhailiuk's parents were making the trip from Angola and Ukraine and that the team was still hopeful that Azubuike's mom would be able to make it from Nigeria in time for Saturday's game.
"Dok's mother has to fly to some city in Nigeria to apply for her Visa tomorrow morning and if the interview goes good she'll be on a plane tomorrow night," said Self, marveling at the idea of Azubiuke's mom's first in-person experience with her son's college basketball career coming at the 70,000-seat Alamodome. "So we're hopeful. And he lit up like a Christmas tree whenever he was talking to her and saw the reality that this could happen. I hope he's not disappointed because it will be disappointing after you kind of set him up to be excited. … It'll be a great experience for them."
More like this story on KUsports.com