Sam Stroh may not have made the call himself. But he may as well have passed off the winning March Madness lottery ticket to his mother-in-law.
Stroh, Free State High's boys basketball coach, was asked for bracket advice by his mother-in-law, who was entering a bracket pool at her office.
"I said, 'I like Loyola (Chicago),'" Stroh responded. "So she has them in the Final Four."
It wasn't pure happenstance that Stroh guided the hand of his mother-in-law toward the darlings of the 2018 NCAA Tournament.
Stroh, an assistant at Blue Valley North for six years, got a chance to watch and face off against Clayton Custer and Ben Richardson, two of the guards helping lead the Ramblers to the Final Four.
Before Richardson went 6 for 7 on 3s against Kansas State in the Elite Eight — "I've never seen Ben shoot the ball the way he did," noted Stroh — and Custer hit a game-winner with less than four seconds left to knock off third-seeded Tennessee in the Round of 32, the two were teammates at Blue Valley Northwest, where they led the Huskies to a pair of state championships.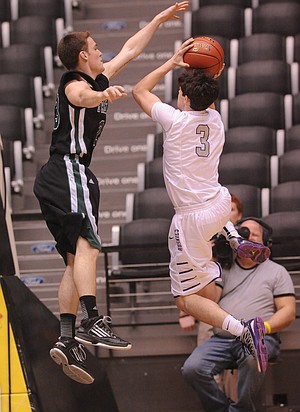 Perhaps the most impressive thing Stroh witnessed, though, came at a camp hosted at KU.
"They were playing Sunrise Christian, which had a bunch of Division-I players. At every position they were two or three inches taller," Stroh said. "And Northwest put on a clinic. They literally just said, 'We've done this before, we'll do it again. It doesn't matter who we play.' It's the same thing they're doing right now, just minus three other guys."
Custer could have played at KU — had the timing worked out.
KU coach Bill Self had the chance to watch Custer play in numerous camps that were held at the university, as well as in Overland Park.
"He was good enough to play at Kansas," Self recalled, "but, you know, we were loaded at the guard spot. I mean you've got Frank (Mason) and Devonte' (Graham), and so that would've been a tough one."
That hasn't stopped Self from enjoying the run Loyola has been on. Asked about the former Overland Park pair on Tuesday, Self revealed he texted Blue Valley Northwest head coach Ed Fritz after the Elite Eight game to congratulate him.
Beating elite high school talent was a theme of Custer's and Richardson's prep careers.
In their sophomore seasons, the Huskies faced off against an Olathe Northwest squad that had future NBA player Willie Cauley-Stein and future Big 10 standout and Nebraska Cornhusker Shavon Shields.
The Ravens lost two games that season.
"That was one of them," said Olathe Northwest boys basketball coach Mike Grove. "They were just so far beyond, just their ability to pass, pass and shoot and just value the basketball. They were just a high school team that hardly ever turned it over."
Grove's Ravens had a chance at revenge the following season, matched up against then-juniors Custer and Richardson in the January Jam tournament at Valley Center.
After a first-round tournament win, Grove and the Ravens went back to the hotel instead of watching the later tournament games — including one featuring Blue Valley Northwest. The Ravens didn't fear the Huskies, Grove said, but because of the level of competition in the first round, he surmised things might get out of hand in a hurry.
"They were going to look extra good," Grove said. "The biggest thing about them is that they were just unbelievable high school passers. They were extremely unselfish."
Stroh's assessment mirrored that statement, which is part of why he still brings up film of the Huskies to this day.
"The thing I always point out to the guys ... they're always high-fiving each other," Stroh said. "They're high-fiving each other, they're high-fiving their teammates, their coaches. They're such such positive role models and they play the game the right way."
That "right way" came heavily because of Fritz, who had a son on that Northwest squad and began coaching him when he was eight or nine year old, Grove recalled.
Fritz's son's elementary school team — which eventually added Custer and Richardson — went on to make up much of the roster at Blue Valley Northwest. As high school players, they made four straight state title games and even went undefeated as juniors.
"They had a high-quality, experienced, former college coach and successful high school coach as their elementary coach," Grove said. "So those guys were very, very well-coached and drilled from the time they were young."
Not even Stroh saw this coming for the Blue Valley Northwest duo, though.
"(My mother-in-law) called me," Stroh said, "and she said, 'Hey, you were right!'"
Well, not completely.
"I didn't have (Loyola) that far," Stroh responded with a laugh, "but I knew they had some good players."