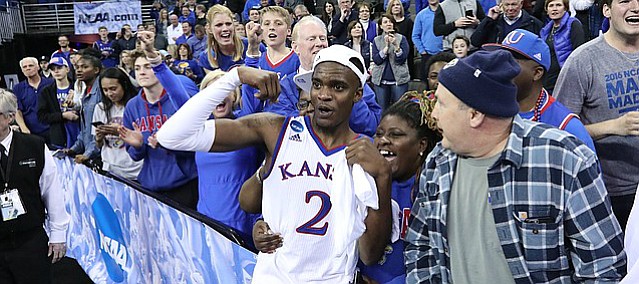 Bill Self joked San Antonio was the most expensive place in the country to fly into this week. If you're in and around, the area, though, there are plenty of chances to make sure you get your money's worth.
On Thursday, voice of the Jayhawks Brian Hanni and Greg Gurley will host an edition of Hawk Talk at Rita's on the Riverwalk — a venue that has played host to KU fans on many occasions — from 6 to 7 p.m.
The next day, Friday, March 30, the Jayhawks will have an open practice from 1 p.m. to 1:50. That practice will take place at the Alamodome, the site of the Jayhawks' last national championship victory and upcoming game against Villanova.
Parking and attendance are both free for the practice. Villanova will be practicing at 2 p.m., as well, for fans who want a chance to check out the competition.
Speaking of that matchup, before the Jayhawks tip at approximately 7:49 p.m. CT, there will be a pre-game party beginning at 1 p.m. at the Tower of the Americas parking lot located at 736 Cesar E. Chavez Blvd. in San Antonio.
The party will last until 4 p.m., with a pep rally featuring the KU band and Spirit Squad taking place during the last hour (3-4 p.m.). There will be food trucks, cash bars available, a DJ and plenty of KU merchandise available for purchase.
Tickets for the party are $10 and can be either purchased online, or in-person at the Marriott River Center (101 Bowie St.) during the following times:
— Thursday: Noon-6 p.m.
— Friday: 9 a.m.-3 p.m.
— Saturday: 8 a.m.-11 a.m.