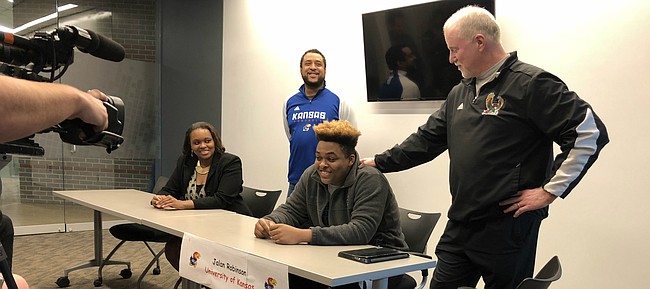 Jalan Robinson had already held off on his decision by seven weeks. He wasn't going to waste any more time before the celebration.
At a small signing ceremony held at Free State on Tuesday, the 6-foot-5, 295-pound offensive tackle signed to accept a full scholarship offer at Kansas. Robinson was asked if he wanted to make a speech in front of the dozens of his friends and family who filled the school's conference room.
The senior first responded, "Nah," before amending his statement and dismissing the room to go to the post-signing reception.
"Thanks for coming," Robinson said with a big smile.
After pressing pause on his recruitment at National Signing Day on Feb. 7, Robinson said he was more than ready to make his decision official.
"It feels great to finally get it over with," he said. "I think if I knew what I knew now, I could've been ready for the decision back then. But I'm glad I held off anyway. I had a fun time taking some other visits."
Robinson will join fellow Free State lineman Spencer Roe on a KU roster that has plenty of local talent. Other Firebirds on the roster include Bryce Torneden, Joe and Jay Dineen, and Keith Loneker Jr.
Robinson grew up playing basketball with Torneden and also mentioned that he'd forged a solid bond with Jay Dineen.
"I love both of those guys," Robinson said.
Other factors in Robinson's decision included his relationship with new KU offensive line coach A.J. Ricker and the staff.

"I've been wanting to go to KU since I was little. I started getting some other offers and I just wasn't sure on what I wanted to do," Robinson said. "Basically, they told me, 'It's really whatever you want to do. It's your decision.' They've been patient on me."
That patience may end up going both ways.
At National Signing Day, Robinson referred to his decision as a "five-year" one. He affirmed again after the ceremony that he still has some work to do to be ready to make an impact on the field.
"I need to ... get a lot stronger and definitely get a lot faster," Robinson said, "and maybe take off a little bit of my gut."
Regardless, Robinson, originally offered as a spot as a preferred walk-on, said it was the scholarship offer from KU that "sealed it for me."
While the KU coaches were able to land the three-star recruit, the happiest coach of all may have been the man with his right arm on Robinson's shoulder as he spoke about the senior.
"I'm awfully glad that he did decide to stay somewhat close, so I don't have to travel so far to see him," said Firebirds coach Bob Lisher. "He's had a great career at Free State. He's going to have a great career at KU."
More like this story on KUsports.com