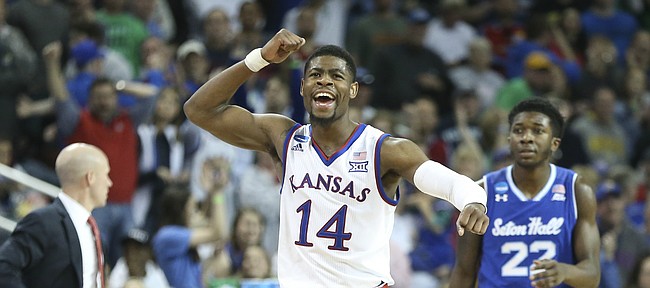 McDonald's All-American. A dominant scorer for the scout team against Kansas regulars last season. Predicted by no less an authority than Bill Self to earn first-team All-Big 12 honors once he became eligible after transferring from Mississippi State.
We heard all about Malik Newman, and couldn't wait to see him play and join Devonte' Graham for what surely would be one of the nation's best backcourts.
And then the season started, and so did the wait for the real Malik Newman to stand up.
How could a player so young age so poorly?
Another question has taken its place: How could a player become that much better so quickly?
After Newman's redshirt season, Self inherited a B player, harped on all the warts that kept him from developing into an A player and, in so doing, temporarily turned him into a C player.
Once Newman began to shore up his weaknesses, he put his mind at ease and went about showing the source of all the fuss over him throughout most of his career. And ever since the postseason started, Newman has been a straight-A performer.
Newman stung Duke with 32 points, seven rebounds, two assists and three steals in KU's 85-81 overtime victory Sunday in Omaha, Neb., sending the Jayhawks to their first Final Four since 2012.
He scored 13 second-half points and all 13 of KU's points in the five-minute overtime period.
"Here of late, Devonte' has got a sidekick, or you could even say Malik has got a sidekick in Devonte', because he's been our best player without question the last month," Kansas coach Bill Self said Monday.
Newman was named most outstanding player in the Big 12 tournament and Midwest Regional.
In seven postseason contests — three in the Big 12, four in the NCAA tourney — Newman has averaged 22.7 points. He averaged 12 points in his first 31 games for KU. During his seven-game hot streak, Newman has averaged four made 3-pointers per game and shot .549 from beyond the arc.
"In the last three weeks or a month, it's just incredible how he has performed in all areas," Self said. "Everybody talked about his 32 yesterday, but the job he did on Grayson Allen yesterday was tremendous."
Early in the season, Self's frustration with Newman's lack of an all-around game grew to the point he didn't start him in six games.
"He's always been a good offensive player, but I was on his butt pretty hard for not doing some other things, and that probably limited his offense, as well," Self said. "… He's always been a good defensive rebounder for us this year, but I didn't feel like he did anything to take any pressure off of Devonte'. He didn't drive the ball to ever get him a shot off the catch. Devonte' had to do everything off the bounce. You know, I just felt like he was forcing Devonte' to do too much. And we made that very clear to him."
The message took root and Newman took off.
"Malik was just unbelievable," CBS color commentator Bill Raftery said Sunday night on his way out of CenturyLink Center. "He's just put this team on his shoulder."
After a so-so freshman season at Mississippi State, Newman went to the NBA scouting combine and was told he wasn't ready to jump from the college ranks. He used his redshirt season at Kansas to work on his game.
"I thought last year he did a great job of doing things that the NBA people said he needed to improve on, without question," Self said. "But you know, when you're coaching a redshirt, I don't think that when they're on the scout team and they take a bad shot or don't guard one day as well as they should, it's usually not the same emphasis if you're eligible and playing ample minutes. He looked great last year to us, but he probably got by with some stuff."
Kansas was 19-6 until winning 12 of its past 13 games.
"Like coach said, we had a lot of hard lessons early in the season," Newman said. "We had some tough losses and things like that."
Newman's emergence has made Kansas a much tougher out and the tough wins just keep mounting for KU.