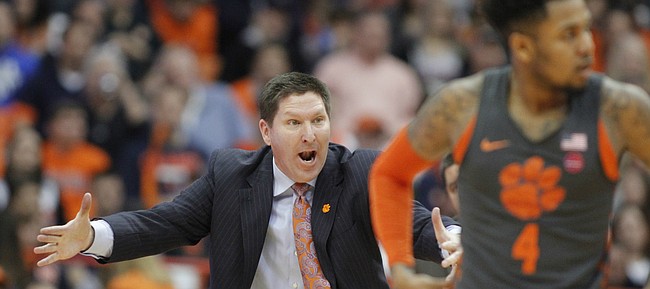 Omaha, Neb. — Clemson just might be the least talked about school in the Sweet 16 field for a variety of reasons, none of which have anything to do with the quality of the team that will face Kansas on Friday night.
The Tigers play for football national championships, not basketball. They lack the blue-blood appeal of Duke, Kansas and Kentucky.
Having finished tied for third in the ACC, they're too good to fit easily into the role of America's favorite surviving underdogs, a title for which Loyola of Chicago and Nevada vie.
They lack the intriguing question that follows Kansas State every step: How much will Dean Wade play and how much will his game be compromised by the stress fracture in his foot?
Clemson doesn't have a projected first-round draft choice, is the only school in the Midwest regional without a Hall of Fame coach and doesn't conjure memories of great moments in NCAA tournament history.
"Nobody is going to know who I am," Clemson coach Brad Brownell joked after his team advanced to the Midwest regional. "It's like coaching in the ACC. I don't look down at the other end when we're coaching. That's not good for my mental health."
Despite the school's lack of loud basketball sizzle, it's quite remarkable that Clemson is in the Sweet 16, given where the program was just one year ago.
Busy preparing his team's game against favored Kansas, Brownell probably didn't even stop to think of the significance of Tuesday's date. It marked the one-year anniversary of Clemson athletic director Dan Radakovich releasing a statement that Brownell would be retained for the 2017-18 season.
The fact the AD felt the need to furnish that answer means plenty were asking the question.
The statement, in part, read: "Both of us believe strongly that we should have achieved more this season and Brad is candid with his own critique and assessment. As we move forward, I expect Brad to make changes in the program to better position us for success."
Tick, tick, tick started the timer on Brownell's tenure at Clemson. A six-year NCAA tournament drought will do that to an ACC coach.
"On the outside, there was a lot of noise," Brownell said. "There were some things that needed to be changed or that I needed to address when my administrators and I met, and we had great conversation. I knew I needed to win this year. That's OK. This is high-level basketball. You need to win."
Those in ACC country didn't give Brownell much of a chance to survive beyond this season since his team was picked to finish 13th in the 16-team conference coming into this season.
The Tigers came out of the gates with a 16-3 record, but Brownell was dealt a bad hand when, in the 16th victory vs. Notre Dame, second-leading scorer, Donte Grantham, suffered a season-ending ACL injury.
Since the loss of Grantham, a 6-foot-8 senior who averaged 14.2 points and 6.9 rebounds, the Tigers have gone 9-6 and have had to rely more heavily on scoring from its trio of 6-3 starting guards: Marcquise Reed (15.8), Gabe Devoe (13.7) and Shelton Mitchell (12.3).
Devoe represents as clear-cut a statistical X factor as there is on any Sweet 16 roster.
Since the Grantham injury, Clemson is 9-0 when he scores 13 or more points. He has averaged 22 points in the nine victories and has shot .542 from 3, averaging 4.3 3-pointers out of 9 attempts per game.
Since losing Grantham the Tigers are 0-6 when DeVoe scores 11 or fewer points. He has averaged 7.5 points and shot .182 from 3, averaging 1 of 3-pointer out of 5.5 attempts per game.
So does Devonte' Graham, KU's top perimeter defender, guard the 200-pound DeVoe in hopes that he can shut him down and continue Clemson's streak of losing when the senior doesn't get hot? Or does Kansas coach Bill Self put Graham on the 180-pound Reed, Clemson's best player?
No such dilemma faces Self in determining where to go to guard Elijah Thomas, a 6-9, 251-pound center who averages 10.9 points and 8.1 rebounds. He'll be Udoka Azubuike's assignment.
Brownell couldn't score enough quality high school recruits to build an NCAA tournament-worthy roster, so in what would appear was the nick of time, he shifted his recruiting philosophy to cash in on the ever-increasing pool of transfers.
Reed (Robert Morris), Mitchell (Vanderbilt) and Thomas (Texas A&M) all came to Clemson as transfers, as did the top two reserves, David Skara (Valparaiso) and Mark Donnal (Michigan)
The roster has meshed well, never better than in the second round when Clemson scored what to date has been the biggest margin of victory in this tournament — 84-53 vs. No. 4 seed Auburn in the second round.
The Tigers aren't generating a lot of talk, but their play of late has said plenty about them.