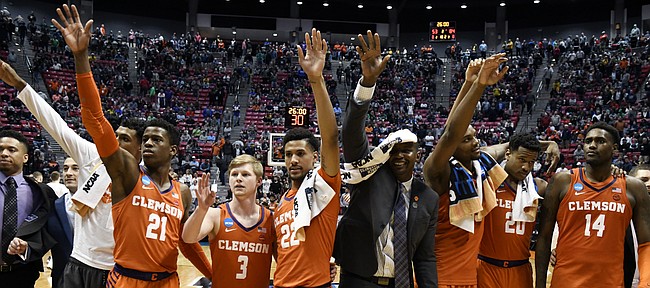 Some may consider Clemson, the No. 5 seed in the NCAA Tournament's Midwest region, as one of the handful of teams crashing this year's Sweet 16 party.
Eighth-year coach Brad Brownell said his Tigers would love nothing more than to keep outlasting other invitees to the postseason bash.
"There's no, 'Let's take a deep breath and pat ourselves on the back,'" Brownell told The State. "When this is over we'll do that, for sure. But right now it's like, 'Let's get back in there and watch more Kansas film and figure out how to win.' And I think our players feel the same way. I think we're excited that we went to the Sweet 16, and we don't do that here at Clemson very often, but why not more? And that's what we're thinking about."
Brownell first made his name in the profession by taking UNC-Wilmington to the NCAA Tournament in 2003 and 2006. He moved on to Wright State and made one March Madness appearance there before taking the Clemson job in 2010.
This season, despite losing senior forward Donte Grantham (14.2 points per game, 6.9 rebounds) to a season-ending knee injury in January, Marquise Reed (15.8 points, 4.7 boards, 3.4 assists), Gabe DeVoe (13.7 points, 4.6 rebounds, 2.1 assists), Shelton Mitchell (12.3 points, 3.7 assists), Elijah Thomas (10.9 points, 8.1 rebounds) and the rest of the Tigers have propelled the program to its first regional semifinal in 21 years.
Now, just like traditional powers KU, Duke and Syracuse, the other teams left in their bracket, Brownell and the Tigers (25-9) are two victories away from college basketball's ultimate destination — one that even his counterpart at Kansas, Bill Self, hasn't visited since 2012.
"I've always dreamed of taking a team to the Final Four. It's what I want to do as a coach and try to win a national championship," Brownell said. "It's really hard, no question, and I probably have a deeper understanding of that having been here eight years, of how hard it really is. But I just enjoy this journey. I enjoy preparing my teams. I want to do what we can to get ready and try to beat one of the best teams in the country, one of the best programs in the country."
Brownell talks Jayhawks
When Brownell returned from San Diego earlier this week and sat down with local media to discuss his team's run to the Sweet 16, the first question thrown the coach's direction wasn't about matching wits with Self or how the Tigers will go about defending Naismith Award finalist Devonte' Graham.
No, the first query Brownell fielded had to do with perhaps the hottest hand on KU's roster, sophomore shooting guard Malik Newman, and what exactly has made the Big 12 tournament's Most Outstanding Player so difficult to defend of late.
Podcast episode
On this episode of the KU Sports Hour, hosted by KU basketball beat writer Matt Tait, the KUsports.com staff takes you back through the first weekend of the NCAA tournament. Topics include: Malik Newman's big game, Udoka Azubuike fighting through injury and KU's upcoming matchup against Clemson.
"Big, strong, powerful player that can drive it and make 3's," Brownell began of Newman, who led the Jayhawks with 28 points against Seton Hall, this past Saturday.
But it didn't take the Tigers' coach long to redirect the conversation to the wealth of talent his team will face Friday night (6:07 p.m., CBS), in Omaha, Neb.
"I'm not sure how to pronounce the other kid's name, Svi," Brownell said, referring to sharp-shooting KU senior Mykhaiiuk, who has drained 110 of 242 3-pointers this season. "Both those guys on the wings are dynamite at attacking close-outs and scoring off the catch with a shot or drive. Obviously Graham puts a ton of pressure on you coming off ball screens, and that's why they're really good and really hard to stop. They've just got multiple weapons."
Clemson's coach made it clear he expects "an outstanding team," in Kansas (29-7), will be challenging to topple.
"They shoot the ball from 3 exceptionally well (40.3 percent), play with great pace and energy. Bill's done a good job with this team, because they're not your typical Kansas big, high-low, motion, physical team," Brownell said. "They're more of a speed and 3-point shooting (team). He's made some really good adjustments to how they play, and they're hard to guard."
Building on exceptional win
Coming off what Brownell characterized as a "great" performance in the second round, an 84-53 dismantling of Auburn, the coach could not be more pleased with his Tigers.
He credited the players' preparation heading into the tournament's opening weekend for setting up a rewarding trip to the Sweet 16.
Considering how well Clemson played in its most recent outing, the trick heading into a matchup with Kansas is finding the balance between the Auburn beating giving the players confidence and not thinking back upon it as a great achievement.
"There was a lot of good things that we did in that game to cause Auburn problems, and then we capitalized and we made plays," Brownell said of the victory, during which Clemson shot 48 percent from the field and limited Auburn to 26 percent. "Our execution was good offensively. Our spacing was really good. Our pace was good. It was a high-level game. And we didn't have some crazy game where we made 18 3's or something to do it (Clemson shot 10 of 26 from deep). We just played really, really well on both ends of the floor."