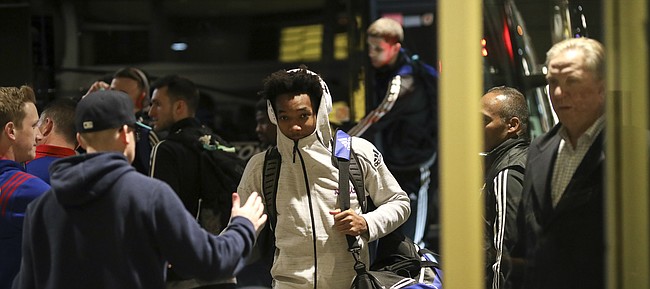 Omaha, Neb. — With the usual media horde surrounding him and staff members at the downtown Omaha hotel decked out in Kansas T-shirts and clapping along to the fight song as the team rolled in, KU coach Bill Self shared some news that Jayhawk fans everywhere have been waiting a couple of weeks to hear.
"It's the healthiest, knock on wood, that we have been in a long time," Self said shortly after 8:30 p.m. Wednesday night, not long after KU's Welcome to Omaha team meal at Sullivan's.
"'Dok is full speed," added Self of sophomore center Udoka Azubuike, who has been nursing an injured left knee since March 6. "Now, his timing may not be great, but his health is good. If we take him out it'll probably be because he picks up two silly fouls early, not because of any type of problems. We're excited to have him out there full speed."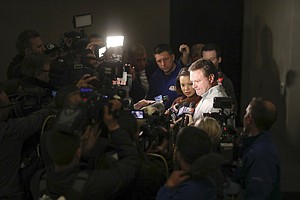 While Self has credited Azubuike's maturity and mindset for helping the sprained MCL in his left knee heal quickly, the KU coach said Wednesday that timing also played a key part in getting Azubuike back to 100 percent in time for Friday's 6:07 p.m. Sweet 16 showdown with No. 5 seed Clemson at CenturyLink Center.
"We thought we caught a little bit of a bad break, playing Thursday-Saturday the first weekend," Self said of KU's first-round wins over Penn and Seton Hall in Wichita. "But it turned out to be a good break playing Friday-Sunday this weekend. We were able to give him Sunday and Monday off, and (senior guards) Devonte' (Graham) and Svi (Mykhailiuk) basically, so we should be as rested as we've been going into Friday."
Self said the Jayhawks have had just two practices since knocking off Seton Hall last Saturday night and only one of them resembled anything close to what most of their practices looked like throughout the season.
The reason for that was simple. At this point in the season, fresh legs and rested minds are as important as anything and Self was not about to wear his players down in the days leading up to the game that could land top-seeded KU in its third consecutive Elite Eight game on Sunday.
"(Tuesday's) was long, (Wednesday's) was short and crisp and (Thursday) we'll go short," Self said of KU's recent practices. "Nothing new. We're not going to reinvent the wheel this late in the season."
What is new for Kansas is Friday's opponent. Kansas and Clemson never have faced each other on the basketball floor and Self said Wednesday he was impressed by the brand of basketball he had seen from the Tigers' game film.
"How sound they are defensive and how good their guards are," said Self when asked what stood out about Clemson. "They've got three guards that are probably as good or better than any three guards we've gone against all year long on the same team and then they've got a big guy they can play around.
"Those are all-league type players, all of them. And all of them are capable of getting 20 or 25 any night. It'll be tough to keep all three of those guards down, but we need to find a way to get two of them not to have good nights."
The reason for Clemson's buttoned-up approach, of course, is their head coach. And even though his might not carry the same weight as the three Hall of Famers with which he'll be sharing the stage this weekend in Omaha, it's clear that Self is a fan of Clemson coach Brad Brownell.
"It is a pretty good group," said Self of himself, Syracuse's Jim Boeheim and Duke's Mike Krzyzewski. "And the guy that is probably the least known may be doing the best job, in Brad. He's a tremendous coach. After studying his teams on film, they just don't make many mistakes. You have to play well to beat them."
That certainly will be the goal for the Jayhawks on Friday night. And if history has any bearing on future success, KU could be in exactly the right place.
The Jayhawks are 5-1 all-time in NCAA Tournament games and, as Self pointed out on Wednesday night, 7-1 in NCAA Tournament games in Nebraska, if you throw in the two wins the 1988 title team racked up in nearby Lincoln, to kickstart its championship run.
"Just happy we're playing, obviously. It's been a crazy tournament. Probably the wildest that I've ever witnessed, but, you know, in this region the seeds basically held true for the most part and we're excited to be in Omaha. Hopefully our fans will turn out."
Graham honored again
KU senior Devonte' Graham picked up another All-American honor on Wednesday, when the National Association of Basketball Coaches pegged him as a first-team selection.
Graham, who is the only player in Div. I basketball to average 17-plus points, 7-plus assists, 1.6-plus steals and fewer than three turnovers per game, now has been named the 2017 Big 12 Player of the Year, all-Big 12 first team, one of five finalists for the Bob Cousy Point Guard of the Year Award and a first-team All-American by The Sporting News, NCAA.com, the USBWA and the NABC.
The NABC is among the handful of outlets used for the official NCAA consensus All-America team and Graham is 3-for-3 on consensus All-America first teams as he was previously named to The Sporting News and USBWA All-America squads.
Joining Graham on NABC All-America first team were Villanova's Jalen Brunson, Arizona's Deandre Ayton, Duke's Marvin Bagley III and Oklahoma's Trae Young.
Closed practice
For the first time since the NCAA Tournament began opening practices to fans on the day before a team's game, Thursday's KU practice at CenturyLink Center — scheduled from 1:05-2:35 p.m. — will be closed to the public.
Self said Wednesday night that he liked the change because it allows the team to lock in more and does not fully take away the fun from fans, who were able to see the team practice in full in Wichita before last week's first-round game.
"It's a good rule change," Self said. "It really is."
Conference pride
With four Big 12 teams among the 16 squads still standing in this year's NCAA Tournament, Self said Wednesday night that the conference had done a great job thus far of backing up its claim as the toughest league in college basketball.
And now he's hoping there's more where that came from.
"Oh sure. I'm happy there's four and I hope all four advance," he said. "That would be great. Of course, I care a lot more about one of those schools rather than the other three, but I hope they all do well."
Ninth-seeded Kansas State is the only team playing Thursday, as the Wildcats will take on fifth-seeded Kentucky at 8:37 p.m. Kansas, fifth-seeded West Virginia (6:27 p.m. vs. No. 1 Villanova) and third-seeded Texas Tech (8:57 p.m. vs. No. 2 Purdue) all will play Friday night.