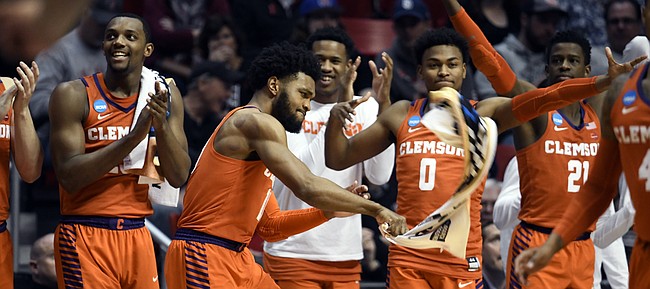 In as thorough a beating as this March's NCAA Tournament has seen to date, Clemson moved on to the Sweet 16 in the Midwest, in large part, by stymying Auburn's offense at an alarming rate.
The ACC's Tigers advanced to a regional semifinal versus Kansas with a 31-point victory on Sunday in San Diego over the SEC's regular-season co-champion. During the drubbing, Clemson (25-9) limited Auburn to 19 first-half points and 25.8-percent shooting for the game.
Auburn only scored on 22 of 70 possessions against Clemson, which enters Friday's meeting with Kansas in Omaha, Neb. (6:07 p.m. CBS), ranked 18th nationally in field-goal percentage defense (40.4 percent).
The question for eighth-year Clemson coach Brad Brownell is what his team's stingy defensive numbers against Auburn will mean for the players moving forward.

"Having confidence from playing well these two days out here," Brownell said during a postgame press conference, upon leading the program to its first Sweet 16 since 1997. "We've competed in an incredible league. All season long, it hardens you. You see all kinds of coaching styles, different styles of play. So, to come through that and to make an NCAA Tournament, you feel prepared."
What's more, Brownell, who also coached Wright State and UNC-Wilmington to NCAA Tournament appearances in the early 2000's, hopes senior guards Gabe DeVoe and Shelton Mitchell, junior guard Marquise Reed, junior forward Elijah Thomas, freshman forward Aamir Simms and their teammates now feel used to the big stage with their 2-0 start to the postseason — a 79-68 win over New Mexico State and the 84-53 annihilation of Auburn.
"Giving them confidence in this kind of environment that they can make big plays, make shots, defend at a high level," Brownell said of what he hopes will travel with the Tigers to Omaha. "And if you stick to the plan, than you can be successful."
Though this is the first trip to the Sweet 16 for Brownell as a head coach, he expects to feel right at home in terms of the company he will keep on the sidelines.
"Nobody is going to know who I am," Brownell joked, when asked about taking Clemson to the same site as KU's Bill Self (two Final Fours, one national championship), Duke's Mike Krzyzewski (12 Final Fours, five titles) and Syracuse's Jim Boeheim (five Final Fours, one title). "It's like coaching the ACC. I don't look down at the other end when we're coaching. That's not good for my mental health. I don't worry about looking at Coach K and Bill Self and Jim Boeheim and Roy Williams and everybody else that coaches in the ACC. If you do that, that's not good for you."
So far this season, Clemson has held its opponents to 43.8-percent shooting on 2-pointers (eighth nationally), but allowed 34.9-percent shooting on opponents' 3-pointers (181st).
Kansas ranks 16th in the country in 2-point field-goal percentage (54.1 percent), and enters its matchup with Clemson shooting 40.3 percent from 3-point range (11th nationally).
Clemson leading scorers
Marcquise Reed, 6-3, jr., G — 15.9 points, 4.7 rebounds, 3.4 assists, 66 of 187 on 3-pointers (35.3%)
Gabe DeVoe, 6-3, sr., G — 13.7 points, 4.6 rebounds, 83 of 208 on 3-pointers (39.9%)
Shelton Mitchell, 6-3, jr., G — 12.3 points, 3.0 rebounds, 3.7 assists, 49 of 132 on 3-pointers (37.1%)
Elijah Thomas, 6-9, jr., F — 10.9 points, 8.1 rebounds, 2.2 blocks, 56.7% FGs