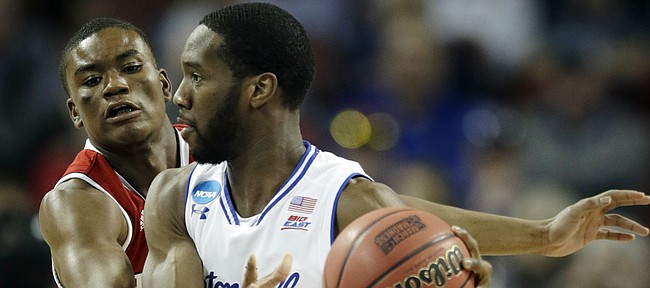 Wichita — The basketball courts in the parks of Brooklyn, N.Y., are rich with tales of superhuman feats from the likes of Connie Hawkins and Pee Wee Kirkland, Fly Williams and Jumpin' Jackie Jackson.
Generations later, Seton Hall guard Khadeen Carrington toughened his game on the same courts and it prepared him well for leading the Pirates past North Carolina State, 94-83, Thursday in a first-round NCAA tournament game.
Carrington scored 13 of his team's last 27 points and made 9 of 10 free throws in the game's final 8:31.
Most of the pregame talk for No. 8 seed Seton Hall vs. top-seeded Kansas centers on whether Seton Hall will try to slow Devonte' Graham, how Kansas can keep Pirates senior Angel Delgado from dominating down low, and how much KU can count on from injured center Udoka Azubuike.
Those all are huge factors, but so is Carrington.
A 6-foot-3, left-handed point guard who was born in Trinidad and Tobago and moved to Brooklyn at the age of 3, Carrington is his team's third-leading scorer (15.2), yet has led the Pirates in scoring in each of the past six games, three coming when Desi Rodriguez was sidelined by an ankle injury.
Just as playing without Azubuike and doing well ignited the confidence of Silvio De Sousa and Mitch Lightfoot, Carrington brought peaking confidence into the tournament by taking on a heavy scoring load during Rodriguez's absence.
Heading into his streak of games as the team's leading scorer, Carrington had been mired in a prolonged shooting slump, making just 8 of 43 (.186) 3-pointers in 11 games. He was 0 for 17 in the first four games of that stretch.
"I've been in the gym the past few weeks putting up shots like it was the offseason," Carrington said.
It has paid off.
Look at stats long enough and eventually you'll find something that pops off the page as an X factor for any team. Carrington's 3-point shooting qualifies. He shot .434 from 3 in 22 victories, .135 in 11 losses.
Carrington leads Seton Hall into its fifth game this season against a No. 1 seed. The Pirates went 0-4 vs. Big East rivals Villanova and Seton Hall, and Carrington made just 2 of 19 3-pointers in the four games.
KU's Devonte' Graham, player of the year in the Big 12, earned the honor by consistently getting the better of some very talented point guards. Carrington is next up.
"He's a good guard, shifty and crafty," Graham said. "You have to try to keep him from going left, and when he gets to the paint he knows how to make plays. It's going to be a good challenge guarding him. We just have to stay locked in and keep him out of the lane."
Graham and Villanova's Brunson are among the leading candidates for top individual national honors, but when asked to name the best guard he had ever faced, Carrington did not say Brunson.
"In my life? Man, best guard I ever played against in my life?" Carrington repeated. "I played against a lot of great guards from my neighborhood that nobody ever saw. I would probably say someone from my neighborhood."
Not all great talents from rough neighborhoods make it all the way to college basketball courts, derailed by any number of life challenges exacerbated by poverty. Only one of two tough starting point guards playing in the Saturday game that tips off at 6:10 p.m. at Intrust Bank Arena will advance to the Sweet 16 in Omaha.