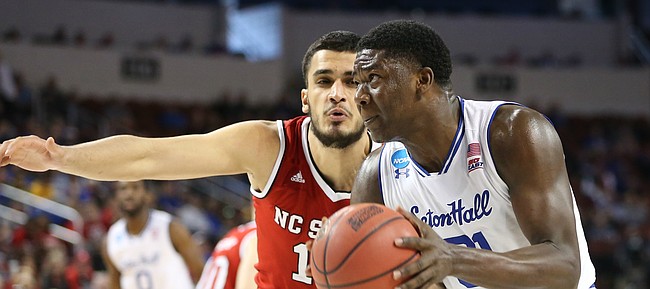 Wichita — Through first-hand experience and a little good-natured conditioning courtesy of the man they've seen grab so many missed shots over the past four seasons, Seton Hall players lovingly refer to senior center Angel Delgado as "the best rebounder in college basketball," prefacing or following the phrase with words such as "obviously" or "everybody knows that."
Since the Pirates (22-11) advanced to the NCAA Tournament's second round with a Thursday win over North Carolina State, Kansas, their Saturday opponent, has been familiarizing itself with the 6-foot-10 Delgado, whom Big East opponents have seen control the glass since the big man first arrived in South Orange, N.J.
The NCAA's active leader in career rebounds (1,432) and double-doubles (71), Delgado reminds anyone listening of his prowess.
"I do believe I'm the best rebounder in the country. I say it every day at practice and games, because I work so much for it," the Seton Hall center said with a smile Friday at Intrust Bank Arena. "Every time I get the opportunity to outrebound somebody or do this or that I just feel proud of myself and proud to be working every single day."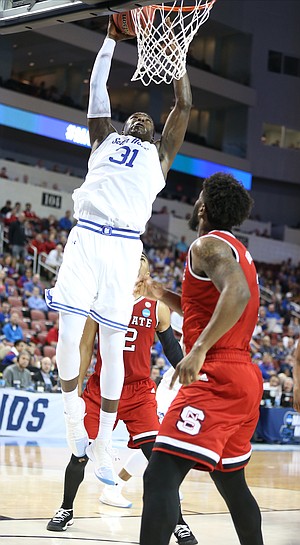 If all Delgado provided was rebounding he might not be garnering so much attention from the Jayhawks (28-7). But head coach Bill Self and his assistants have spent the past day detailing all of Delgado's merits to their players.
"Delgado, he's a different dude. We've played against some good dudes this year but we haven't played against anybody who is the combination of a force and a scorer and the rebounder he is, and as a passer," Self said. "He's a great player. We'll have our hands full with whoever's guarding him."
Making their third consecutive trip to NCAA Tournament — they suffered first-round defeats in 2016 and 2017 — the Pirates enter their matchup with KU (6:10 p.m., TBS) loose, confident and experienced.
Seniors Khadeen Carrington, Ismael Sanogo and Desi Rodriguez have played alongside Delgado for four years now. Between his 13.6 points and 2.7 assists per game, as well as his 50.1-percent shooting on the year, the Pirates know they're better off when they throw it inside and work their offense from the inside-out.
Seton Hall's leading scorer, Desi Rodriguez (17.9 points) said Delgado likely doesn't get the national attention he deserves, adding the Big East even overlooked him with its postseason honors. The six-player All-Big East first team included Butler forward Kelan Martin (20.8 points, 6.2 rebounds) and Villanova wing Mikal Bridges (17.9 points, 5.5 rebounds) but relegated the Seton Hall center who averages 13.6 points and 11.5 boards to the second team.
"I think he should've made first team. I think he had a chance to maybe get player of the year — he averaged a double-double for two years straight," Rodriguez said. "I think he's overlooked but he don't dwell on that at all. He just goes. He just keeps playing basketball. And people don't realize how good of a person he is."
Photo Gallery
Kansas and Seton Hall press conferences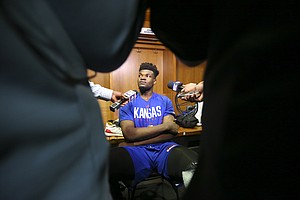 View a gallery of images from the Jayhawks' and Pirates' press conferences and open locker rooms on Friday in Wichita.
The Jayhawks have quickly learned how crucial Delgado is to Seton Hall's offense (79.5 points per game). But the Pirates own a balanced scoring attack, with sophomore guard Myles Powell (15.5 points), senior guard Carrington (15.2) and senior wing Rodriguez complementing his interior presence.
Still, with Udoka Azubuike less than 100 percent, KU doesn't have its ablest big body to lean on and battle with the Pirates' marquee big.
Sophomore forward Mitch Lightfoot and freshman Silvio De Sousa will have as much, if not more, defensive responsibilities than Azubuike as Kansas tries to contain Delgado as a scorer, rebounder and passer.
"Especially with one of their bigs a little hurt right now," Seton Hall sophomore Powell said, "we know that's going to be one of our game plans, trying to get Angel a little bit more touches than we did (Thursday). We're going to hop on the big boy's back and hopefully it leads us to victory."
Likewise, Delgado anticipates the entire KU defense narrowing its focus on him Saturday night, with a Sweet 16 berth up for grabs.
"They're going to come really aggressive, because I'm an aggressive player," said Delgado, a Dominican Republic native who has improved with the help of fellow Dominican Al Horford, a five-time NBA All-Star with whom he built a relationship through the national team.
Seton Hall's four-year center hopes his assertive approach will power his team against the Midwest's No. 1 seed, whether he spends the game squaring off with sophomore 7-footer Azubuike or KU's other bigs.
"He's a great player," Delgado said of Azubuike. "There's a big difference when he's not on the court. We've got to give them credit, when he's on the court they're a big problem. At the end of the day I've been going against players like that before. I'm kind of not worried about it. I'm just going to play my game and do the best I can to win."
---
---
---
---
---
---