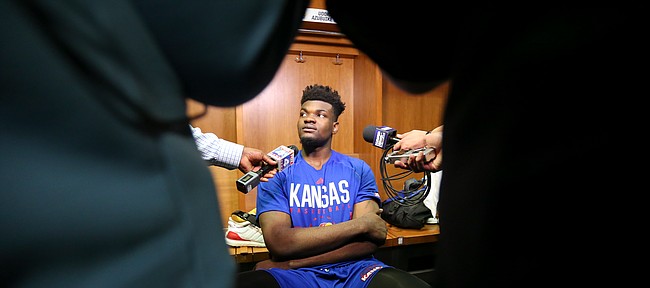 Wichita — The ever-improving health of Kansas center Udoka Azubuike appears to have taken its biggest step forward since the KU sophomore injured his left knee 10 days ago at a practice in Lawrence and played just three minutes in KU's next four games.
Running through an hour-long practice in Wichita on Friday in preparation for Saturday's 6:10 p.m. clash with No. 8 seed Seton Hall at Intrust Bank Arena, Azubuike showed serious progress and came as close to resembling his normal self as he has at any point in the past 10 days.
"He's not going to be ready to start or play 30 minutes," KU coach Bill Self said of his 7-footer following Friday's practice. "But he's ready to go. He may only go three minutes at a time because of conditioning, but I thought he looked good and we stressed him. We threw him lobs, we did a lot of things to make him go get it and get him some confidence and he did a good job with that."
Photo Gallery
Kansas and Seton Hall press conferences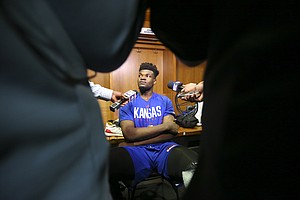 View a gallery of images from the Jayhawks' and Pirates' press conferences and open locker rooms on Friday in Wichita.
Azubuike, who played three first-half minutes during the Jayhawks' 76-60, first-round win over Penn on Thursday, said he had no swelling and just a little bit of pain following his first time back on the floor since March 3.
With a huge bag of ice strapped to his left knee, Azubuike made Self's words sound even more promising during Friday's meeting with the media.
"I'm feeling good," he said. "My knee's getting better. Practicing today really helped me a lot and I got to see how I really feel, running up and down the court, and I feel good."
Azubuike was not the only Jayhawk who delivered a positive review of the big man's Friday workout.
"He did great," said sophomore guard Malik Newman. "I think he had confidence. I think he just let it go. I don't think he was really worried about his knee and I'm proud of him. He looked like he was out there having fun today."
As for how many minutes Azubuike might be able to play against a big and physical Seton Hall front line, Self put the number in the 15-20 range. Azubuike said that was fine with him.
"That all depends on what the coaches want, what the doctor or the coaches decide to play me," he said. "But I'm ready any time my jersey's called."
Hey, you look familiar
At least a half a dozen Jayhawks on Friday said Seton Hall reminded them a little bit of West Virginia, with their big front line and tough, physical guards on the perimeter.
"Almost West Virginia," sophomore guard Malik Newman said. "They don't press as much or things like that, but from a physical standpoint, they're like West Virginia."
The Jayhawks swept three intense games with the Mountaineers this season and said their experience from those battles could serve them well against Seton Hall.
"The way they go about their business is different," Self said. "But I think, from a physical standpoint, they certainly kind of look that role."
Love for Svi
Talking in the hall before practice, Seton Hall coach Kevin Willard said he wanted no part of trying to pronounce KU senior Svi Mykhailiuk's name.
Seems fair.
What Willard was happy to discuss, however, was how big of a fan he was of Mykhailiuk's game.
"I love their four guards," Willard said. "Malik Newman can get you any time. Svi, I think he is a phenomenal player. I love the way he plays. I think he's really the X Factor. He passes the ball great. He can put the ball on the ground. I love his size. They use pick-and-rolls great with him, so I like their (guards) size as much as I like our size."
Road game?
The extreme pro-KU crowd that packed 15,000-seat Intrust Bank Arena for KU's win over Penn on Thursday figures to be back in full force for Saturday's Round 2 game with Seton Hall.
Asked if he had his team prepared for what was "kind of a road game for you guys," Willard quickly interrupted with a question.
"Kind of," he joked.

"We haven't really talked about that yet," Willard added. "We'll talk about that a little (Friday night). We've played at Louisville, you play at Creighton you have 18,000 tough fans. So we've played at tough places. We understand how passionate the fan base is for Kansas. It's going to be a tough go, just because, as I explained to my players, it's like being in Kentucky. Just a very passionate, knowledgeable fan base."