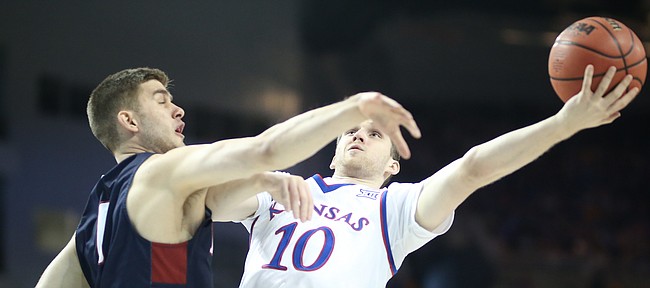 No. 1 seed Kansas Jayhawks (28-7) vs. No. 8 seed Seton Hall Pirates (22-11)
Time: 6:10 p.m. Saturday | Location: Intrust Bank Arena, Wichita
TV: TBS | Radio: IMG Jayhawk Radio Network
Log on to KUsports.com for our live game blog coverage and follow the KUsports.com staff on Twitter: @KUSports @mctait @TomKeeganLJW @bentonasmith @nightengalejr @chasenscott and @nickkrug
Keys for Kansas
1. Compete on the glass
Offensive rebounding is a real strength of Seton Hall's, and it goes beyond big man Angel Delgado, who ranks eighth nationally at almost four per game. As a team, the Pirates rank 37th nationally in offensive rebounding, getting 12.2 offensive boards a game, and 28th in the nation in getting 34.1 percent of available opportunities. KU, meanwhile, as you all know, ranks 280th in the country in giving up offensive rebounds, allowing opponents to get 31.2 percent of their misses back.
"I have the best rebounder in college basketball by far," Seton Hall coach Kevin Willard said Friday. "For four years, he's been the best rebounder in college basketball. So we're going to have to rebound."
KU's guards have shown they can hit the glass, especially Malik Newman and Svi Mykhailiuk. And all five of them will have to be willing to do that kind of work in order for KU to neutralize what should be Seton Hall's biggest edge.
"The responsibility's on everybody because we switch so much," senior guard Devonte' Graham said. "I might be on the 4 man and now I've got to block out. So it's on everybody to do their job on every possession."
2. Play loose
After one game to get used to the idea of what the NCAA Tournament is all about, the Kansas players who experienced it for the first time on Thursday night believe they're ready to show a better effort in Round 2.
"We know what to expect now," said sophomore Newman. "I think it's just back to being normal basketball now. We're not as tight. We're more loose now and we're just ready to go out, have fun and compete."
Beyond that, the Jayhawks appear to be in better shape defensively in this one. Not only will they have center Udoka Azubuike back on the floor — at least for roughly half of the game — but they also won't have to alter what they do as they did to account for Penn's slightly different attack.
"With Penn, we had to change a little bit about how we guarded, so that made it a little bit harder," Graham said. "Now we can just go out and play our regular defense, switch the way we normally switch and guys don't have to think as much defensively, and I think we'll all play better."
3. Transition, transition, transition
Both of these teams like to get out and run, and both are more than capable of doing it. But as far as which team does it better and a little more naturally, that would be the Jayhawks.
Willard knows that, and he outlined a key aspect of the Pirates' game plan that could help keep the Jayhawks from running free too much in this one.
"One of the best ways to play transition defense is to offensive rebound," Willard said, speaking to an aspect that is already both an emphasis and a Seton Hall strength. "As good as they are in transition, we're going to have to get some easy points off the offensive glass."
As for the Jayhawks, they want to play fast and get easy buckets in transition to try to negate some of the size advantage the Pirates have down low.
Mega Matchup
KU's 3-point shooting vs. Seton Hall's 3-point shooting and defense
Statistically speaking, these are two of the 20 most efficient offensive teams in the country, with the Jayhawks ranking sixth in the nation (120.8) and Seton Hall sitting 19th (116.9).
Although that means a bunch of different things and includes a number of different offensive statistics, 3-point shooting is a big part of it and could play a huge role in this game.
If that's the case, the Jayhawks should have a slight advantage. Not only is Kansas outshooting Seton Hall, 40.3 percent (12th nationally) to 36.3 percent (104th) for the season, but the Jayhawks also rank higher than the Pirates in 3-point defense, allowing 32.9 percent from deep compared to 33.5 percent for Seton Hall.
Although those numbers might seem small by comparison, they're actually fairly large over the course of a 30-plus game season and made even more noteworthy by the fact that KU made just 7 of 17 from 3-point range in its opener — both numbers below KU's season averages — and Seton Hall hit slightly above its average (7 of 21, for 33.3 percent) in its opening-round win over NC State.
Fifty-four percent of Seton Hall's points come from 2-point range, and if the Jayhawks can keep it that way while also returning to form in their own 3-point shooting, it could be enough to move KU into the second round.
Jayhawk Pulse
It's the NCAA Tournament. From this point on, if you still have a pulse, you're doing well.
Probable Starters
Kansas
G – Devonte' Graham, 6-2, 185, Sr.
G – Malik Newman, 6-3, 190, Soph.
G – Svi Mykhailiuk, 6-8, 205, Sr.
G – Lagerald Vick, 6-5, 205, Jr.
F – Mitch Lightfoot, 6-8, 210, Soph.
Seton Hall
G – Khadeen Carrington, 6-4, 195, Sr.
G – Myles Cale, 6-5, 200, Fr.
G – Myles Powell, 6-2, 195, Soph.
F – Desi Rodriguez, 6-8, 220, Sr.
C – Angel Delgado, 6-10, 245, Sr.