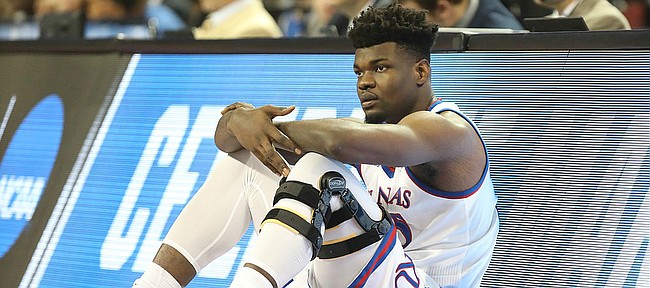 Wichita — Nine days after hitting the floor in practice, sent there by a sprained MCL of the left knee, Kansas starting center Udoka Azubuike checked into Thursday's first-round NCAA tournament game with 8:32 left in the first half and Kansas trailing by eight points.
Many in the pro-Kansas crowd stood up and roared. Seeing the biggest man on the team entering a game after missing three in a row was the first step toward easing the fears of a fan base that lives for March.
Soon thereafter, Kansas began its climb back, led by six at halftime, and advanced to the second round with a 76-60 victory against Penn at Intrust Bank Arena.
In a fairy tale, Azubuike would have carried the team to its triumph with monster dunks and vicious blocked shots.
Not the case. Knee injuries don't follow fairy-tale plotlines.
Photo Gallery
Kansas basketball v. Penn (NCAA Tournament)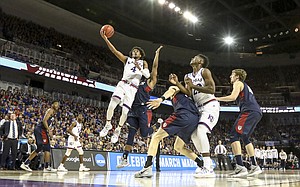 View a gallery of images from the Jayhawks' first round game against Penn at Intrust Bank Arena in Wichita.
Azubuike played three minutes and had one rebound to show for it. That's fine. The first step was not about statistics or dominance. It was about getting the first step out of the way so that there could be a second step, which is scheduled to come Saturday against Seton Hall.
Azubuike spent parts of the rest of the game riding the exercise bike behind the bench to keep the knee from stiffening.
He pointed to the inside part of his knee to show where he experienced pain.
"Sliding my feet was what I was concerned about, not jumping," Azubuike said. "If they throw me the ball, I'm going to jump and get it. Sliding my feet on defense, I'm still working on that. Sliding my feet, front and back, I feel a little pain."
Azubuike met with coaches and medical staff Wednesday and learned there that the plan called for him playing "five to six minutes, max," in the opener, coach Bill Self said.
"He didn't hurt us when he was out there," Self said. "He didn't move great, but I do think it will give him some confidence to be ready to play on Saturday. We're going to really need him Saturday."
Lightfoot had a big second half, contributing all nine of his points and 9 of 11 rebounds after the break. Silvio De Sousa pitched in with two points and four rebounds, but Self isn't in denial about how much Azubuike means to the team.
"We're a 1 seed based on our personnel," Self said. "If we don't have our big guy, are we really a 1 seed?"
Kansas looked like one in the Big 12 title game victory against West Virginia with De Sousa playing so well, but didn't look the part in the early going Thursday against the Ivy League school.
"That was like a 3 playing a 14," Self said. "I knew if we didn't have Dok so we can have somebody to throw it to and you don't make shots, that levels the playing field, so it was a better in than what it looked like."
Self said Azubuike had not played in a fullcourt setting with teammates since the injury until entering Thursday's game.
"Tomorrow he needs to practice up and down," Self said. "However long we go, he needs to be out there during that time."
The coach isn't fantasizing about a full recovery by then. He's more realistic than that.
"Hopefully we can get him at 80 percent, 85 percent tomorrow for full practice and then have him available to us on Saturday," Self said.
---
More news and notes from Kansas vs. Penn
---