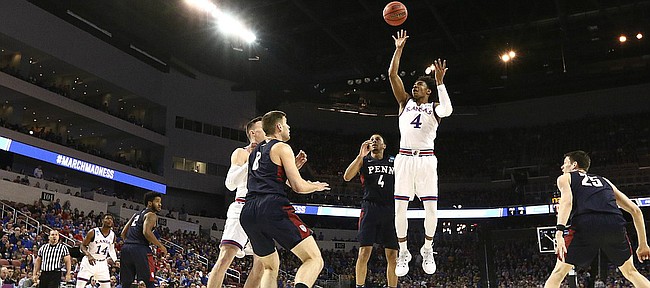 Wichita — There were a couple of things Kansas point guard Devonte' Graham believed strongly about KU's 1-16 matchup with Penn during Thursday's first-round NCAA Tournament game.
First, Graham was not afraid to face the fact that a 16 seed had never beaten a 1 and the eyes of the nation were on this matchup to see if the Quakers could become the first team to do it.
Second, Graham was not about to let Kansas land on the wrong side of history.
Behind a masterful game from the KU senior, on both ends of the floor, the top-seeded Jayhawks advanced to Saturday's second round with a 76-60 victory in front of a loud and proud pro-Kansas crowd at Intrust Bank Arena.
Sitting at his locker after the victory, answering question after question about how the Jayhawks overcame a slow start to cruise into the second round, Graham admitted he was glad to have this one behind him.
"Yeah, I actually am," he said after dropping 29 points to rescue Kansas from an early 10-point deficit. "And they were way better than a 16 seed. They played so well together."
So, too, did Kansas. And it all was predicated on what Graham did, when and where he decided to do it and how the overmatched Quakers reacted to it.
Photo Gallery
Kansas basketball v. Penn (NCAA Tournament)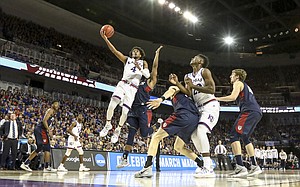 View a gallery of images from the Jayhawks' first round game against Penn at Intrust Bank Arena in Wichita.
Of all the things Graham's teammates had to choose from following Thursday's 16-point victory, which featured a 43-point second half, the one thing that stood out most and above everything else about Graham's monster game did not show up on the stat sheet.
Twenty-nine points, all of them huge, 19 in a struggle-filled first half.
Six rebounds, six assists, three steals, 39 minutes.
On the surface, Thursday's game looked like so many others that the national player of the year finalist and unquestioned KU leader had delivered throughout his stellar senior season.
But it was Graham's ability to keep things calm and settle his teammates down that proved to be the most important. Him absolutely taking over the game was merely icing on the cake.
"It's Devonte' Graham," said KU sophomore Mitch Lightfoot, who tallied nine points and 11 rebounds in place of still-injured center Udoka Azubuike, who played three minutes in the first half. "He can shoot lights out. He can get downhill. He can lead. And that's the best quality about him, I think. He's a leader. He just kept saying, 'We're good. We can fight this out.' And we did. I'm glad he's on our team."
Trailing 21-11 at the 7:10 mark of the first half, Graham slapped on his cape and kick-started KU's comeback.
A big steal, where Graham forcefully took the ball away from Penn's Caleb Wood, prevented the Quakers (24-9) from building a bigger lead. And Graham's tip-in of a missed floater by Svi Mykhailiuk on the ensuing trip down the floor gave the Jayhawks (28-7) life and sparked an 11-0 KU run that ended with Kansas owning its first lead since 7-4 at 16:39 when Malik Newman buried an open jumper.
"He just kept telling us to remain focused, relax and just have fun," Newman said of Graham, who finished 9 of 24 from the floor and 8 of 9 at the free-throw line. "Him and coach, basically throughout the whole game, had the same message."
Graham's tip-in was merely the start for him.
After two more KU stops on defense — which Graham said was the key to KU's ability to flip the script by halftime — the senior picked up four more quick points on drives to the rim, both leading the way and carrying the load for the Kansas comeback.
A couple of possession later, KU's 11-0 run had grown to 19-2 and then 22-5 and the Jayhawks took a 33-26 lead into the locker room.
After shooting just 25 percent from the floor for the game's first 15 minutes, KU shot 54 percent the rest of the way and also knocked in 15 of 17 free throw attempts (8 of 9 by Graham), compared to Penn's 5 of 14 showing at the line.
Beyond just having the lead after staring down a double-digit deficit, Graham said the Jayhawks gained confidence from the way they began to play.
"There's always that pressure of, 'Can't lose to a 16 seed, can't lose to a 16 seed,' so instead of going out playing loose, you're going out not to lose to the 16 seed," said Graham, who was most responsible for making No. 1 seeds 133-0 all-time against 16 seeds. "I felt like we came out for the first 10 minutes doing that instead of just playing. Thinking too much."
The second half was a much different story. Although the Quakers never quit fighting and, at one point, trimmed a 13-point Kansas lead back to five (50-45) with 12:34 to play, Graham's presence and play was simply too much for the Ivy League champs to overcome.
"Credit to him," Penn senior Darnell Foreman said of guarding Graham. "He realized what was going on in the game. He has a great feel for the game. He knew, being a senior leader also, that he needed to step up, you know, and force the tone and create, and he did a good job of that. He got our guys in rotations. He was able to finish at the rim. So, again, just a credit to him (for) taking over."
Added coach Bill Self, speaking to that very point: "He made one bad play today. I think he's really improved a lot in knowing how to read situations when the ball's in his hands. Last year, we could say he was a combo guard, but this year, there's no question he thinks like a point guard."
Graham's 29 points — one shy of an arena record, and the most by a Jayhawk in an NCAA Tournament game since Sherron Collins scored 32 in a first-round game in 2009 — came mostly in the toughest fashion, with the weight of the season, history and of college basketball's blue bloods on his shoulders.
To deliver that kind of game, with those stakes, made Thursday's effort easily one of the best games of Graham's career.
"Unbelievable," said KU freshman Marcus Garrett. "I mean, you could tell out there how much he wanted to win, and I feel like he put us on his back. I think it was his best game of the year because of the stage."
Asked where he ranked it, Graham simply smiled and reminded everyone how little he likes talking about himself or his own accomplishments.
"I'm just happy we won," he said. "I really don't know where it ranks. No. 1 today."
The victory moved KU into the second round for the 12th consecutive season and the Jayhawks will face No. 8 seed Seton Hall on Saturday (game time will be released later) with a trip to the Sweet 16 in Omaha on the line.
---
More news and notes from Kansas vs. Penn
---