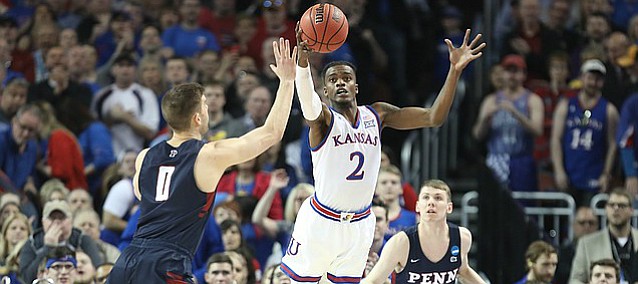 Wichita — Nerves played a big role in KU's major struggles early on during Thursday's 76-60 victory over 16th-seeded Penn at Intrust Bank Arena during the first round of the NCAA Tournament.
"I think we just came out tight," said senior savior Devonte' Graham, whose 29 points rescued Kansas from a rough start and guided the Jayhawks into the second round. "We weren't playing as loose as we were in the Big 12 tournament. But after that first 10 minutes, I think we sort of loosened up and started playing our basketball."
That brand of basketball led to the top-seeded Jayhawks (28-7) outscoring the Quakers, 65-39, the rest of the way and featured, one by one, various KU players settling into the game behind Graham.
Junior guard Lagerald Vick, KU's most experienced nonsenior who still had just five NCAA Tournament games under his belt entering Thursday, said he settled down by "playing off Devonte'."
Sophomore guard Malik Newman, who had to wait until the end of his third year of college to play in his first NCAA Tournament game, equated it to another milestone all of these guys have experienced a dozen or so times in the past.
"It's almost like the first day of school," Newman said. "You walk into class and you're like, 'Man, I wonder who my teacher's going to be, who's going to be in,' things like that. … It's more of being anxious."
Photo Gallery
Kansas basketball v. Penn (NCAA Tournament)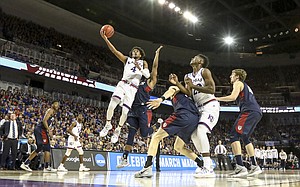 View a gallery of images from the Jayhawks' first round game against Penn at Intrust Bank Arena in Wichita.
Newman, who was 1 of 4 Jayhawks to reach double digits in scoring with 10 points on 5-of-12 shooting, said he finally could breathe normally again after the first timeout.
"Once that happened, I think I was able to just relax and just play," Newman said.
In addition to Newman, KU sophomore Udoka Azubuike and freshmen Marcus Garrett and Silvio De Sousa, also played their first real minutes in an NCAA Tournament game.
All four said after the game that it was as exciting as they expected and that they were glad to have the experience under their belts moving into Saturday's showdown with No. 8 seed Seton Hall.
As for KU coach Bill Self, he was willing to give his team a pass for their first-game jitters based on two things: One, the Jayhawks played their way through it and closed down the stretch. And, two, there were so many first-timers out there on the floor.
"We're obviously very, very happy we won," Self said. "But it wasn't a 16-point game. It was much closer than that. … But if we were poised at all, it's just the fact that we didn't panic."
As for whether that issue was behind them now that they got past the first round, Graham eliminated all future excuses.
"It should be," he said. "(We got) the first game out the way. Coach always says that's the hardest game. You can't win two without winning the first one."
Vick shines
The numbers show a monster game from Graham and little else for the Kansas offense.
But Self, who is known for looking at things through a different set of glasses than most, saw something crucial that not only helped Kansas prevail in this one but also could help the Jayhawks a great deal in the days ahead.
"If you look at today, Malik was average at best, Svi (Mykhailiuk) had a bad game, Devonte' was good, but Lagerald was the difference. If he doesn't show up to play the way he played and be efficient, we may not win that game today. So, yeah, we definitely need him to build off of this."
Vick, who finished with 14 points on 5-of-7 shooting and knocked down a pair of 3-pointers and swiped two steals in 32 minutes, said a strong sense of urgency led to his solid day.
"It's March," Vick said. "It's either win or go home, so you've got to leave it all out there, have good attitudes and just play as one. It's my third time getting here, so have to try to advance."
Said Graham of Vick's contribution to KU's victory: "He was just bringing energy. That's what we needed him to do. He hit shots when he was open, tried to get to the offensive glass and he did a good job of talking on defense, too."
Fatigue a factor?
For the first 15 or so minutes of Thursday's game, Penn got most of what it wanted, dictated the pace of play and had the Jayhawks off balance.
But once Kansas stormed ahead and took a lead into the locker room at halftime, the Quakers, who kept battling throughout the second half, started to show something that was not present for much of the first half. Fatigue.
"Yeah, I think they did (get tired)," Vick said of Penn's players. "Probably mid-second half."
Jumpshots fell short, body language showed a gassed team and the Quakers simply could no longer keep up with the longer, faster, more athletic Jayhawks.
"I think the big difference in the game was their ability, their athleticism and length to stay with rotation players," Penn coach Steve Donahue said. "Our inability to go deep into our bench, I thought, wore on our players. When we had open shots during that last six minutes in particular, I thought the fatigue really played a factor."
Next up
It'll be a 1-8 matchup in the second round for the Jayhawks, who will face No. 8 seed Seton Hall, a 94-83 winner over NC State in Thursday's second game in Wichita, at a to-be-determined-later time on Saturday.
Seton Hall enters the game at 22-11 overall and with all-Big East second teamers Angel Delgado and Desi Rodriguez leading the way.
Photo Gallery
Seton Hall v. North Carolina State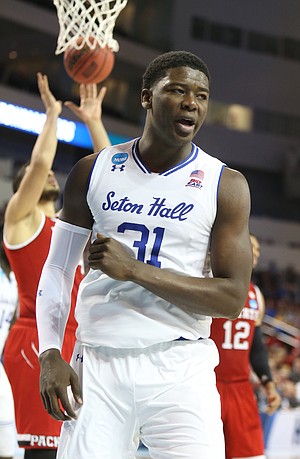 See a photo gallery from the Pirates game against the Wolfpack
Delgado, a 6-foot-10, 245-pound senior from the Dominican Republic, scored 13 points and grabbed nine rebounds in 25 foul-plagued minutes against NC State. And fellow-senior Rodriguez, 6-6, 220 pounds from New York City, scored 20 points on 8-of-14 shooting in 29 minutes during the Pirates' Round 1 win.
Seton Hall, coached by Kevin Willard, finished third in the Big East this season — behind No. 1 seeds Villanova and Xavier — and recorded notable wins over Butler, Providence, Creighton, Louisville and Texas Tech.
The Pirates dropped all four games against Villanova and Xavier by an average margin of defeat of 9.5 points.
The all-time series between KU and Seton Hall is tied at 1-1 and the last meeting was a KU victory at the Maui Invitational in 2001.
This and that...
Thursday's victory improved KU to 34-2 all-time in first-round NCAA Tournament games since 1981 and 105-45 all-time in the tournament... KU now has won 28 games or more for the third season in a row and the ninth time under Bill Self... The Jayhawks are now 5-0 all-time in NCAA Tournament games played in Wichita and 1-0 at Intrust Bank Arena, which opened in 2010... The Jayhawks out-rebounded Penn, 41-33, marking just the 12th time all season that KU came out on the right end of the battle on the boards... The Jayhawks also committed just eight turnovers, their eighth single-digit turnover game of the season... KU's 15-of-17 showing at the free throw line (88.2 percent) was its best of the season, with a minimum of 15 attempts.
---
More news and notes from Kansas vs. Penn
---