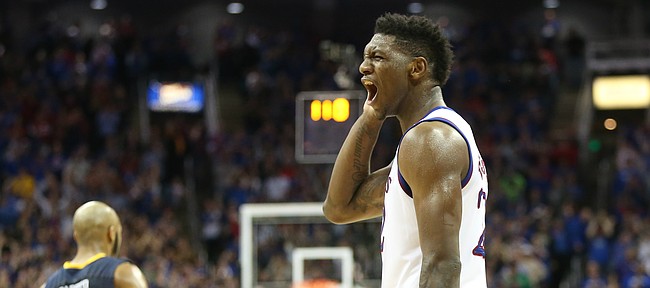 Wichita — Kansas freshman forward Silvio De Sousa came to the United States for high school from the Southern Africa nation of Angola, colonized by Portugal in the 1600s.
That explains why Portuguese is De Sousa's first language. Spanish is his second. He also studied French in school. He said he also speaks Mandarin and learned it during the Angolan national team's five-month training stay in China.
Though he didn't take it up until high school, De Sousa had no trouble Wednesday conversing in English with waves of reporters who stopped by his locker to learn more about the midseason addition and late-season impact player for a Kansas team that tips off its NCAA tournament at 1 p.m. Thursday against Penn at InTrust Bank Arena.
Athletes speaking in a second or, in De Sousa's case, a fourth language can be among the best interview subjects because they tend not to spew platitudes and don't have enough history with the language to manipulate their message. Ask a question and chances are you'll receive an honest answer that quickly reaches the heart of the matter.
So it goes with De Sousa, who spent roughly half of his high school career with Montverde and half at IMG Academy, both Florida high school basketball powerhouses.
Sending shock waves throughout the Big 12, De Sousa had his coming-out party as a college basketball player last weekend at the conference tournament won by Kansas in Sprint Center. He averaged 10 points and 9.7 rebounds in the three games, finishing with 16 points and 10 boards in the title game against West Virginia.
Typically, watching basketball players improve is like watching a clock move. You know it's happening, but it takes place so gradually you can't really see it with the naked eye. Not the case with DeSousa. He looked like a different player by the end of games last weekend than the beginning, and then better yet the next game.
He already seems to have a good understanding of his coach, Bill Self.
"I think every great coach will never be satisfied, so I always try to do more and more on the court, and I think that's one thing he wants me to do," De Sousa said.
The way he so quickly had his hands on missed shots was every bit as impressive as the numbers he compiled. It's not enough for him to come away with the rebound. He craves gaining possession of a missed shot as soon as it's available.
"A lot of coaches say I'm athletic, so I have to grab everything in the air," De Sousa said. "So I always make sure I jump to grab rebounds. Rebounding has always been a big part of my game."
He doesn't watch basketball on TV the same way most of the rest of us do.
"Whenever I watch a basketball game, I always look at the big men just to see how they rebound and how they run the floor and how they box out to get easy rebounds," he said.
Anyone in particular?
"LeBron James," he said. "I always watch him."
De Sousa said he has always enjoyed watching Kansas on television through the years. Once he signed a national letter of intent with the school with the idea of graduating high school a semester early, it changed the way he watched the Jayhawks.
"We only had two big men, Mitch (Lightfoot) and Udoka (Azubuike), when I was still in high school," De Sousa said. "As I was watching the games, I could see that they needed something else, and I thought the thing that they needed was a rebounder."
He viewed it as a ticket to playing time.
You'll love the next thing he had to say about why he goes so hard after rebounds.
"Coach Self is more a kind of coach who loves defense and rebounding," De Sousa said. "If you get every rebound, he's going to love you. So if I want people to love me, that's the only way I can have your love. So why not grab all the rebounds?"
Kurtis Townsend, the longest-tenured assistant basketball coach in Kansas history, first saw De Sousa play in the summer after his freshman year of high school.
"I thought he was terrific when he was young because he was strong, he was much stronger than everybody," said Townsend, who noted that at that time, De Sousa was the No. 2-ranked prospect in the Class of 2018. "He was a decent athlete. As college coaches, we always think high school kids never play hard enough, so OK, his motor's got to go a little more."
It did when Townsend saw him last summer, playing against blue-chip prospects.
"He did terrific against them," Townsend said. "He was dunking everything, running the floor, and he's got a soft touch. He's a really good shooter. You can see that on his free throws. You haven't seen him shooting (15-foot jumpers), but he can really do that."
De Sousa played 52 minutes in 12 regular-season games and 60 minutes in three games in the conference tournament, from which starting center Azubuike was sidelined with a sprained MCL of the left knee.
"Making this transition from high school to college in the middle of the season is very hard," De Sousa said. "Of course, I'm not just going to step up on the first day, but I think I have been here long enough. I have good confidence now."
Conversing with him, it quickly becomes clear that intelligence plays a role in his rapid improvement.
"He's really, really bright, and one of the nicest kids you'd ever want to meet," Townsend said. "A lot of the kids who come from other countries are so grateful and humble to have an opportunity. They haven't been spoiled like a lot of our kids with everything given to them when they were young. Those guys didn't have shoes, didn't have PlayStations. He just feels blessed for anything he gets, and he's really grateful and appreciative."
If Azubuike returns today, it will be in a limited capacity. De Sousa's emergence softens the blow of Azubuike's injury. The thought of the two big men playing side by side at times next season conjures exciting possibilities.
"He's a little bit undersized for (a center), but I think he's going to be a terrific power forward," Townsend said.
---
---
---
---
---
---