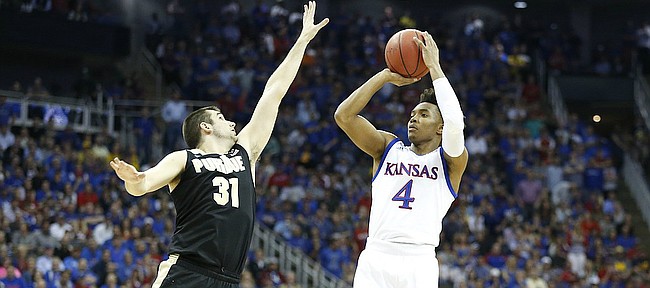 This NCAA tournament features a few talented guards who have had more to celebrate in the postseason than Kansas senior Devonte' Graham, who has a 7-3 record on college baksetball's biggest stage.
North Carolina senior Joel Berry, Villanova junior Jalen Brunson and Duke senior Grayson Allen all played prominent roles on national champions.
Xavier seniors Trevon Bluiett and J.P. Macura have had big March moments. Wichita State's Conner Frankamp has played seven NCAA tournament games, including two for Kansas.
But none of the above names have shot the ball as well during March Madness as Graham.
The memories that endure from NCAA tournaments tend to be from the final game, and for every team but one each year, it's a loss.
Graham's junior season ended with his worst of 10 postseason performances. Oregon's long and strong veteran guards, playing in a matchup zone, made clean looks at the basket difficult to come by for Graham, who misfired on all seven shots, six from 3-point range. He scored just three points in 38 minutes.
It ended a tournament tear that Graham had cobbled together. Starting with the Elite Eight loss to Villanova in 2016, Graham had averaged 19 points in his previous four NCAA tourney games and had made 18 of 31 3-pointers (.581).
The big stage usually brings out the best in Graham, who as a sophomore scored 28 points and slowed national player of the year Buddy Hield in a regular-season victory at Oklahoma.
In his 10 tournament games, eight as a starter, Graham has averaged 12 points and compiled a .455 3-point percentage.
Scoring and 3-point numbers compiled in the tournament by other March Madness veteran guards include:
Allen (12.9, .395), Bluiett (12.3/.356), Berry (11.4, .288), Brunson (8.9/.350), Frankamp (7.3/.407), Macura (6.9, .304).
Next to Graham, Svi Mykhailiuk has KU's most NCAA tournament experience. He saw garbage time in two games, quality time in eight, and has averaged 7.3 points and shot .350 from 3.
Lagerald Vick has played in five games, totaling 111 minutes and 36 points, and has shot .333 from 3.
Mitch Lightfoot has three minutes of tournament experience, which places him fourth in experience on the roster. He scored five points in two minutes at the end of KU's 98-66 rout of Purdue in the Sweet 16 last season.
Malik Newman sat out last season after transferring from Mississippi State, which did not make the tournament field in Newman's freshman season. Udoka Azubuike was injured after playing 11 games last season.