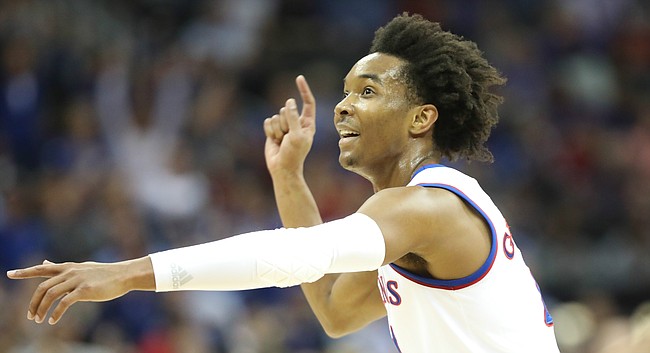 Few fan bases know the joy and heartbreak that comes with March Madness like fans of the Kansas Jayhawks.
Each year, whether they want to or not, the overwhelming majority of KU fans put Kansas down for deep runs in their NCAA Tournament brackets. Some years, the loyalty pays off. Other years, it merely adds to the pain and disappointment.
What becomes of the Jayhawks' postseason run this season remains to be seen, but here are 10 reasons why KU fans can be optimistic about their team's chances this March.
No. 1 — Guards win in March
Analysts, coaches and fans alike will tell you that the key to winning big in the NCAA Tournament starts with having talented guards a team can trust.
Few programs, if any, are set up better than Kansas in that department entering this year's tournament, where leading scorers Devonte' Graham and Svi Mykhailiuk will look to lead the Jayhawks back to the Final Four.
Both have a ton of big game experience and a supporting cast in Malik Newman, Lagerald Vick and Marcus Garrett, that can bring a lot to the table on any given night.
No. 2 — Devonte' Graham
Following in Frank Mason's footsteps could not have been easy. But Graham has made it look like a breeze.
Leading this team in every way imaginable, the senior from Raleigh, N.C., who twice was named the Big 12 player of the year last week, is one of the most experienced and talented players in this year's tournament.
He's the perfect blend of scorer and set-up man, passion and poise, and his teammates and coaches believe that as long as he's on the floor, the Jayhawks have a chance against anyone.
No. 3 — Location, location, location
It might not be quite as sweet as last season, when KU had the Sweet 16 and Elite 8 in their backyard, but starting a tournament run with a couple of games that are played two hours from home is still a pretty nice way to tip things off.
Not only will the Jayhawks be able to maximize their ability to practice and hang close to home before heading off to the tourney, but the Wichita site also affords KU fans an easy journey to cheer on their team, giving Kansas a couple of virtual home games to open the tournament.
No. 4 — Bill Self
Whether you're talking about his one trip at Tulsa, his one trip at Illinois or the seven times he's done it at Kansas, Self, in 23 previous seasons as a head coach, has led his team to the Elite Eight or beyond nine times.
Beyond that, Self's willingness to adjust on the fly, inspire his teams to find a way to grind it out, emphasize team defense and balanced offense puts Kansas in great shape to make a run year after year no matter what the roster looks like.
No. 5 — Three is worth more than two
With KU's four-guard lineup producing a team that ranks in the top 15 nationally in 3-point percentage (13th at 40.3 percent), the Jayhawks have found a way to put up points in bunches on a limited number of shots and can spread the outside shooting love around to five different players.
If big man Udoka Azubuike is limited, KU's reliance on the outside shot becomes even more important. That, in some ways, could make this team even harder to guard.
No. 6 — Ball movement
The Jayhawks rank 13th in the nation in assists per game and are at their absolute best when everybody on the floor is moving the ball quickly and decisively in search of the most open shot they can find.
Graham, whose 7.5 assists per game rank sixth in the nation, keys the whole thing but Mykhailiuk is an underrated passer, Garrett is a terrific ball mover and Newman and Vick both are always ready to knock down open shots and understand the objective of getting teammates open.
No. 7 — Jayhawks know how to win close games
It's hard to envision a team being more ready for the grind and pressure of an NCAA Tournament run than Kansas.
Not only were most of their conference games dog fights to the end, but all of them were played with the pressure of trying to preserve the streak of consecutive conference titles resting on their backs.
For many of the reasons mentioned above — good guards, veteran leaders, clutch performers — the Jayhawks have had a knack for winning the close ones all season and that could serve them well in the next couple of weeks.
No. 8 — Andrea Hudy
KU's assistant athletic director for sports performance, Hudy works with the most cutting-edge equipment and knows how to keep the Jayhawks fresh, rested and rejuvenated throughout the season so their bodies are ready for the grind of March Madness.
Look at Graham and his 16 40-minute games this season as the obvious example of this.
No. 9 — Battle-tested by Big 12
It's been a long time since the Jayhawks had a night off. From the start of conference play back in late December all the way through the Big 12 tournament in Kansas City, Mo., the Jayhawks have received the best possible shot from a conference ranked by many as the best in the nation, top to bottom.
And yet somehow the Jayhawks survived and won their 14th consecutive Big 12 regular season title. Survive and advance is the name of the game in March. And the Jayhawks just did that for more than two months.
No. 10 — Somebody has to
It's been a wild year in college basketball and, outside of Virginia and maybe Villanova, very few teams have played up to their potential on a consistent basis.
That's what netted the Jayhawks one of the tournament's top seeds despite their seven losses and this season, more than any other, seems like one in which 15-20 different teams enter the NCAA Tournament with a legitimate shot of winning it all.
---
---
---
---
More like this story on KUsports.com