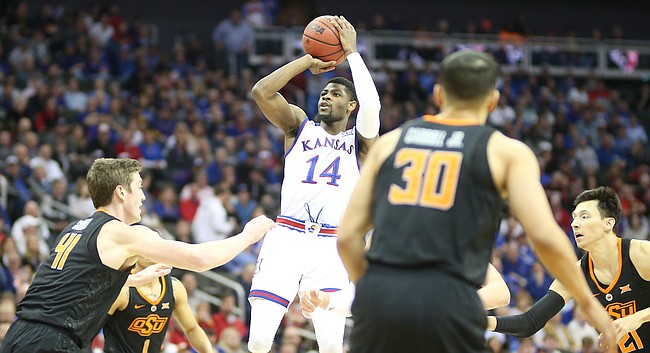 An informal survey of a few of the Kansas basketball team's talented outside shooters as to their preferences in basketball brands led to an interesting revelation from Svi Mykhailiuk, a senior sharpshooter from Ukraine.
Before coming to Kansas at the age of 16, Mykhailiuk had used the ball of choice of the International Basketball Federation (FIBA), a multi-colored, 12-panel model manufactured by Molten. Most NCAA balls have eight panels and are restricted to a maximum of 10 panels, all the same color.
"I did not like it," Svi said from a seat at his Sprint Center locker. "It's a lot more slippery. I'm not a big fan of those balls."
Newman, who shot well during the summer exhibition games in Italy, said he liked the FIBA ball, called it "very comfortable, one of the softest balls I ever played with," and was surprised to hear what his teammate from overseas had said.
"I don't believe that," Newman said. "I don't believe that at all. No way I believe that."
Shaking his head, Graham sent a barb Svi's way, saying, "He's been playing with it his whole life. He thinks he's American now."
Added Newman: "He does. He does. That's a big fact."
"No," Svi insisted. "I don't like it."
KU's three best shooters didn't disagree on everything. They all are happy that the game ball in the NCAA tournament is the same model KU uses in home games and the Big 12 uses in the conference tournament every year.
That's no coincidence.
Kansas has an equipment and apparel partnership with adidas, but it does not extend to the brand of basketball the school uses.
Instead, Kansas uses the Wilson Solution.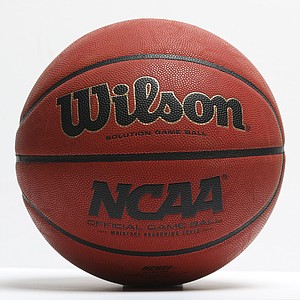 "That's a great ball and Wilson's always been good to us, but if that ball was not played in the NCAA tournament or the Big 12 tournament, then we'd be using a different one," Kansas coach Bill Self said.
Oklahoma State is the only other Big 12 school that uses the Wilson Solution for its home games.
Texas Tech uses the Under Armour UA 695, West Virginia the Spalding TF-100 Legacy. The other six members use the Nike Hyper Elite, a newly released ball that actually is in violation of an NCAA regulation, but was granted a waiver for the year. (More on that later.)
Why wouldn't every school choose to use the ball that is used in the single-elimination NCAA tournament?
"Adidas or Nike, that will be part of the deal that they have to use their ball when they sign with the school," Self said. "Part of our deal was that wasn't going to be part of our deal."
Kansas (27-7) enters the tournament having played 23 games with the Wilson Solution, seven with the new Nike ball, two with the Spalding TF-1000 Legacy (at West Virginia, vs. Kentucky in the Champions Classic), one with the Spalding TF-1000 Classic ZK, one with the adidas Pro (Nebraska), one with the Under Armor 695 (Texas Tech).
At the Big 12 tournament, the Jayhawks produced fodder for a Wilson advertising campaign, shooting .453 from 3-point range in the three victories in Sprint Center. For the season, KU shot .425 from 3 with the Wilson, .408 with the Nike and .349 using the other four basketballs in five games.
Naturally, factors other than the brand of the basketball are at play in those numbers disparities. Teams usually shoot better at home. Fueled by the crowd, players tend to do a better job of staving off fatigue than visiting players being heckled about whatever dirt, real or imagined, students can dig up on them and fling at them for two hours.
But there are genuine differences in the feel of the various basketballs, some of which have deeper channels than others. Some channels are dimpled, others clear.
"I think all of us can tell the difference in them," sophomore forward Mitch Lightfoot said. "Certain balls have different grips. Certain balls bounce semi-different. It's not a big deal, but you can tell."
Lightfoot said he likes the grip of the Wilson Solution. There is a reason for that, according to equipment manager Larry Hare.
"They've got a patent on the sweat-absorption technology in the skin that nobody else can really replicate," Hare said. "So it breaks in really quickly and has terrific tact to it also."
Newman's 3-point statistics suggest that he is the most sensitive on the team to nuances in the various models. He has shot .462 with the Wilson, .323 with the Nike and .130 in the other five games.
"The Under Armor and the adidas are the only balls I don't really like," Newman said. "Devonte' likes them, but they feel more like an outdoor ball to me. Any other ball, I think they're comfortable. They have a good grip. As long as it's round and it can go in, I like it."
Interestingly, Graham is the only of the four starting guards who has a higher 3-point percentage (.485) with the non-Wilson, non-Nike basketballs used in five games than his total percentage (.412).
Mykhailiuk's long-distance numbers: .508 with Wilson, .444 with Nike and .366 with the rest.
"I feel like the Nike ball feels a little bit lighter and Wilson feels a little bit heavier," he said. "It's definitely great to play with our ball in the tournament."
For one thing, it makes for one less task for senior managers Brayden Carroll and Collin Cook.
Throughout the season, they put 12 balls of whatever brand will be used in the next game on the top rows of the ball rack and those are used during every practice leading up to the game.
Well before the season, Hare communicates with equipment managers at all the other Big 12 schools to learn what ball each school will use, makes a list, and distributes it to his peers at the other nine schools and to his managers at Kansas.
"There's a lot of communication and very little gamesmanship, thank goodness," Hare said. "A couple of my colleagues gave me a heads-up that Nike was changing its ball and I actually had to go to Nike's website to buy those."
On another occasion, he had to a hunt down a different brand on Amazon.com.
A 6-foot-8 graduate of Boston College, Hare doubles as a high school and women's college basketball referee. Before throwing the ball up for the center jump, he drops it to the ground from shoulder height. If it bounces to about waist-level, he deems it to be at the proper inflation.
"If it bounces back up to my armpit or my elbow, that means long rebounds, that means the ball is less apt to fall in the basket when it's sitting up on the rim," Hare said. "As crew chief, I have a needle in my pocket and I'll take air out of the ball so it bounces a little more evenly. I'm not trying to deaden it, but I don't want the thing flying off like a ping-pong ball. A ball that's properly inflated is more apt to sit softly on the rim."
Hare grabbed a Nike Elite off the rack and shared what makes it unusual.
"The dimple pattern is out on all balls," he said. "The dimple pattern is in on the Nike Elite. That actually wasn't in compliance with NCAA rules, but they had 300 schools (at all NCAA levels) using it, so the NCAA sent out of a letter saying the ball would be given a pass for this year and will be reassessed in the offseason."
The Wilson Solution game balls used during KU's home portion of the schedule have the Jayhawk logo branded into them and in relatively small print the word "GAME" is written in magic marker. A spare ball is kept under the scorer's table in the unlikely event the game ball is damaged.
The two game balls already have been broken in in practice.
In all Hare's years in the equipment field (four as student manager at BC, two years at Northern Arizona, seven at Connecticut, 13 at Kansas), he has only seen the spare game ball put into play once, when a soda was spilled on it during a UConn game.
"They're like an umbrella on a golf course," Hare said. "When you have one, you don't need it."
The game balls last all season, unless a Jayhawk reaches a milestone, such as 1,000 points, in which case that ball is marked up and Self presents it to the player before the next game.
Once the practice and game balls show signs of wear, they serve another role. The word "GUN" is marked on them, which symbolizes that players are to use them when shooting at baskets equipped with machines that serve as rebounders and passers. Once the machine starts to wear out the skin, the balls are sent to storage and will be used at summer camp.
Whereas the official NBA ball is made of genuine leather, nonleather composite balls are used in college. The 2003 NCAA tournament was the first played with composite balls.
Hare said he keeps a supply of NBA and FIFA basketballs on hand so that former Kansas players either visiting Lawrence while on break from their professional careers or current players who just finished their final seasons can put up shots with the balls used by professionals.
The goal for each team in the NCAA tournament is to bring string, rather than a basketball, home from a regional site.
"When you are eliminated, they give you a ball for a consolation prize," Hare said. "You know you're on the wrong end of it when the tournament director walks up to you and says, 'Oh, by the way, here's your ball.' That's your official sendoff to tell you that you're done for the tournament."
Kansas has plenty of Wilson Solution basketballs in stock. The Jayhawks are more interested in adding to their net collection.