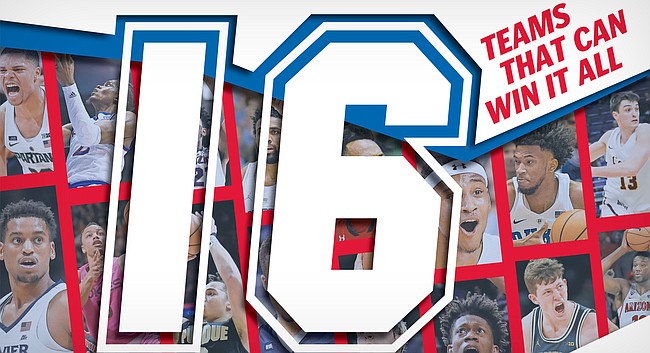 Each year, it's a fun exercise to guess at a number of teams capable of winning the national title and then see how many of them end up getting sent to the same regional.
The 16 teams with a shot to survive and advance all the way to a national title were chosen early last week, and all statistics and kenpom.com rankings listed below were through games played March 6.
Arizona
Kenpom.com ranking: 25
Offensive efficiency: 16
Defensive efficiency: 95
Most impressive six-game winning streak: Texas A&M;, 67-64 (semi-home); Alabama, 88-82; at New Mexico, 89-73; North Dakota State, 83-53; Connecticut, 73-58; Arizona State, 84-78.
Synopsis: Assistant coach Book Richardson was arrested in September on charges of bribery and fraud and was fired in January. In February, ESPN reported that head coach Sean Miller had been caught on an FBI wiretap allegedly offering star center Deandre Ayton $100,000 to come to Arizona. Other media outlets have disputed the report, citing sources who said the FBI wiretaps did not start until well after Ayton already had committed. After the ESPN report, Miller sat out a game, then returned and denied any wrongdoing. Ayton continued to play.
In a strange way, in this strange year, it would seem fitting for a program under so much fire to win the national title.
The Wildcats have two superstars capable of pulling it off. Ayton leads the team in scoring (19.9), rebounding (11.4) and blocked shots (1.9). Allonzo Trier, a 6-5, 205-pound junior, averages 18.9 points and shoots .404 from 3 and .856 from the line.
---
Auburn
Kenpom.com ranking: 11
Offensive efficiency: 15
Defensive efficiency: 36
Most impressive six-game winning streak: Connecticut, 89-64; Cornell, 98-77; at Tennessee, 94-84; Arkansas, 88-77; Ole Miss, 85-70; at Mississippi State, 76-68.
Synopsis: Assistant coach Chuck Person, a former NBA star, was arrested in September and charged with six federal crimes, including bribery conspiracy and wire fraud. Life went on without Person, and the Tigers shared the SEC regular-season title with Tennessee. Auburn's on the short side but compensates by playing with that little-man chip on the shoulder. Coach Bruce Pearl knows how to motivate his players to compete aggressively at both ends.
---
Cincinnati
Kenpom.com ranking: 4
Offensive efficiency: 44
Defensive efficiency: 2
Most impressive six-game winning streak: Temple, 75-42; at Memphis, 62-48; Houston, 80-70; at Connecticut, 65-57; UCF, 77-40; at SMU, 76-51.
Synopsis: The nation's best defensive team not named Virginia, the Bearcats also prefer a slow tempo and frustrate foes into hurrying into bad shots and excessive turnovers. Cincy leads the nation with an 18.3 scoring margin. During a midseason, 16-game winning streak, just one opponent — Houston in an 80-70 loss — scored more than 63 points. Feisty squad.
---
Duke
Kenpom.com ranking: 3
Offensive efficiency: 2
Defensive efficiency: 11
Most impressive six-game winning streak: Michigan State, 88-81 (neutral); Southern, 78-61; Furman, 92-63; Portland State, 99-81 (semi-away); Texas, 85-78 (OT); Florida, 87-84.
Synopsis: Four freshmen, all McDonald's All-Americans, have played up to lofty expectations and join senior Grayson Allen in the starting lineup. All five starters average in double figures, including Player of the Year contender Marvin Bagley III (20.7 ppg, 11.2 rpg). Not the most experienced squad in the tournament, the Blue Devils have more talent than any school in the country, and coach Mike Krzyzewski has won five national titles, the most recent in 2015. Coach K's college coach at West Point, Bob Knight, went on to win three national titles at Indiana. Krzyzewski has coached Team USA to three Olympic gold medals. It's beginning to feel as if it's Duke's year again.
---
Gonzaga
Kenpom.com ranking: 7

Offensive efficiency: 11
Defensive efficiency: 15
Most impressive six-game winning streak: Pepperdine, 81-67; San Diego, 77-72; BYU, 79-65; Loyola Marymount, 83-69; San Francisco, 88-60; BYU, 74-54.
Synopsis: The Zags are not as big as last season's squad, which lost to North Carolina in the national-title game. But they're still big. They aren't quite as good, either, but still really good. Johnathan Williams leads the team in scoring (13.6), rebounding (8.1) and blocked shots (1.2). Sixth-man Rui Hachimura has made a huge step forward in his sophomore season and is one of five Zags scoring in double figures. The 6-foot-8, 225-pound Hachimura was born and grew up in Japan and is averaging 11.5 points and 4.5 rebounds.
---
Kansas
Kenpom.com ranking: 12
Offensive efficiency: 9
Defensive efficiency: 47
Most impressive six-game winning streak: Kentucky, 65-61 (neutral); South Dakota State, 98-64; Texas Southern, 114-71; Oakland, 102-59; Toledo, 96-58; Syracuse, 76-60 (neutral).
Synopsis: Winning the national title requires reeling off six consecutive victories, and the Jayhawks have done that just once, when they opened the season with a 7-0 record.
Kansas can make a deep run if its ball movement is consistently good, center Udoka Azubuike stays out of foul trouble and his play instills teammates with the confidence to feed him the ball, and X-factor Lagerald Vick plays the most consistent basketball of his career.
---
Loyola-Chicago
Kenpom.com ranking: 42
Offensive efficiency: 70
Defensive efficiency: 25
Most impressive six-game winning streak: at Evansville, 76-66; at Southern Illinois, 75-56; Illinois State, 68-61; Northern Iowa, 54-50 (neutral); Bradley, 62-54 (neutral); Illinois State, 65-49 (neutral).
Synopsis: Two former Blue Valley Northwest High players, Clayton Custer (team-high 13.4 points per game) and Ben Richardson, start for the Ramblers, winners of 17 of 18 games heading into the tournament. They haven't played a strong schedule, but they did beat Florida early in the season.
Can you name one thing seventh-year Loyola coach Porter Moser and Kansas football coach David Beaty have in common? Sheahon Zenger as a boss. What don't they have in common? Only one, Moser, was fired by Zenger. Moser managed just a 22-50 record in Missouri Valley Conference play, with the Redbirds and his replacement, Tim Jankovich, going 48-42. So the move worked out for the Redbirds. And hiring Moser after his four-year stint as an assistant to the late Rick Majerus at St. Louis University has worked out extremely well for Loyola.
The Ramblers won the national title in 1963 and last competed in the NCAA tournament in 1985. Loyola's the least talented squad on this list, but in such a wide-open year, there is something to be said for a school that knows how to finish games and seasons.
---
Michigan
Kenpom.com ranking: 9
Offensive efficiency: 31
Defensive efficiency: 6
Most impressive six-game winning streak: at Penn State, 72-63; at Maryland, 85-61; Iowa, 77-71 (OT, neutral); Nebraska, 77-58 (neutral); Michigan State, 75-64 (neutral); Purdue, 75-66 (neutral).
Synopsis: The Wolverines played their best basketball on their way to the Big Ten conference tournament championship, and that was against foes accustomed to defending John Beilein's offense, which is more complex than most. Defending his four-out, one-in offense that features back cuts will be even more difficult for teams playing against it for the first time. And Michigan is even tougher defensively, holding opponents to .299 shooting outside the 3-point semicircle and .426 inside it. The Wolverines cause turnovers at a high rate and don't turn it over themselves. They played at a measured pace with an average possession length of 18.7 seconds, 310th in the nation, per kenpom.com. Michigan sizes up as one of the toughest outs in the tournament.
---
Michigan State
Kenpom.com ranking: 6
Offensive efficiency: 10
Defensive efficiency: 9
Most impressive six-game winning streak: Wisconsin, 76-61; at Maryland, 74-68; Penn State, 76-68; at Indiana, 63-60; at Iowa, 96-93; Purdue, 68-65.
Synopsis: Tom Izzo preaches "no easy buckets" to his players, who practice what the coach preaches. The Spartans hold opponents to a national-low .384, 2-point percentage and block 18.8 percent of the shots put up against them, another national best. All four losses came at the hands of quality opponents: Duke, Ohio State and Michigan twice. Forward Miles Bridges is tough to handle on the perimeter and down low, but 6-foot-11 freshman Jaren Jackson is the best pro prospect and is projected to be selected in the first five picks.
---
North Carolina
Kenpom.com ranking: 8
Offensive efficiency: 4
Defensive efficiency: 51
Most impressive six-game winning streak: Pittsburgh, 96-65; Duke, 82-78; at North Carolina State, 96-89; Notre Dame, 83-66; at Louisville, 93-76; Syracuse, 78-74.

Synopsis: What? North Carolina? Everybody knows the Tar Heels don't defend well enough to survive and advance all the way to the national title. It's been said of previous Roy Williams teams. He won his third national championship last April, surpassing mentor Dean Smith's total. This team is neither as big nor as talented, but guard Joel Berry, who scored 22 points and made 4 of 8 3-pointers in the title game, is back and averaging 17.8 points per game. The Heels, seeded sixth in the ACC tournament, are a bit of a long shot this time, but still are worth keeping an eye on.
---
Purdue
Kenpom.com ranking: 5
Offensive efficiency: 3
Defensive efficiency: 30
Most impressive six-game winning streak: Wisconsin, 78-50; at Iowa, 87-64; Michigan, 92-88; at Indiana, 74-67; Maryland, 75-67; at Rutgers, 78-76.
Synopsis: Carsen Edwards is a terrific guard, the team's leading scorer (18.5), a potential second-team All-American and a leader of a team that has good size and ranks second in the nation in 3-point shooting (.420). The Boilermakers went 5-4 down the stretch, but before that slide, were 23-2 and a fashionable Final Four pick.
---
Villanova
Kenpom.com ranking: 2
Offensive efficiency: 1
Defensive efficiency: 26
Most impressive six-game winning streak: Xavier, 89-65; at St. John's, 78-71; at Georgetown, 88-56; at UConn, 81-61; Providence, 89-69; at Marquette, 85-82.
Synopsis: A popular pick for top honors in college basketball, junior Jalen Brunson makes sure the Wildcats don't get sloppy with the ball. He's a scoring threat driving and shooting from long distance (.405). Brunson leads six scorers in double figures with 19 points a game and isn't even the team's best NBA prospect. That would be classmate Mikal Bridges, a serious force at both ends. Bridges averages 17.6 points and 5.5 rebounds, shoots .420 from 3, knows how to play the passing lanes and even blocks a shot every now and then.
---
Virginia
Kenpom.com ranking: 1
Offensive efficiency: 39
Defensive efficiency: 1
Most impressive six-game winning streak: North Carolina State, 68-51; at Georgia Tech, 64-48; at Wake Forest, 59-49; Clemson, 61-36; at Duke, 65-63; Louisville, 74-64.
Synopsis: The Cavaliers cause turnovers at a high rate and don't turn it over themselves. They frustrate teams that like to play fast and are dead last in adjusted tempo, per kenpom.com. Defensively, they rank third in the nation in effective field goal percentage and 17th in steal percentage, a lethal combination.
---
Virginia Tech
Kenpom.com ranking: 30
Offensive efficiency: 33
Defensive efficiency: 55
Most impressive six-game winning streak: Washington, 103-79 (neutral); Houston Baptist, 99-73; Morehead State, 96-63; Iowa, 79-55; at Ole Miss, 83-80 (OT); Radford, 95-68.
Synopsis: Coach Buzz Williams took Marquette to the NCAA tournament in five consecutive seasons, winning seven tourney games in a three-year stretch. He has a talented enough team to make a deep run in his fourth season with the Hokies. They have as impressive a trio of victories as any team in the field, sandwiching home victories vs. North Carolina and Duke around an overtime road victory against Virginia. Nobody expects much from the Hokies, which should enable them to play freely without feeling a lot of pressure. Guard Justin Robinson leads five scorers in double figures.
---
Wichita State
Kenpom.com ranking: 17
Offensive efficiency: 5
Defensive efficiency: 100
Most impressive six-game winning streak: Connecticut, 95-74; Temple, 93-86; at Cincinnati, 76-72; Tulane, 93-86; at SMU, 84-78; at UCF, 75-71 (OT).
Synopsis: The Shockers hit the offensive boards hard, don't turn it over and move the ball well on offense, creating opportunities for open shooters. They cash in on those 3-point chances (.386), but they don't do a good job of making teams uncomfortable at the other end. They rank 324th in steals. Kansas transfer Conner Frankamp ranks fourth on the team in scoring (10.2) and headed into the American Athletic Conference tournament with a perfect mark from the free-throw line (32 for 32).
---
Xavier
Kenpom.com ranking: 15
Offensive efficiency: 7
Defensive efficiency: 73
Most impressive six-game winning streak: Marquette, 89-70; at St. John's, 73-68; Georgetown, 96-91 (OT); at Butler, 98-93 (OT); at Creighton, 72-71; Seton Hall, 102-90.
Synopsis: Some college players seem to have 10-year careers. Trevon Bluiett and J.P. Maura, two such players, had combined for 7,801 minutes and 205 starts heading into the Big East tournament. The Musketeers have no shortage of muscular physiques. They hit the boards hard, know how to get to the free-throw line and shoot .785 from the stripe.
More like this story on KUsports.com