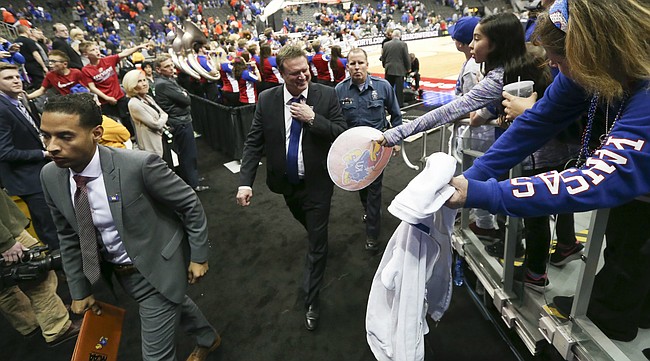 On Monday afternoon, Kansas point guard Devonte' Graham was named a first-team All-American by the United States Basketball Writers Association.
Graham, a legitimate national player of the year candidate, who has seen his name land on several All-American lists already this month, is preparing to lead his Jayhawks, one more time, into the NCAA Tournament, once again as a 1 seed and once again with the ultimate goal being to break through and take Kansas to its first Final Four since 2012.
There are a dozen different factors that can determine whether a team has success in the postseason or not, and, for KU coach Bill Self's money, one of the best is just how relaxed a team can be.
"My best times in the tournament have been when we've had the most fun," Self said Sunday. "The most productive my teams have been is when we've had the most fun. And the most pressure (we've felt), it seems like to me, is when we've been dealing with crap or distractions."
Although the 2017-18 season has had its share of disturbances, — most notably the eligibility quests of Billy Preston and Silvio De Sousa — the top-seeded Jayhawks (27-7) have been pretty distraction-free during recent weeks, with the growing list of Graham's postseason accolades drawing as much non-basketball attention as anything for this team of late. Luckily for Kansas, the man receiving those honors is one of the more selfless players to come through the program, so there's no worrying about where Graham's focus is heading into Thursday's opening-round clash with 16th-seeded Penn at 1 p.m. at Intrust Bank Arena in Wichita.
"Everybody deals with them," said Self of off-the-court issues. "It could be agents, runners, it could be family members, it could be whatever. It could be injuries. There's a lot of things. But when you can go into it with fresh minds and fresh bodies and you're in it for the right things, to go out and take it, rather than go out and protect it, I think those teams usually do the best and (are) the teams that have the most fun playing."
Although it remains to be seen if this year's Kansas team operates with that approach, Self said he entered the week supremely encouraged that that would be the case given the way the Jayhawks played last weekend en route to the Big 12 tournament title in Kansas City, Mo.
"I don't think that we've had a team, in recent memory, that has enjoyed playing the game more than what those kids did (Saturday) night," said Self of his team's 81-70 win over West Virginia in the Big 12 title game. "That's been something, as you guys know, that's been a pet peeve of mine all season long. We haven't shown that visibly when we're out there playing. So I hope we're in the right mindset that we can go out and have fun and enjoy it."
The alternative to having fun, of course, is wilting under the pressure. And although the past two Kansas teams have shown plenty of March Madness moxie in getting to the Elite Eight, Self admitted that pressure has been a factor in the past.
He vows to not let that be the case this season and it starts with taking a loose-but-locked-in attitude into this week's preparation for Penn.
"This could happen a lot," Self began, taking us through a not-so-hypothetical scenario. "So, you win the league by two games and you want to go to the Big 12 tournament and, instead of having the mindset of let's just go have fun, no we need to go validate what we did. Sometimes (it's), 'Well, we got a 1 seed, now we've got to play to that seed.' I've actually thought that at times. I'm not going to do that with this team.
"I think we'll do much better if we are enjoying playing rather than thinking we have to do something."
That, according to Self, is where his first-team All-American and Big 12 player of the year is most valuable. Rare is the day when Graham looks anything but overjoyed on the court. And Self said that attitude and energy can serve this team well in the coming weeks.
"I do think that's where Devonte' is probably as valuable to us as any player is in the country to their respective team because he gives us so many intangibles," Self said. "... I really like our team right now, after this past weekend. It's been an up-and-down season. I think we're on an uptick right now. We've had some good teams going into the tournament and I think this is one of those teams."
Graham agreed and said he thought everyone on the roster had taken the right steps toward entering this week with equal parts focus and free spirit.
"Yeah. I think we are," Graham said, when asked if the Jayhawks were ready for the mental and physical grind of what's to come. "I think this past weekend helped out a lot."