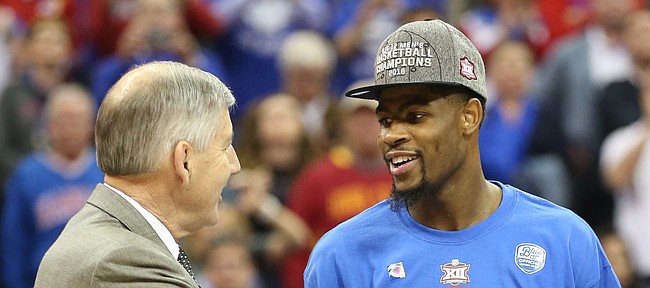 Kansas City, Mo. — When the Kansas men's basketball team opened play in this year's Big 12 tournament at Sprint Center on Thursday, sophomore guard Malik Newman was fresh off of one of his worst performances in a season of ups and downs.
Three days later, Newman was the king of the world, wearing the Big 12 championship net underneath a Big 12 championship hat and with the smile of a Big 12 tournament Most Outstanding Player.
Seventy-two points (a new school record, edging out Paul Pierce's 67 in 1998) and 15-of-22 shooting from 3-point range will do that to a player, and Kansas coach Bill Self, who has been one of Newman's toughest critics throughout the season, was thrilled to heap praise onto a player who Self said all offseason should play like an all-league performer when the 2017-18 season rolled around.
He did in three games in three days this weekend, and Self said he thought the performance could be huge for his team during the next couple of weeks.
Photo Gallery
Kansas basketball v. West Virginia (Big 12 Tournament championship)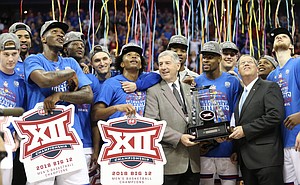 View a gallery of images from Saturday's Big 12 Tournament championship game between the Jayhawks and Mountaineers at Sprint Center.
"I do," Self said. "He was aggressive. I think, offensively, he only had maybe five bad possessions all weekend. I think the light's coming on. To go back-to-back-to-back like that, that was big. And that's so big for his confidence going forward."
But it's not just Newman for whom a showing like this is big.
With the 6-foot-3 shooting guard scoring in bunches and keeping defenses both honest and off balance, it opens up so much for so many other players on this Kansas team. That fact was not lost on Newman or Self after Saturday's 81-70 victory over West Virginia in the Big 12 title game, and both are now taking a ton of confidence into next week's NCAA Tournament — Self in his team and Newman in his game.
"(Senior point guard) Devonte' (Graham) hasn't had that guy play next to him all year long," Self said of Newman. "He made the game a lot easier for a lot of other guys."
Newman and Graham joined West Virginia's Jevon Carter and Daxter Miles Jr. and K-State's Makol Mawien on the all-tournament team.
No. 1 seed in the cards?
Although plenty of people believed the Jayhawks had a No. 1 seed in next week's NCAA Tournament locked up before they even stepped onto the court on Saturday, the 11-point victory over West Virginia only strengthened their case.
And, if the prognosticators are correct, Kansas (27-7) might have moved all the way up to the No. 2 overall seed and could be staying close to home for the duration of whatever NCAA Tournament run they have in front of them.
The Jayhawks are all but guaranteed to open play in Wichita next Thursday. A win there would move them into Saturday's second round, and a win there would move them into the Sweet 16. If they are, in fact, the No. 2 overall seed, that could mean a trip to Omaha, Neb., instead of having to fly out west to Los Angeles for the regional semifinals and finals.
They have to win two games to get there, of course. But if they do, they'll be playing for a return trip to San Antonio for this year's Final Four. The last time the Jayhawks played a Final Four in San Antonio, they won the whole thing.
KU and the rest of the college basketball world will find out their fate during today's selection show at 5 p.m. on TBS.
Sweet validation
On Friday night, Self said he believed there would be an intense focus for whomever the Jayhawks faced in Saturday's Big 12 title game to really want to win to make sure someone other than KU won a Big 12 title this year.
Podcast episode
Kansas basketball coach Bill Self, as well as All-Big 12 tournament honorees Malik Newman and Devonte' Graham, explain how the Jayhawks emerged from a heated conference title game as 81-70 victors over West Virginia.
It didn't happen. The Jayhawks not only won the regular season for an NCAA-record 14th consecutive season but also won the Big 12 tournament title for the 11th time in 13 tries.
"I think this definitely validates what happened during the regular season," Self said. "Nobody can say Kansas caught a break or was lucky this year. We were able to validate winning (the conference) by two games by winning this, but tomorrow at noon, it doesn't matter anymore. We will regroup and hopefully have fresh minds and fresh legs going forward.
"This is not the most talented team we've had, but the most talent doesn't always win. The talent that plays the best together wins. We haven't been great at that, but we certainly were really good today."
Udoka update
Self said injured center Udoka Azubuike went through his second light workout of the week on Saturday before KU's victory over West Virginia.
"Dok worked out again today on the bike and we're hopeful we can get him on the court tomorrow or Monday," Self said. "When I say on the court, that doesn't mean playing, that means doing some basketball, 1-on-0 type activity, making sure his brace fits right and all that stuff."
With the 7-foot sophomore recovering from a Grade 1 sprain of his left medial collateral ligament suffered during Tuesday's practice, Self said the team remained optimistic that Azubuike could rejoin the Jayhawks in time for the NCAA Tournament.
"We're hopeful he can play this week," Self said. "The doc said it's not unrealistic for us to be hopeful about that."
This and that ...
Graham's 13 assists on Saturday set a Big 12 title game record and improved his career total to 60, moving him into a tie for first place with former KU point guard Aaron Miles ... KU improves to 44-11 all-time in the Big 12 tournament and 74-27 in conference tournaments ... The Jayhawks are now 12-4 in games played away from Allen Fieldhouse this season and 38-9 all-time at Sprint Center, including a 3-1 mark this season.