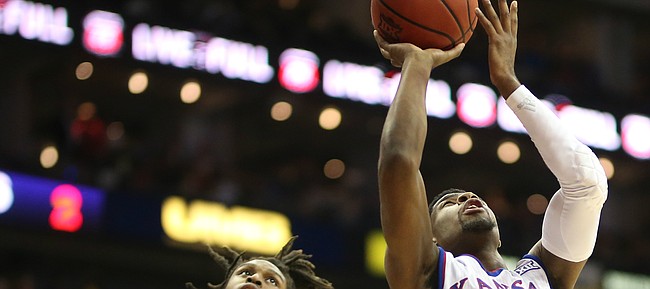 Kansas City, Mo. — When a key player goes down and more is expected of every one of his teammates, not just those who play his position, it allows those who need it to hit the reset button and see what happens.
Here's what has happened with Malik Newman: Two games into the Big 12 tournament in Sprint Center, Newman has scored 52 points, made 19 of 29 shots, 9 of 14 3-pointers and totaled seven assists, two turnovers and four steals.
Newman, who fell way short of coach Bill Self's predictions in his first regular season with Kansas since transferring from Mississippi State, has set himself up for Most Outstanding Player honors in the tournament if Kansas is the team cutting down the nets at the end.
Newman buried short-handed Kansas State's upset aspirations, 83-67, with 22 points, six rebounds, four assists and three steals Friday in Sprint Center.
Photo Gallery
Kansas basketball v. Kansas State (Big 12 Tournament)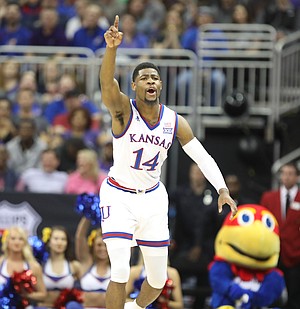 View a gallery of images from Friday's semifinal game of the Big 12 Tournament between the Jayhawks and Wildcats at Sprint Center.
He was the best player on the floor for the second night in a row. Nobody watched the past two nights and wondered how he once was a McDonald's All-American.
Self made a bold prediction at last season's postseason banquet, saying that he would be disappointed if Newman didn't earn first-team All-Conference honors.
Here's what disappointment looks like: Newman was the lone KU starter not named to either the first team (Devonte' Graham), second team (Svi Mykhailiuk), third team (Udoka Azubuike) or honorable mention (Lagerald Vick). Twenty-three Big 12 players earned one of those distinctions, and Newman has a shot to beat them all out for the conference's top individual postseason trophy.
"It almost looks like an ocean right now," Newman said of the hoop. "Every time I raise my elbow I feel like it's going in. It's a whole lot of fun."
Shooting and scoring beats thinking and freezing, wishing and wondering.
Podcast episode
Kansas basketball coach Bill Self and starting guards Devonte' Graham and Malik Newman discuss the Jayhawks' 83-67 victory over rival Kansas State in the Big 12 tournament semifinal round.
"That's a terrible thing," Newman said of thinking too much. "When you're thinking, you're slow. You don't really have confidence in yourself to make plays. You just don't look good when you're out there thinking. That's something that I was doing throughout the season, but I think right now I just have a free mind."
Credit Devonte' Graham with more than just the official 17 assists he has amassed in two nights. He also had a hand in helping Newman reach the right frame of mind for the postseason.
"He's hooping," Graham said "I'm glad he's hooping. In practice before we started coming up here I told him to stop passing the ball. Just shoot it. And he's shooting it."
At three different stages of the second half, Kansas State gained momentum, and each time Newman buried a 3-pointer to tame the purple adrenaline. At the 14:06 mark, he turned an eight-point lead into an 11-point one. At 8:25, he stretched a four-point lead to seven points. He raised his elbow, cast another pebble into the ocean and watched it drop to give the Jayhawks a 10-point cushion with 6:33 left.
On back-to-back nights, Newman called off the search party for the player who consistently torched the nets in practice during his redshirt season. He explained the origin of his renewed confidence.
"I knew if I wasn't good, the team wasn't going to be as good as it can be," Newman said. "That's something that Devonte' always preached to me and the coaching staff always preached to me."
He just needed one more person to preach it to him, so he stopped running from that person and took his advice onto the court.
"It was just about me looking in the mirror," Newman said, "and me telling myself: 'It's really on you right now. You can't point your finger at anyone. You just have to man up and accept it, and do something about it.'"
He did something, all right. He dumped 30 points on Oklahoma State, 22 on Kansas State and shot his team into the Big 12 conference tournament title game.