Kansas City, Mo. — Kansas big man Udoka Azubuike sat out of Friday's 83-67 KU victory over in-state rival Kansas State in the Big 12 semifinals at Sprint Center.
But that was one of the few times on Friday that KU's 7-foot center was resting.
"Dok did work out today," coach Bill Self said. "Dok got a workout in today. So the reports are, hopefully we can get him on the court in the next two days."
Azubuike remains sidelined for Saturday's Big 12 title game — 5 p.m. on ESPN at Sprint Center — and Self said Friday's progress was nothing more than a good indication that the healing process had begun on Azubuike's sprained medial collateral ligament in his left knee that kept him out of the first two games in the Big 12's postseason tournament.
"That doesn't mean he's going to play," Self said. "I'm not saying that at all. But the best thing that happened today was we know he's on the mend. He's making progress."
Photo Gallery
Kansas basketball v. Kansas State (Big 12 Tournament)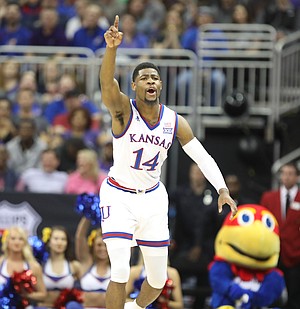 View a gallery of images from Friday's semifinal game of the Big 12 Tournament between the Jayhawks and Wildcats at Sprint Center.
Asked how he thought Azubuike had looked during the past couple of days, freshman forward Silvio De Sousa, who played a career-high 19 minutes and grabbed a career-high 11 rebounds in KU's Friday night victory, said he thought Azubuike was looking good.
"I saw him walking around pretty well," De Sousa said. "And I think by Tuesday, Monday he's going to be fine and I hope to see him back soon."
Bigger-but-still-small sample size
After watching De Sousa and Mitch Lightfoot combine for 14 points and 14 rebounds in Thursday's victory over Oklahoma State, the Jayhawks got another look at how the two KU forwards would hold it down inside in Azubuike's absence.
The result?
Sixteen points and 14 rebounds this time, with De Sousa grabbing the bulk of both.
Asked to assess their play over a two-game span, Self said he was pleased but still wanted to see more.
Podcast episode
Kansas basketball coach Bill Self and starting guards Devonte' Graham and Malik Newman discuss the Jayhawks' 83-67 victory over rival Kansas State in the Big 12 tournament semifinal round.
"I thought they both did some good things and I thought they were both really bad at the same time," Self said. "The guy they guarded (K-State big man Makol Mawien) is averaging six points a game and he got 29 on them. The best way they can help our team is to defend and rebound. It's not that we're going to run offense through them to score. I thought Silvio in particular has shown signs of really making some good plays."
Added senior point guard Devonte' Graham: "Silvio and Mitch have been trying to play as hard as they can, rebounding and stuff. Honestly, I don't think they're in shape for the minutes they're playing right now because they're not used to it. But they're trying to carry that weight."
Graham ailing
After an uncharacteristic, six-turnover night on Thursday, Graham coughed it up three more times on Friday and finished just 3 of 11 from the floor — and 8 of 8 from the free-throw line — for 15 points and eight assists in 38 minutes.
Asked after the game if he had caught a flu bug of some kind, Graham confirmed that he was dealing with something.
"I feel better today," he said. "Yesterday, I didn't feel too good, but I feel way better today."
Graham's eight assists on Friday moved him past Jacque Vaughn and into sixth place on KU's single-season assists chart, with 241. He also is now tied for fifth with former Oklahoma State guard Byron Eaton on the Big 12 tournament career assists list with 47.
Life without Wade
Despite the presence of widespread rumors and reports indicating that K-State junior Dean Wade would miss Friday's game against the Jayhawks, Self said the KU coaching staff did not mention it to the Jayhawks until they arrived at Sprint Center for pregame preparations.
"We approached today like Dean was going to play," Self said. "We didn't say anything to our guys about him not playing until we got over here tonight. But I think they knew it from social media."
No one knew then, of course, that K-State also would be without Barry Brown Jr., who played just one minute in the loss after getting poked in the eye in the early going.
Several Jayhawks said the stoppage and the way losing Brown altered K-State's attack had an impact on the way Friday's game played out.
Obviously, it was much tougher for the Wildcats to endure.
"I was grossed out (by) what I saw on Barry when I saw what happened," K-State coach Bruce Weber said. "I thought he got poked, but you get close to him and it was a little scary. Hopefully he's OK. He wanted to play. He kept saying, 'I'm good.' And I held up how many fingers and he didn't know. He had very little vision. There was no way we could put him in."
This and that ...
KU's victory gave the Jayhawks 26 wins or more for the fourth consecutive season and the 11th time in the past 12 seasons ... Kansas is now 11-4 away from Allen Fieldhouse this season and 2-1 at Sprint Center, bringing their all-time record in the venue to 37-9 ... The Jayhawks are now 73-27 all-time in conference tournament games, including a 43-11 mark in the Big 12 tournament. KU remained perfect against the Wildcats in Big 12 tourney play, improving to 10-0 ... Svi Mykhailiuk's four 3-pointers made him just the fourth Jayhawk in school history to record 100 3-point makes in a single season. Mykhailiuk now has 102 3-pointers this season and is shooting 45 percent from behind the arc.