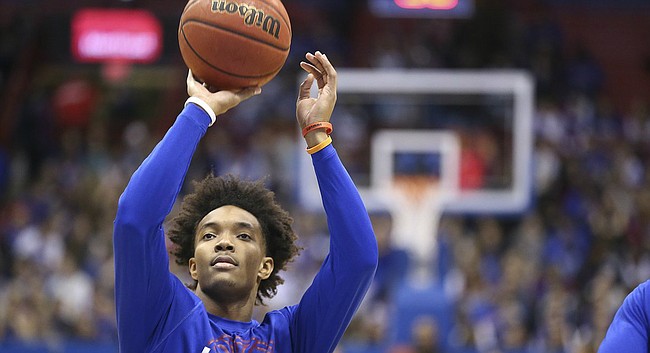 On Sunday morning, a little less than 24 hours after his team was drubbed by Oklahoma State for the second time this season, Kansas coach Bill Self got to break up the post-loss hangover with a phone call that was much more fun than watching film.
The call was to senior point guard Devonte' Graham and the reason Self picked up the phone was to tell Graham that he had been named Big 12 Player of the Year.
A rogue text message sent to Graham by someone else in the KU athletic department beat Self's call, but Graham did not see it. So Self was the first to share the news.
"I woke him up and I told him firsthand,' You've got to call your mom and be the one to tell her," Self said. "He was able to do that."
Podcast episode
Kansas basketball coach Bill Self met with the media and talked about Saturday's loss to Oklahoma State, how happy he was to see Devonte' Graham was an unanimous player of the year choice and why he expects games in the Big 12 tournament to be intense.
True to the form he has shown throughout his standout Kansas career, Graham had a subdued reaction to the news. It's possible the timing of the call was to blame. Or it's possible that Graham, though happy to win it, would rather win some much bigger prizes in the coming weeks.
"He didn't even bat an eye," Self said. "'Oh, Coach, that's great, thanks. Yeah, I'll call mom now.' It was not a big deal to him, even though I know it will be about five years from now when his name is hung in the rafters."
That last part, which a few years down the road is now an absolute certainty, is the part that hit Graham the hardest on Sunday.
He knew he was in the running for the honor. He knew his numbers were good enough to win the award. And he knew that his coaches and teammates believed he was the slam dunk pick.
Knowing all of that beforehand and then finding out it actually happened are two different things, though, and Graham needed a few minutes to process the news.
"I was shocked at first," he said. "I didn't know a thing. And then I was just happy because I get to get my name put in the rafters like coach has been saying. … If you look up there, you see all the KU greats, legends, and I get to be up there beside them and it's going to be special and I get to show my kids and grandkids that when I bring them back here for some games."
Once the reality sunk in, Graham quickly shifted into P.R. mode. He knew his mother and grandmother would be overjoyed at the news but wanted to make sure they didn't leak it out before the Big 12 could officially announce it just before noon on Sunday.
"They were excited," Graham recalled with a grin. "So I had to tell her, 'Don't post nothing because it hasn't come out yet. You know, she likes to post all kinds of stuff."
For Graham, winning the award and therein validating his selection as preseason Big 12 player of the year, was a thrill in itself. But he said bringing home the hardware was even more special because it came one year after former running mate Frank Mason III did the same thing.
For Self, it was not merely the honor itself that made him smile biggest. It was the fact that all nine Big 12 coaches who had a vote pegged Graham as the conference MVP.
"I think that speaks a lot to what opposing coaches think of his value to us," Self said. "They saw what I've known all along, and I think that's really neat for him."
As for what Graham's award and the second, third, newcomer and honorable mention honors achieved by his teammates meant to the program, Self did not shy away from sharing his thoughts on what these types of awards mean.
"I was happy for all our guys to get some individual attention," Self said. "I think that's important. But I don't think it really means much, to be candid with you. You know, they're going to get a certificate, with the exception of Devonte', and he's going to get a real nice trophy, but everyone else is going to get a certificate. I'm not against certificates or anything, but to me the best way to really put your stamp on it is to go out and win and have something tangible, have a trophy or something that you can help carry off a stage or something. That to me would be the motivation."
KU's chances to do just that will begin in earnest this week.
Self likes tourney schedule
Over the weekend, the Big Ten Conference played its postseason tournament in New York City and now will wait almost two full weeks to open play in the NCAA Tournament.
Asked Monday if he would like to see the same kind of extended rest via the Big 12 scheduling, Self said he liked things just the way they are.
"I wouldn't like it for this reason," Self began. "They had to cram their conference season, going back to December. I've never been a fan of starting conference play before Christmas. And the other thing is how many times did those teams have to play three games in five days? So you don't allow players' bodies to heal. You don't allow for scouting. You don't allow for possibly academically and putting them out in ways like that.
"I personally would not like it. … I thought their exposure this past weekend was tremendous. But at the end, I don't know if it's for the betterment of the student-athlete welfare stuff. I don't think that'll be a discussion point for us."
Jayhawks drop to 9th
KU's road loss to Oklahoma State last weekend dropped the Jayhawks three spots in the final Associated Press Top 25 poll of the regular season.
KU, which had climbed to the brink of the Top 5, fell back to No. 9 in this week's poll. The Jayhawks (24-7 overall, 13-5 Big 12) were joined in this week's Top 25 by Big 12 brothers Texas Tech (14) and West Virginia (18). TCU and Kansas State — KU's potential Big 12 tourney semifinal foes on Thursday if the Jayhawks can get by the winner of Wednesday's Oklahoma-Oklahoma State game — also received votes this week.
Graham on another list
Already on the list of semifinalists for the Naismith Trophy and John R. Wooden Award, Graham on Monday was named as one of five semifinalists for the Bob Cousy Award, given annually to the nation's top point guard.
As was the case with those other awards, and a handful more, former Graham teammate Frank Mason III won the award in 2017. Joining Graham on the list of semifinalists are: North Carolina's Joel Barry II, Oklahoma's Trae Young, Villanova's Jalen Brunson and West Virginia's Jevon Carter.
Also Monday, Graham was named to The Sporting News' first team All-American squad, joining Brunson, Young, Duke's Marvin Bagley and Arizona's DeAndre Ayton. ESPN college basketball analyst Dick Vitale also pegged Graham as a first-team All-American over the weekend.