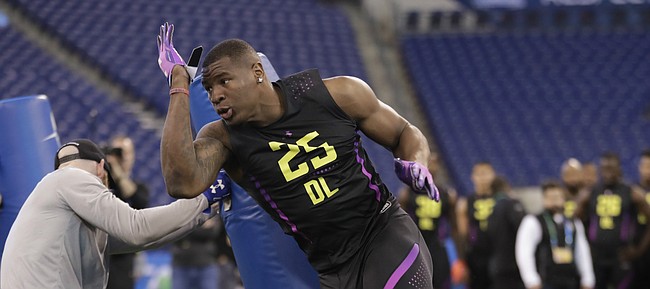 Showing off his skills and athleticism in front of NFL coaches and executives Sunday in Indianapolis, at the league's pre-draft scouting combine, former Kansas defensive end Dorance Armstrong Jr. finished as a top performer in three different categories at his position.
After measuring out at 6-foot-4 and 257 pounds, Armstrong's best tools proved to merge his speed and agility. The Houston native completed the three-cone drill in 7.12 seconds (fourth-best time among edge players), sped through the 20-yard shuttle in 4.23 seconds (third-best) and clocked in at 11.82 seconds in the 60-yard shuttle (third-best).
NFL Network analyst Mike Mayock commented that Armstrong, who left Kansas a year early in order to enter the 2018 draft, looked "very fluid and smooth" in all of the drills.
Although Armstrong's 40-yard dash time of 4.87 seconds didn't place him among the speediest edge rushers at the combine (Wisconsin's Leon Jacobs blew away most of his competitors with a 4.48), former NFL linebacker Willie McGinest said he could tell from watching Armstrong up close on Sunday the potential second- to third-round draft pick from Kansas had been putting in work and arrived at the combine prepared.
"He's an every-down guy. He doesn't have to come off the field," McGinest said on NFL Network, while discussing Armstrong's 40 time. "Some guys just don't test well. That's the reality of it."
NFL Network analyst Daniel Jeremiah said Armstrong reminded him of Pittsburgh Steelers linebacker Bud Dupree, a first-round pick in 2015.
Mayock, while highlighting Armstrong's strengths, argued the KU lineman will be best suited at the NFL level as an outside linebacker in a 3-4 defense or a defensive end in a 4-3 scheme.
"I thought he showed toughness," Mayock added of Armstrong playing less on the edge as a junior in 2017. "Even though he wasn't a good fit — he got enveloped by big tackles — … he's got some size."
Draft analyst Dion Caputi identified Armstrong as one of his "winners" from the linebacker conversion drills at the combine.
After a breakout sophomore season during which Armstrong totaled 20.0 tackles for loss and 10 sacks, his statistical production dipped in his final season at Kansas, when he finished with 9.0 tackles for loss and 1.5 sacks.
During a media session earlier this weekend at the combine, Armstrong told BJ Kissel of Chiefs.com and other reporters how he dealt with a different role and becoming the focus of opponent's game plans.
"Just gotta keep playing, you know," Armstrong said. "Being a leader, you can't let your team see you frustrated. That gives bad energy to the team. You just have to get better week by week."
The NFL Draft is April 26-28.
Armstrong's combine results vs. best edge performances
40-yard dash: Armstrong, 4.87 seconds; Leon Jacobs (Wisconsin), 4.48 seconds
225-pound bench press: Armstrong, 20 reps; Kylie Fitts (Utah), 31 reps
Vertical jump: Armstrong, 30.0 inches; Josh Sweat (Florida State), 39.5 inches
Broad jump: Armstrong, 118.0 inches; Lorenzo Carter (Georgia), 130.0 inches
3-cone drill: Armstrong, 7.12 seconds; Fitts, 6.88 seconds
20-yard shuttle: Armstrong, 4.23 seconds; Fitts, 4.19 seconds
60-yard shuttle: Armstrong, 11.82 seconds; Harold Landry (Boston College), 11.35 seconds