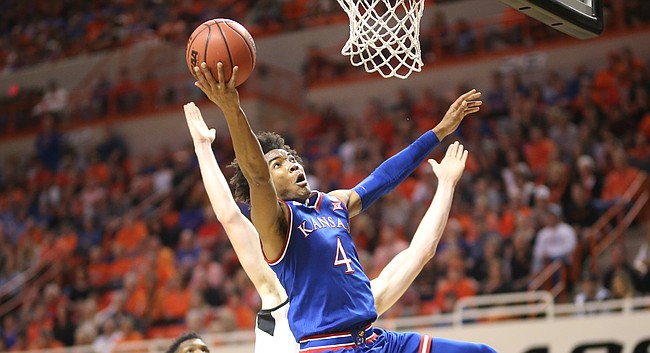 STILWATER, OKLA. — Oklahoma State became the first team to sweep Bill Self in his 15 seasons at Kansas, as the Cowboys closed the regular season with an 82-64 beating of the No. 6 Jayhawks at Gallagher Iba Arena.
Only one KU player, senior point guard Devonte' Graham, scored in double figures. Graham's 4-for-14 shooting gave him a team-high 15 points in the final Big 12 road game of his four-year career.
Oklahoma State guard Kendall Smith led all scorers with 25 points on 9-for-15 shooting.
The Cowboys (18-13 overall, 8-10 Big 12) shot 50 percent from the floor and had four players — Mitchell Solomon (16), Tavarius Shine (11) and Jeffrey Carroll (10) — join Smith with double-digit points.
Photo Gallery
Kansas basketball v. Oklahoma State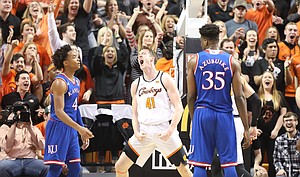 View a gallery of images from Saturday's game between the Jayhawks and Cowboys at Gallagher-Iba Arena in Stillwater, Okla.
OSU, which led by 18 during its five-point win at Allen Fieldhouse a month earlier, buried the Jayhawks (24-7, 13-5), putting the perennial league champ in its biggest hole of season, 23 points, before the game concluded.
Here's a quick look back at some of the action:
• The game turned when: The Big 12 champions couldn't match the activity and execution of a Cowboys team trying to play its way into the NCAA Tournament.
Oklahoma State, clearly inspired in its Senior Day home finale, led by as many as 17 in the first half.
Senior big man Solomon couldn't miss early, making all five of his shots for a 14-point, five-rebound first half.
Senior Carroll, meanwhile, scored eight points and knocked down a 2 of 4 3-pointers before intermission.
Smith, a graduate transfer, put up 10 points before the break.
OSU's eight first-half steals paved the home team's way to easy baskets, as the Cowboys scored 13 points off 10 Kansas giveaways.
Oklahoma State added eight second-chance points off five offensive rebounds in the first 20 minutes.
Kansas couldn't make defensive stops, either, as the Cowboys hit 17 of 30 (57 percent) shots from the floor.
When the Jayhawks weren't turning the ball over early, they weren't shooting at a clip strong enough to offset their passing and ball-handling issues. KU hit 12 of 28 first-half shots (43 percent) and only scored on 15 of 36 possessions. The Jayhawks missed 5 of their first 9 shots at the rim.
OSU took a 46-30 lead into halftime, and though the Jayhawks pushed the Cowboys early in the second half, the giant early deficit proved too much to overcome.

• Offensive highlight: Graham opened the game dishing to teammates and keeping everyone involved.
Podcast episode
Kansas basketball coach Bill Self laments' the Jayhawks' competitiveness following an 82-64 loss at Oklahoma State in the regular-season finale.
The senior point guard, who assisted on four of KU's firsts baskets, threaded one of his five first-half assists from the top of the key into the waiting hands of a rolling Udoka Azubuike off a ball screen.
KU's 7-foot center had a rare easy basket inside as a result, putting home a two-handed slam.
It wasn't one of Azubuike's more ferocious dunks, but the on-point pass made the play and helped KU's center get going a little offensively on an afternoon when the Cowboys were defending his post-ups with success.
• Defensive highlight: KU obviously didn't have much success on the defensive end of the floor Saturday.
• Key stat: Points off turnovers.
KU's offensive issues fueled the Cowboys' confidence. By the end of the afternoon, Oklahoma State scored 21 points off the Jayhawks' 17 giveaways, making it much easier for coach Mike Boynton's bunch to pull off the season sweep.
• Up next: The Jayhawks will get a few days to regroup before playing Thursday afternoon at approximately 1:30 p.m. at Sprint Center, in the Big 12 Tournament quarterfinals.