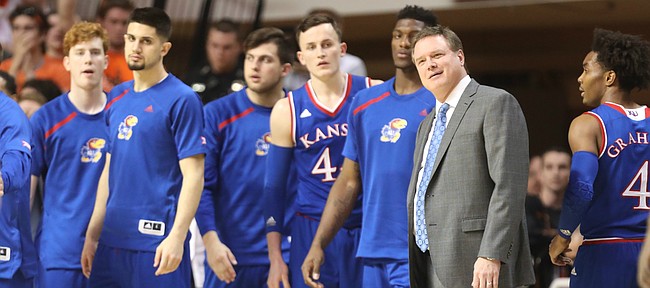 STILLWATER, OKLA. — About a half an hour after his team's 82-64 loss to Oklahoma State mercifully came to an end, Kansas basketball coach Bill Self was asked a simple question fairly early in his postgame meeting with the media.
In all likelihood, Self preferred fielding this question as a bit of a break from all of the inquiries about what went wrong with his team and what comes next.
The question: Do you think Oklahoma State is worthy of a spot in the upcoming NCAA Tournament?
"How can I say this," Self began. "We win the league by two games and they are a lot better than us. They're a lot better than us. The two times we played them, it hasn't even been close, in my opinion. So to ask if they're a tournament team, my answer would be an emphatic yes."
Whether the Cowboys (18-13 overall, 8-10 Big 12) get in or not remains to be seen. And next week's Big 12 tournament in Kansas City, Mo., definitely could play a role in determining whether they're still on the bubble or in the tournament.
OSU, which finished in a four-way tie for sixth, drew the No. 8 seed via the conference's tiebreaker format and will play No. 9 seed Oklahoma at 6 p.m. on Wednesday at Sprint Center. The winner will play top-seeded Kansas at 1:30 p.m. on Thursday.
Photo Gallery
Kansas basketball v. Oklahoma State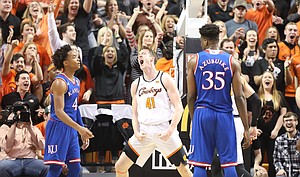 View a gallery of images from Saturday's game between the Jayhawks and Cowboys at Gallagher-Iba Arena in Stillwater, Okla.
"I don't know how it all shapes out in the metrics that people obviously study and look at," Self said. "But in the two games that we played them, they deserve to be in (the NCAA Tournament) more than we do."
As for whether he would rather face the Oklahoma State squad that swept him or the Trae Young-led Sooners, Self did not show his hand.
"I'm not going to say who I hope wins because as soon as you start wishing for things like that, it never plays out the way you had envisioned," Self said. "But we're going to play either Oklahoma or Oklahoma State, and both teams are capable of beating us because they've won three out of four against us. It'll be a coin-flip game either way."
If it is in fact a third matchup with the Cowboys that comes Kansas' way, Self had some advice for the oddsmakers in Las Vegas who had KU as a 12-point favorite in the first meeting and a 3.5-point favorite on Saturday.
"They would be the favorite in that game," he said.
In Wednesday's 7-10 game, Texas will take on Iowa State and the winner will face second-seeded Texas Tech on Thursday.
The two other Thursday games pit No. 3 seed West Virginia against No. 6 Baylor at 8 p.m. and No. 4 Kansas State vs. No. 5 TCU at 11:30 a.m.
The winner of KSU-TCU will face the winner of KU's game in Friday's semifinals.
OSU sweep
Saturday's victory marked the first time in 35 years that Oklahoma State picked up a season sweep of the Jayhawks in men's basketball.
"That was 1983," recalled Self, who was a member of that OSU squad. "And I didn't have much to do with either win."
As for whether the nostalgia of returning to his alma mater still gets to him, Self said he was long past that.
"When I used to come back here there was extra meaning and those sorts of things," he said. "But coming back now, I don't feel that like I used to. I've been coming back enough and (had) my butt handed to me enough here that I don't feel it like I did when I first started coming back."
Minutes leader?
KU senior Devonte' Graham's 39 minutes in Saturday's loss brought his season total to 1,160.
That leaves Graham just 177 minutes shy of breaking Danny Manning's school record for most minutes played in a single season, with 1,336.
It's already clear that Graham has to be on the floor as long as possible for this team to play well. So assuming he plays his average of 37.4 minutes per game the rest of the way, Graham would need to play five more games to break Manning's record.
Either way, it seems likely that Graham's minutes-played total will go up for the third consecutive season. He played 1,238 minutes as a sophomore and 1,269 as a junior.
Wooden finalist
Earlier this week, Graham was named one of 10 semifinalists for the Naismith Trophy, which will trim that list down to four finalists this month.
On Saturday, Graham's name cracked the 15-man list of contenders for the John R. Wooden Award.
Graham also remains in the running for Big 12 player of the year honors. Conference award-winners will be revealed starting at 11 a.m. Sunday via the Big 12's Twitter account, @Big12Conference.
This and that ...
KU's final Big 12 record of 13-5, which Self predicted before the season began would win the conference "free and clear," gave the Jayhawks 13 or more Big 12 victories in a single season for the 13th consecutive season ... KU dropped five Big 12 games for just the fourth time in the 22-year history of the league ... OSU's season sweep marked the first time a Self team at KU was swept in a home-and-home regular season series, making Kansas 102-1 in such series since the 2003-04 season. OSU is the first conference foe to sweep Kansas since Iowa State did it in 2000-01 ... KU's lead in the all-time series with OSU now stands at 113-59, including a 36-35 mark in games played in Stillwater.